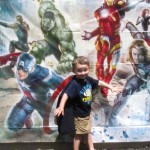 Disclosure- I was not compensated in anyway for this post, all opinions expressed are my own.
Most recently I had my son "A's" 3rd Birthday Party. I am so lucky to have children who are born in the summer time (June and July) so I have the ability to hold my parties in the backyard, at least until they decide that they HAVE to be at a venue like everyone else. This year we did a superhero training camp party since he is totally obsessed with superheroes. I have uploaded many of the templates that I made for your convenience if you should want to use any of the items that I made.
There were some stations where we did not wear the capes. The capes were cut from the backs of old (not too worn) t-shirts, and the necks were held together with Velcro. The Velcro was good because it breaks away if the cape should get snagged on anything. I glued shields in different colors onto each of the capes and made masks to match out of the sleeve of the t-shirt and the scraps from the pieces of felt. It is worth noting that the kids did not LOVE the masks, I think older children might have been more comfortable wearing them.
A peek at the back of a cape.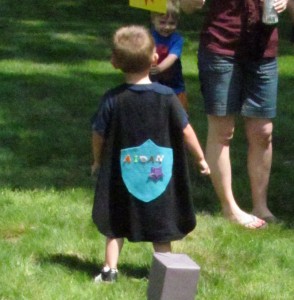 The group moved from station to station together. As attention spans in this age group are limited each was created to last only a few minutes and multiple lines were created to cut wait time.
Agility- Running away from the squirt beach ball
Strength- Carrying cardboard "bricks" up the hill in my yard
Leaping over tall buildings in a single bound- empty boxes covered in construction paper with windows glued on.
Rescuing a damsel in distress- climbing the ladder to our swing set, grabbing a stuffed animal and successfully sliding down with the animal in tow.
Flight school- jumping in the bouncy house (I borrowed a little tikes bouncy house from a close friend). After this they received rolled up paper airplanes that they could color and create at home as their vehicle.
Strategy- figuring out which string on the piñata will release all of the candy (pull string much safer with toddlers) goody bags with names pre-labeled were handed out for this activity and the candy served as part of their "goody bags"
A glimpse of a station.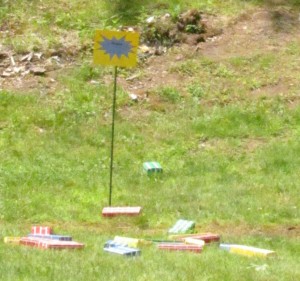 After each of the stations the Supers received a stamp on their hand (those of you who have toddlers know that this is a fan favorite!). To do this I purchased a pack of six superhero stamps from Party City (which is where I purchased the majority of the items that I did not make myself). Since this party was supposed to be "superhero" and not Avengers, Spiderman, Superman or any other single hero, I purchased some items for each and mixed them all up.
From Party City I purchased:
Plates
Napkins
Utensils
Piñata
Piñata Filler
Ink Stamps
Scene Setter (as a photo obsessed mother I love these!)
(A) in front of the scene setter.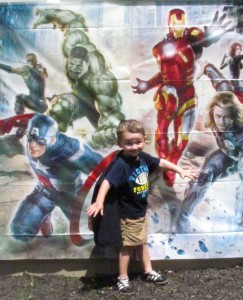 I went to my local dollar store and purchased star balloons in all different colors and mixed them up.
For other items that I did not really like my options for, I created myself. I will upload and share the files of all of my creations so that you can borrow them. I do not believe in always reinventing the wheel if you don't have to.
Items I created:
Goody Bag
Capes
Cake
Invitations
Thank you notes
 A Blank Cape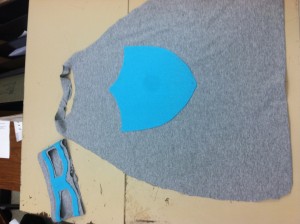 My Homemade Invitations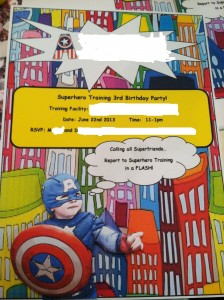 Goody Bags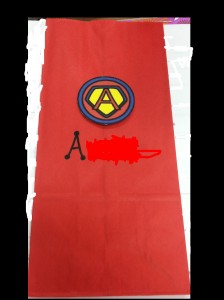 The Cake- Layers on the inside are red, white and blue.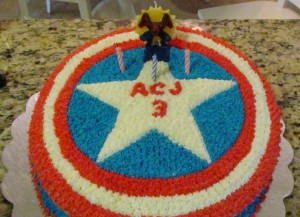 For More Party Ideas Return to We're Having a Party Page!