Disclosure:  This is an unsponsored post.  All opinions expressed are our own.
-Ashley Carmichael
3rd baby, and finally the nursery of my dreams!
When I had my first son, we were living in a one bedroom apartment and I used an alcove as the nursery. When I was expecting my 2nd son we were living with my parents, so we used an extra room for his crib and dresser, never really making much of it. Now, as I am expecting my 3rd (and my last), I had the urge to have a 'perfect' nursery.  In doing so, my goal was to keep the baby room as budget friendly as possible. To accomplish this feat I planned to try to DIY, and recycle as much as I could.
Paint the room. 
While my husband and I were debating on colors to paint the walls of the baby room, I stumbled upon posts from Sabrina's Murals on Facebook. WOW. I was instantly in love with her work! So naturally, I jumped on Pinterest for ideas. I sent Sabrina a message and set up a time for her to come see the room and talk out ideas.
Sabrina is the sweetest, a total breeze to work with, she is always smiling! I explained loosely with some ideas I found online that I was looking to do trees, stars, and a moon – like a forest scene. She was very honest about design concepts, color schemes and how to make it work in the room.   Since the room is small, and the design I wanted was complicated, we decided only to do a small portion of the room to not over do it.
Her ideas were so spot on, I couldn't resist booking her!
A few weeks later, she emailed me a sketch of the mural and I melted! It was exactly what we had discussed.  She arrived the next morning at 9am. Sabrina told me to come in through out the day to see the progress, but I wanted to wait for the big reveal! She finished around 4:30pm – seems like a long day to have someone in your house – but I honestly didn't even know she was there!
The mural is PERFECT! I am so in love with the colors – exactly what I wanted. And the peaceful ambiance it brings to the room – is also exactly what I wanted. She even offered to come back after we had the baby and paint the babies name on the wall.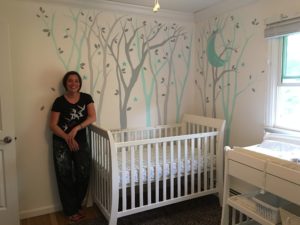 Sabrina with her masterpiece.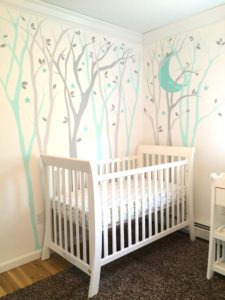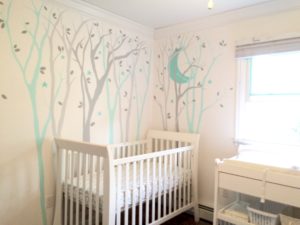 I find myself just sitting in the nursery when I need a few minutes of peace from the crazy chaos. I just love it.
Alphabet Frame
RNYM has this adorable alphabet on the wall in her playroom that I just love! (http://rocklandnymom.com/category/playroom-project/) So again I found myself on Pinterest working off this idea and found an idea for an alphabet that I thought would work. I ordered the wooden letters off of Etsy (https://www.etsy.com/shop/TheMonogramCompanySE?ref=l2-shopheader-name – letters arrived quickly!) and Sabrina left me the paint samples of the teal colors from the mural so I was able to match the color of the letters to the trees in the mural.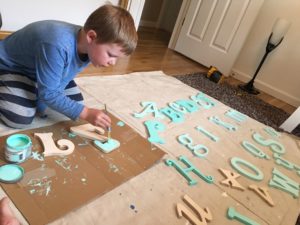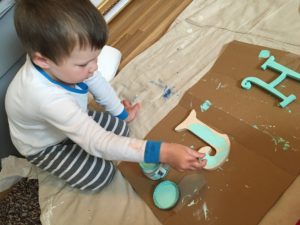 It was important to me to include the boys in the projects for the baby's room to
help them feel included.  They loved picking the letters to paint – and we worked on letter recognition in the process. 
I happened to have a large framed mirror lying around that was intended for a different project, but it was the perfect size to frame the letters. I matched the grey colors to the trees of the mural and painted the frame. I relaxed in the rocking chair and let hubby do the hanging – using small poster size command strips to hang the wooden letters.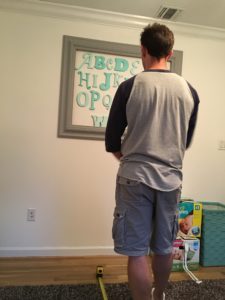 Making sure his spacing was even.
Blanket Ladder
I love blanket ladders. So much easier than folding the hundreds of baby blankets you have, plus it doubles as decoration.
RNYM again to the rescue with a ladder she found on the side of the road. We (and by we I mean my wonderful Husband) sawed it in half, power washed, and sanded it down. I had left over paint from the walls and mural – easy! And it looks perfect in the room. Just by coincidence, the majority of my gender neutral blankets from my boys are teal and grey – perfect match.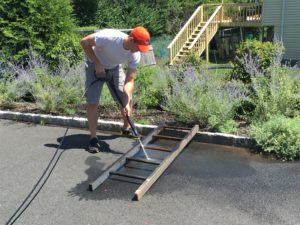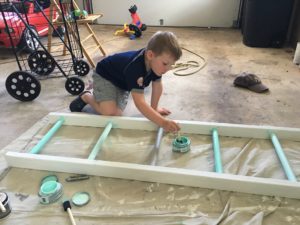 My boys hard at work. 
Closet Organization
Since the room is a bit small, we decided not to buy a dresser/armoire. I had hanging shoe organizers, and found baskets at the dollar store that fit perfectly in the slots. Great for holding onesies, burp clothes, tiny baby socks.  The baskets even fit great on the changing table.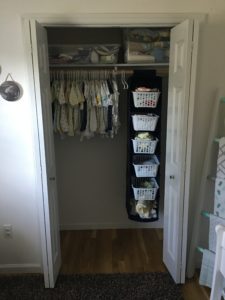 Sonogram Photos
Photobarn.com was having a special promotion on free wooden photo prints (they do this often so if you are a photo junkie go sign up), and I was looking for some more wall decor…I couldn't resist!  I ordered 2, used my sonogram photos, and they look adorable!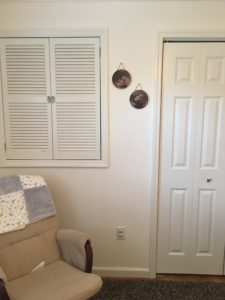 The perfect gift from an amazing friend!
I knew she was up to something, she always is 😉 She had been asking me for a pair of jammies from when each of the boys were infants. I found a pair for each, that reminded me of when they were tiny and cuddly.
A few weeks later she surprised me with these amazing ELEPHANTS (which I happen to love)! This wonderful Etsy Shop – (https://www.etsy.com/listing/291624967/memory-elephant-handmade-elephant) took the boys jammies and sewed them into stuffed elephants!  Even embroidered their names on the feet. This gift could not be more perfect! Looking forward to having a matching one made for #3 as a keepsake.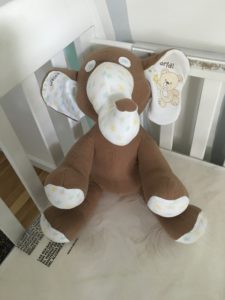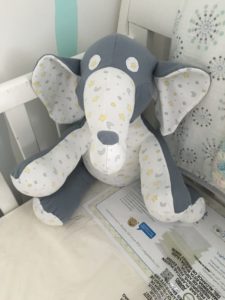 The nursery turned out better than I imagined, I can't wait for baby 3 to arrive!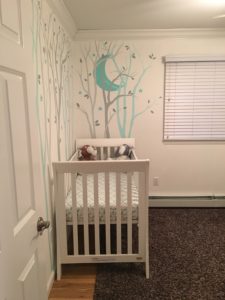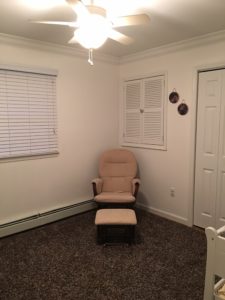 Empty wall perfect for a newborn photo.