Disclosure:  All opinions expressed are my own.
In our travels we came across Sabrina Crowley who makes the dreams of little children come true in their special spaces (bedroom, playroom).  She is a muralist.  In fact, she makes the dreams of grownups come true too.  She can paint anything, and make it exactly what you imagined it could be.  This is especially cool for people like me, I have awesome ideas, but was not blessed with artistic talent.  Here is her story. 
My name is Sabrina Crowley and I am a muralist. I just love what I do! There is nothing more exciting then seeing smiling faces on parents and children as they see their room come to life!
I became a muralist when I decided to leave my 15yr fashion design career behind to stay home with my young children, one of which has some severe health issues. It was time for me to be a full time mommy. I soon realized being creative was something I couldn't live without. I started by painting murals in my children's rooms, even my 4 year old helped!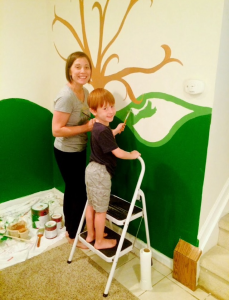 I have been an artist all my life. I made my first pair of  MC hammer pants in 6th grade, that sewing machine had me at hello. I spent time making crafts such as soaps and candles, quilts and more throughout my high school and college years.  I worked many craft shows and street fairs. It was a lot of fun.  I graduated from FIT and my fashion career took off. It was amazing, I worked for some really great companies and was really able to spread my creative wings.
Now I paint murals full time. Every room is different and every family has been amazing to work with.
The process is simple. We discuss what you are interested in and I make a trip to your house for a free consult. I sketch up and idea of what room will look like and we proceed from there. I try to accommodate as best I can, as I only paint 2 days a week. I spend about 10-12 hours on each room! I am in and out in two days and quiet as a mouse! You won't know I'm there…so I've heard!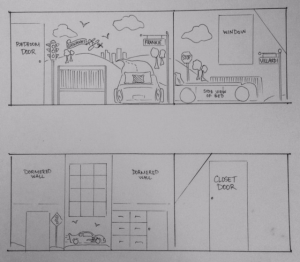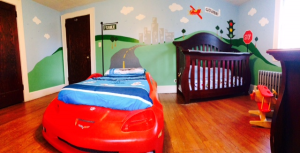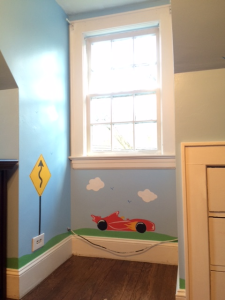 So if your looking  to create a fun new space for your little one?
Here are some excellent examples of Sabrina's work.