Disclosure:  This is a sponsored post.  All opinions expressed are my own.  Permission was granted for the use of these photos. 
As you may have seen last week Kiddie Academy Northvale joined our Daycare/Preschool directory.  We wanted to know more about this new school so little (E) and I headed right over to check it out.  Little (E) and I were given a tour and (E) got to spend the morning with the current campers.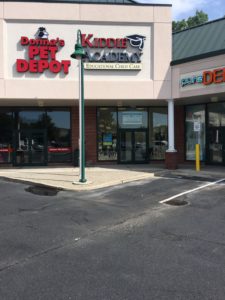 Right off the bat I was impressed with their security measures.  You can't get in without being welcomed by an adult. Something that is so very necessary in this day and age.  Kiddie Academy is a top notch facility with large VERY CLEAN rooms that include child appropriate bathrooms,   an indoor play area for inclimate weather (too hot OR too cold) and an impressive outdoor play area (that I had no idea even existed).  
Indoor Play Area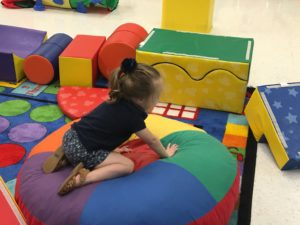 Part of the outdoor play area.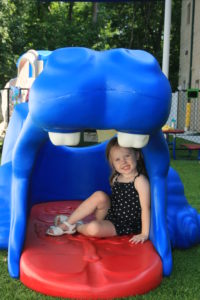 Kiddie Academy takes children ages 6 weeks  to 12 years.  It is considered an "educational daycare" as it follows curriculum for their students that covers all of the main educational areas (literacy, math, science, art, etc). As a teacher myself I am aware of all of the high risk testing these children are approaching and it is becoming more and more important that children are in an educational environment from a young age.  DESPITE the educational function, the children are still playing, they still get to be children.  There are lots of play centers, and much of the teaching that occurs is embedded in play, so the kids aren't even aware that they are learning.  
A snapshot of the curriculum books.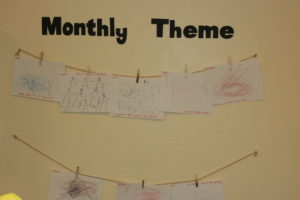 Kiddie Academy is well aware of the different abilities and levels of children in their age groups that they have a curriculum that they follow for EACH student individually- its completely differentiated to each learners needs.  In fact, if a child does not enjoy a particular subject or is not interested, they will often bring that skill or learning to an area where the child IS comfortable to help them through it.
On the day that we attended, the campers were learning how to make their own Pizza Dough.  This is a fabulous hands on activity that the kids really enjoyed.  The importance of following directions was discussed as well as proper cooking hygiene within the group.  Each ingredient was names as well as the measurements needed.  Then a student was able to help measure and poor each of the ingredients.  Once all the parts were added they had to mix them and each child had a turn to knead the dough with their clean hand.  As they touched it they described it. The kids were then cleaned up and got ready to go outside after learning that the dough needed time to rise.  So many learning standards were hit with this one activity- I was impressed.
Handwashing 101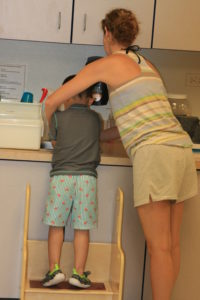 Measuring and adding to the mix!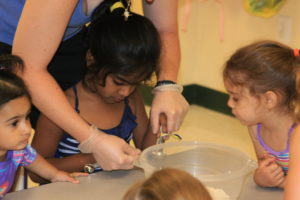 Tactile- Sensory activity with the dough.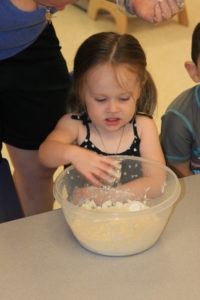 It was a very hot day so the kids were having some wet play outside in their beautiful play area.  As the class waited for everyone to be ready to go, a teacher led them in some music and movement songs on the rug.
(E) did not get to participate in wet play as she is asthmatic and had just had an episode.  As per doctors orders she was not supposed to run around too much outdoors.  The staff of Kiddie academy took it in stride, assigning someone to play with her first outside for a few minutes in the shaded area with no running and then taking her inside to use play dough.
A student having fun in the "wet play".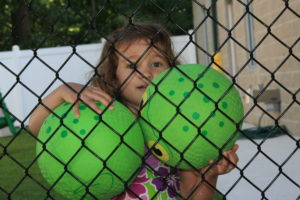 (E) hangs out in the play area- lots to do and see even if you aren't allowed to run that day.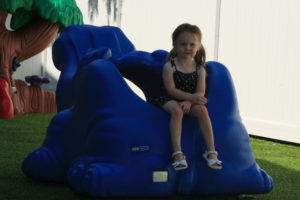 When we were heading out the class was coming back in and changing to complete their pizzas and have their lunch.  (E) had a great time and was asking for when we would come back.  Everyone we met that day was told about Kiddie Academy.
Kiddie Academy has many opportunities for parents to take advantage of.  It runs school programs throughout the year and "camps" all summer long.  These camps change their theme weekly and special demonstrations or activities are planned within that theme.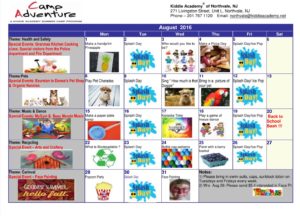 In addition to their school, and camps Kiddie Academy also has programs on weekends that are free to community members.  This coming Sunday the are having a special "Storytime Live" event with Curious George!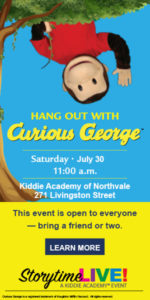 Kiddie Academy is a great new option for parents when choosing childcare.  This place really has it all.  Children are happy, learning, having fun and safe in a state of the art facility.  For more information on their programs you can visit their website : http://educationaldaycare.kiddieacademy.com/academies/northvale Email: northvale@kiddieacademy.net or call: (201) 767-1120.