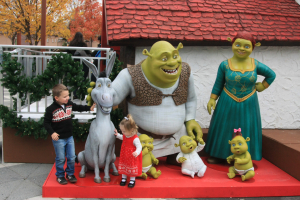 Disclosure: This is a sponsored post as we were invited for an adventure.  All opinions expressed are my own.
I learned a valuable lesson from my son last year when we went on a Santa Trolley ride in CT.  As a parent we sometimes have expectations that are somewhat unreasonable.  What is magical for a 4 year old differs greatly than what is considered magical to an adult.  We require much more smoke and mirrors.  I left thinking that the Trolley was cute but not quite what I had expected and chose not to BLOG it.  Well wouldn't you know, a year later he talks about it all the time (so much so that I am going to finally write that post).  What I learned from that experience is that I need to take their lead, be more patient and just enjoy while they enjoy.  Why is this past experience relevant to today's post?
We had the pleasure of going to the Dreamworks North Pole Adventure at Ridge Hill today 11/11/14.  We have seen it posted everywhere with questions about it, is it worth the trip? How much does it cost?  So obviously we had to check it out.
Quick Information:
Strollers are not allowed, but there is an area to park your stroller off to the side.
You cannot take your own pictures.
There is a special deal that you can pre-purchase online where you will save $25 off of the family package, this is by far the best deal available, and it expires soon. You can purchase the package now and use at a later date, but the date to purchase by is November 26th. So if you are photo obsessed like myself, I would purchase it ASAP.
As you can see on the website, weekends are already booked solid. If at all possible go during the week when it is less crowded.
There is a little playground right outside of the adventure for kids to play on. I waited on line while Nana watched the kids play. It made waiting much easier on me.
I made an appointment as directed on the website and we went first thing in the morning.  At 9:45 there was already a line forming for the 10:00 opening, a good sign, it's in high demand.  When you check in a photo of your group is taken and then added to your "passport" you hand this photo to the helpers along the way and they use the barcode to keep your photos and projects connected to your group.
Our group passport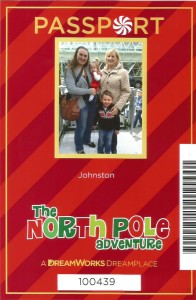 Ready to go!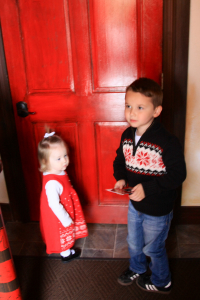 Once inside the guides lead you through your adventure.  You get to have a little interactive play with Shrek and Donkey.  Where they set the whole thing up.  Yes (A) did speak to the screen and nod when they asked questions.
(A) talks to Shrek.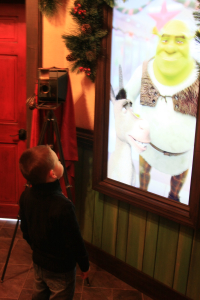 Once the stage is set you get to go in and create your sleigh.  It is fun for the kids (they are to tech savvy) and it gets saved to your passport.  You then get to go into the virtual reality experience.   It is a lot like going to the Giant theaters, I prefer to sit in the back, the kids like to sit in the front, so we settled on the middle.  The ride is cute, you feel the breeze, and move around in the sleigh.  The kids were totally captivated.
Customizing his sleigh.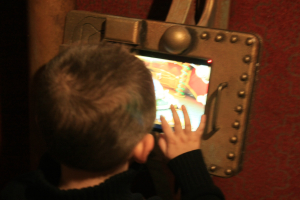 Once you "arrive" you get to go into another room where you prepare to see Santa.  There is a game that the kids play on another set of IPADs.  My kids didn't fully understand it, but had fun trying.  Since we don't get a lot of IPAD time at home it's a novelty to get to play it, and in this one you are throwing snowballs so it's neat.  At the end of the game the kids get to see a virtual trophy, and then it's time to see the big man.
Playing the snowball game.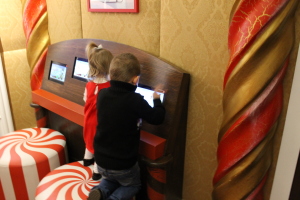 Santa's library is beautiful, awe inspiring even.  The kids were super impressed (you can see in the video, which to me makes the whole trip worth it).
Here are my videos:
The kids enter and see Santa
Sitting with Santa
Santa was great with the kids (even (E) who was very unsure).  We got some funny pictures, and then one keeper (but as you know I often treasure the outtakes).  When you have finished your visit you go through one more door where there is a little gift shop, and you can view and purchase your photo package (which hopefully you did before visiting because it really is the best deal).  That is where you will get your USB with all of the pictures, and projects as well as your printouts, DVD and stuffed animal (while supplies last).
Last but not least, my short assessment, for those who like to get down to the nitty gritty.  Is it worth it?  Would I go again?  Do I recommend it?  Here's what I've responded to those asking on social media.
Bottom line, they have a few kinks to work out, it's a new attraction.  But, that having been said, I wait on line for Santa in a mall every year behind people and none of us have reservations.  It just a line usually, and nothing to distract.  This had some fun things to do while you wait, and if you bring two adults there's a playground to play on next to the attraction.  I waited on line my mother chased the kids.  My kids (16m and 4 ½ years) enjoyed the make your own sleigh, my son keeps talking about how his had rockets.  The game in the next room he played and enjoyed, he even told Santa that he won a trophy.
My Favorite Santa Photo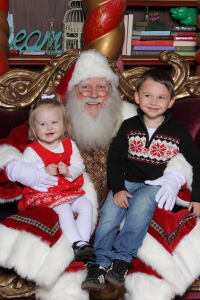 If you go, purchase the $50 package, it is well worth it.  You get pictures of them playing games, the sleigh they design, and with Santa.  Additionally, you never get a private audience with the big man; that too was cool.  The video?  Ill treasure it forever, because how often do you get to year your for year old say "Welcome to the North Pole Too Santa."  You get to see on the video your child's face as they first see Santa, which we never get to see.  As an aside, I usually pay $30 at regular Santa to stand in the line in just a mall, this was much cooler. 
For more information please visit http://www.westchestersridgehill.com/event/dreamplace-north-pole-adventure/2145445175 to make reservations, and pre-purchase your memory package!