Disclosure: This is a sponsored post as I was invited to attend Santa "Claws". All opinions expressed here are my own. —
Before I had human children, there was Duncan.  My first baby, and my mush.  We take him everywhere, he is one of my kids.  Imagine my delight when I saw the advertisement for Santa "Claws" at the Palisades Center in West Nyack, NY.  Now my eldest can join in the fun (even though he's a 91 lb Chocolate Lab).
The Scoop:
Pet Pictures start promptly at 6pm on Tuesdays only.
Pet must be on a leash.
Prices are the same as regular Santa pictures.
Coupons can be applied.
Santa has moved this year, to in front of JC Penny, so park accordingly.
If Tuesday is the only day you can go with your little humans, you can still go, just keep in mind that there will be animals there.
There is still a nice coloring station for letters to Santa and the Mailbox to put them in.
Santa was awesome.  I have to say that for the past three years I have been very impressed with the Santa at this mall, he is kind, sweet and fantastic with kids.  He juggled my 4 month old, my 3 year old and my pup like a real pro.  The rest of the staff was courteous and kind as well.  When I was unsure if we got a good picture the photographer stopped and said we could try again (not easy to get all three to cooperate, especially because Duncan is a ham).  They also reminded us about Cookies with Santa on December 8th at 10 am.  Make sure to register in advance (follow the link for the number).  We went last year and it was really cute, (A) got to hang with Santa for a good amount of time.
Right after the picture you can go over and view them on the computer and make your choice.  Have trouble choosing just one pose?  Me too, I totally freeze and have trouble deciding.  You can access your photos online.  There you can order more prints, and/or some merchandise with your awesome photos on them.  If you join Noerr Rewards for discounts which apply at Santa "claws" well as regular Santa hours.  All you need to do is show your coupon on your phone, no need to print.
I am so unbelievably happy with my photos, they are really fantastic! I am so very glad that they had this program this year.  I am also very hopeful that they will have it again next year.  Take your kids (yes all of them) down there and share your photos with us on our website and Facebook page we'd love to see them!
(A) writes his letter in crayon as we wait.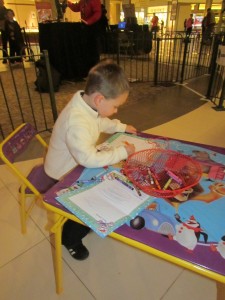 Off to the North Pole it goes!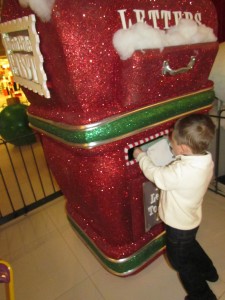 Duncan makes himself at home.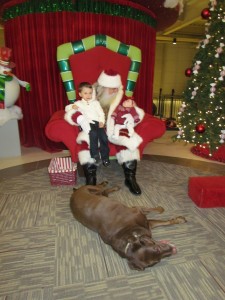 The perfect family memory.