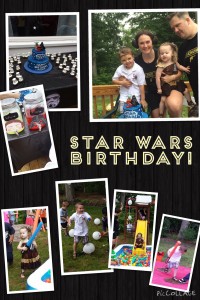 (A) is turning 5, and although he originally asked to have his party at a "place" at the beginning of the year, as the time approached he changed his mind.  He decided he wanted it at home with me at the helm, so I asked him to pick a theme.  He settled on Star Wars (yesss!!!!).  Here goes…..
We found the cutest invitations ever on ETSY (funky mushrooms) and then had them printed and cut locally at Rockland Instant Copy.  I used to go to staples, but Rockland Instant copy is local, a fraction of the price, and deals with my specific neuroses very well.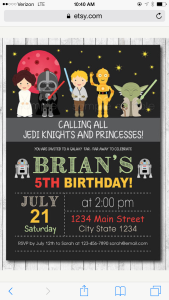 Then the planning began.  I wanted to do stations again since they worked so well last year.  I didn't want it to be just like every other party I have seen.  As always I beg borrow and steal.  I "pinned" everything I could find, and created whatever wasn't there.  Please feel free to use anything that you see.
Light Saber Training-  I created Light Sabers out of pool noodles cut 1/2 and then used duck tape to make a handle on each.  To make it unique and like the movie, the kids had to close their eyes and use the "force" to block the water gun I shot at them.  This replicates Luke learning to use the "force" to block the laser shot at him by a droid.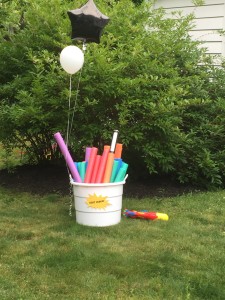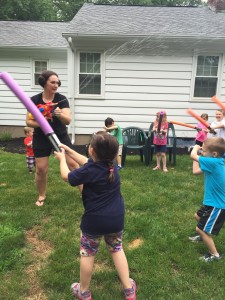 Down the Garbage Shoot- When rescuing Princess Lea from the Death Star Luke and Han and Chewie are forced to take her into a garbage shoot to hide.  We replicated that by putting a large blow up pool at the bottom of our slide, and filled it with plastic balls, foam balls, and cut up pool noodles.  I didn't have any plastic balls so I put out an ISO on the mommy boards for people who wanted to get rid of some. People were so generous, some even lending them for the day!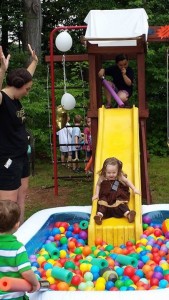 Blasters- Target water guns were used to get through the group of storm troopers that we created.  They were balloons that I drew faces on with a sharpie, tied to white rocks.  What is cool is that when they get wet, they fall down like they have been shot.  I walked around shaking the water off of them so that they could do it again.  We called it "stunning" them as I don't love saying "kill".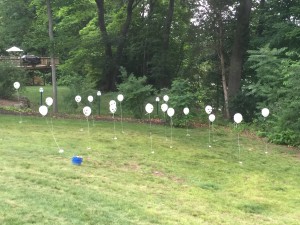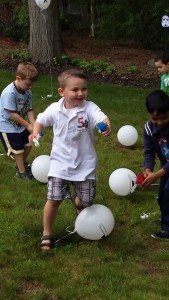 Mustofar- The planet of Mustofar is where Anakin fully becomes Vader.  After his duel with Obe-Wan we assume he is left to die, and that is when he becomes more "machine than man".   During the fight they leap from floating pieces of land over hot Lava.  We created the scene with red table cover and some pavers I had.  Around the edges we added pails with tissue paper for effect.  The kiddos loved running back and forth and trying not to touch the "lava".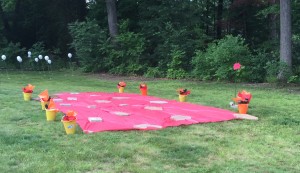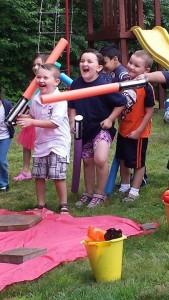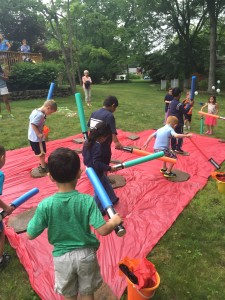 Degobah- Luke trains to become a Jedi with Yoda in the Degobah system.  This station actually didn't get used because it was sprinkling rain and it ruined the crepe paper, but it was cute.  We used it as "lasers" that the kids would have to climb under and over to work on agility and Jedi-like movement.  Since I didn't get to use it, I may have to add it to something next year (didn't even get a photo before the rain).
Sith String- Silly string was a huge hit last year.  It makes a mess, but both kids and adults adore it.  I had to incorporate it somehow.  My brother (a fabulous uncle) dressed up as Darth Vader for me, and let the kids spray him with silly string.  He came out and they attacked.  When I told him to run he even shook his head and said "Vader doesn't run".  The kids loved it.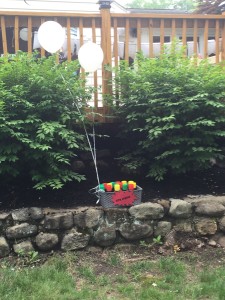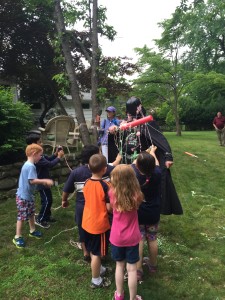 Decorations-
I used Free Printables for a lot of my décor, here are the links for you.
The rest was all purchased from the dollar store, or Christmas Tree Shops.  I used simple black table cloths, mugs for centerpieces, and made death stars out of silver paper lanterns.  No fuss but super cute.
Food-
Here's the thing.  I see so many BLOG posts of amazing parties with over the top food.  5 year olds don't care about the food.  They care about the fun.  So as something always has to give, I let go of the food.  My menu is easy.
Drinks: "Lea"monade, "Vader"ade, bottled water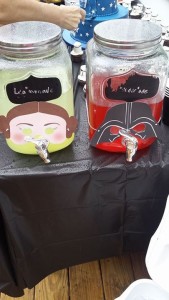 Appetizers: Pretzels, Veggies, and Popcorn
Main Course: Padawan Pizza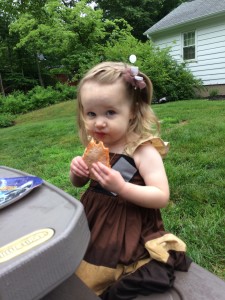 Desert: Fruit Trays, Storm Trooper Cupcakes, and Main Cake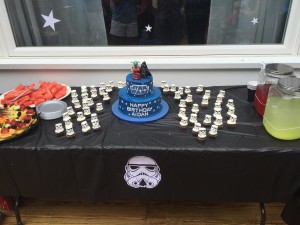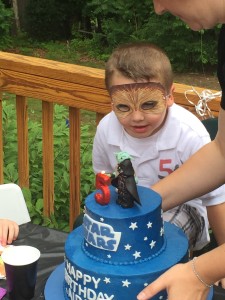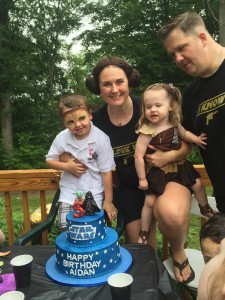 Clothing: (E) is wearing a custom Chewbacca Dress by "A Posh Pumpkin" who can be found on Etsy.  It is super well made, adorable, and cost effective (I would have spent more for something way less cute elsewhere).  Like this one?  Wait until you see what we had made for HER birthday.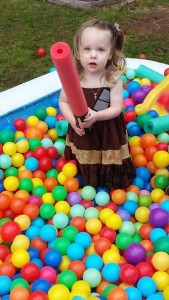 I created (A)'s logo and had it added to a polo shirt by Christine Roberts of www.mylilbinkybaby.com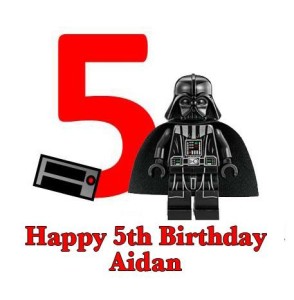 RNYD and I are sporting some t-shirts made by Purple Cactus Design on Etsy.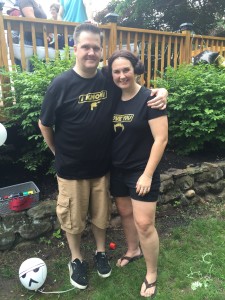 *You can see how some of our Galactic stations worked out if you visit our YouTube Channel!