Disclosure:  This post contains affiliate links. 
My kiddos have shared a room since the day little (E) was born.  This year with some reworkings of the house, they finally got their own bedrooms.  (A) opted for a dinosaur themed room (see link) and (E), my girly girl, wanted a chamber fit for a princess.  Here's what I came up with…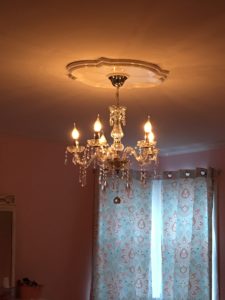 The first thing most people notice is the beautiful glass chandelier.  It hangs right in the middle of a stunning ceiling medallion.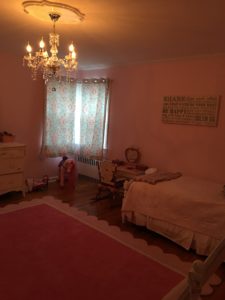 I also fell in love with her scalloped rug, which is very different and was also super affordable.  Additional small elements include the princess vanity and rocking chair, and her horse (which she got from Santa).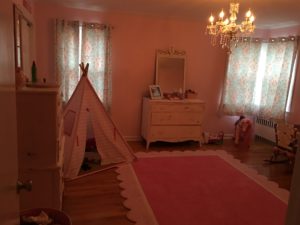 Her furniture was all purchased on a local swap site (FOR $125!!) and is antique, I then took classes with Mary of Underground Finds & Furniture to learn how to repaint it and made it all customized (see post).  You can also see her FAVORITE Santa gift this year, her tepee which has its own chandelier light in it (she is sleeping in it she loves it so much).  Her curtains are Nicole Miller – but they came too long so I had to have my Auntie shorten them.  I intend to use the left over material for some accent pictures.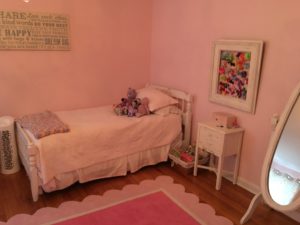 On the other side of the room we have her bed that has simple rose sheets and a shabby chic quilt on top.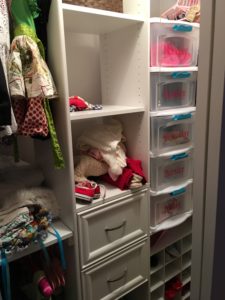 The hardest part of her transformation to photograph was her closet. She LOVES clothing, shoes, dress up- you name it.  We decided to put an adult closet system in for her so that she can grow with it.  The bottom left rack is all dress-ups so that she can access them.  We added the shoe organizer also, since she loves her shoes- it is the same one I have in my closet, so it should serve her well in the future.
I still have some wall decor to add, but for the most part her room is complete, I am pleased and she is over the moon.  She loves to dress up and dance under her chandelier all day long.