Disclosure:  This is a sponsored post. 
Crystal Run Healthcare Prenatal Classes: Preparing for Birth & Beyond

Expecting a new baby and not sure what to do next? Look no further than to Crystal Run Healthcare's team of highly-trained Pediatricians to help you prepare for the arrival of your new bundle of joy!
Our Prenatal program, designed by Crystal Run physicians, provides guidance and emotional support to expectant parents.  Each class offers invaluable information on what to expect before, during and after a normal delivery, and also explores unexpected deliveries – including premature delivery, cesarean delivery, and NICU stay. The class also prepares parents for life at home with their new baby, from what to anticipate in the first weeks and months post-birth and what to monitor at home, to normal feedings, expected weight, sleep cycles, and more. Crystal Run Healthcare's Board Certified Pediatricians will also provide vital information on regular office visits for your baby, immunization schedules, and signs and symptoms of when to call your doctor.
So, now what? Join Crystal Run Healthcare for a prenatal class in their newest state-of-the-art medical facility in West Nyack and come prepared with a list of questions.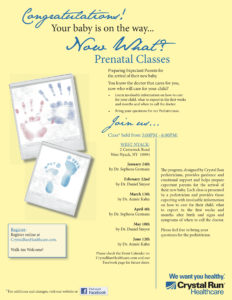 Dates:
Location:
2 Centerock Road
2nd Fl. Conference Room
West Nyack, NY 10994

Register online today by visiting
CrystalRunHealthcare.com/crystal-run-connect/events!
Walk-ins are also welcome.