Disclosure:  This post contains some affiliate links to products that I used to decorate the bathroom.
When we added a bathroom for the kids (yesss!) this past year, we wanted a classic look, but we wanted them to love and own it too.  We asked them what theme they would like to go with, and they agreed on Star Wars.  This was an easy one for me, as we enjoy the movies as a family.  Affiliate links are included so you can find the same items I used.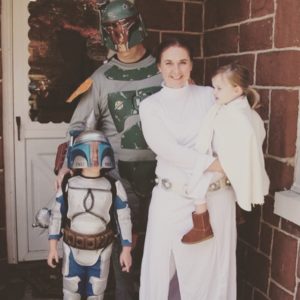 The overall bathroom has a very clean look, and for the top color I chose a Benjamin Moore grey.  This played well into the theme, but makes it easy to make just a bathroom when the kids are tired of Star Wars.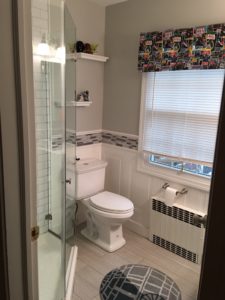 There are floating shelves behind the toilet where I am displaying the Star Wars Itty Bitty's that the kids had.  The Bath rug is the Death Star. On the Window we added a "comic strip" valance over the cordless blinds.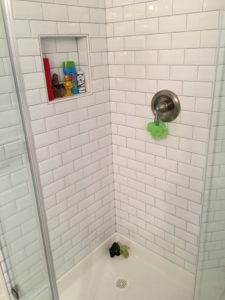 In the shower I added a few of the Star Wars bath toys that the kids had been given as decor (they play with them).  Another little added touch is the Star Wars  body wash.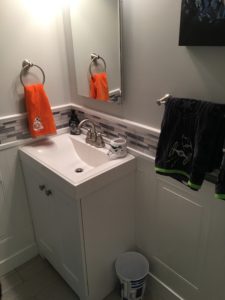 Over by the sink I added a few more touches.  First there are the BB8 hand towels.  The kids like the old movies because we watch them together, but they really enjoy the new one as well, so I wanted to make sure I got a little of that in there for them.  To go with the hand towels I also ordered tie fighter bath towels which are very soft, and have held up well.  The kids' toothbrush holder is a storm trooper helmet, and the trash can is R2D2.  I was even able to find some foaming hand soap within the theme.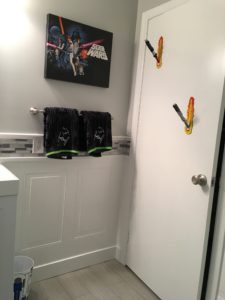 Some of the amazing finishing touches were gifts.  This "New Hope" canvas was a present from a family friend.  So were the unbelievable light saber towel hooks on the back of the door.  Not shown (because they cover the hooks) are the super cool beach towels my sister in law purchased for us, that the kids use as their bathroom towels.  My favorite is Han Solo in Carbonite.
One thing that is missing that I am looking forward to adding are some wooden plaques of the kids dressed as Star Wars Characters.  Last year they were Jango Fett and Padme Amidala, and this year they were Poe Dameron and Rey.  This can be done relatively inexpensively through Shutterfly.  Once complete, I would like to put them on the shelves to add a little more of "them to the room.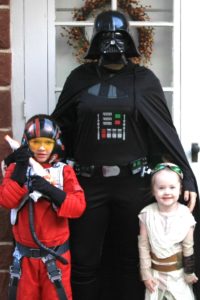 Enjoy Star Wars?  Did you see our Star Wars Birthday Party??? What about our Star Wars Themed Birthday Photos??