Have a business or program that you would like added to my pages? Contact MJ at RocklandNYMom@yahoo.com or Ashley at acarmichael403@gmail.com .
Postings Include:
Childrens Classes

Childcare/Pre-Schools
Camps
Farms/Orchards
Family Services
Sports Programs
Photographers
Venues for Parties
Catering for Parties
Services for Parties
Dining out
Services for the Home
Charity Events
Childrens Items (food, clothing, toys, gear, etc.)
And Much, Much, More!
Praise for RocklandNYMom.com
"December 2013 and January 2014 enjoyed my highest website hits in recent history. 58.1% of my current hits are coming from your resources."  – M. Pent
"Numbers are increasing best February I have ever had (maybe time to expand!!) Future Sluggers sold out I might have 2 classes in March!!  I let everyone know about you and how great you are to work with, you're a pleasure." – A. Conti
"RocklandNYMom.com was a great place to promote the RCC Summer Camps. We got more visitors than expected to our website because of RocklndNYMom. Megan was also wonderful and easy to get in contact with. Based on my experience I only have great things to say about this site. I'm glad I was able to work with RocklandNYMom.com." – B. Griffith
" I have had the most wonderful experience with Rocklandnymom.  Megan is an unbelievable person.  Not only is she a mom, but she's a teacher, friend, motivator, inspiration, and all around good person.  Megan started this website to aid parents in finding things for their children to do (out of the goodness of her own heart by the way!)  Being a makeup artist, I wasn't sure if this was a good fit for me since I didn't work with young children.  Well, was I wrong!!  I reached out to Megan with the hopes that this would be the advertising I had been looking for.  We realized this was the place to be being that I work with teen girls and women (hello rocklandmoms…all women!)  Megan was more than helpful and has continued to help me along the way.  I've had the pleasure of linking up Stefanie Murphy, an amazing photographer who is also part of the group.  Since joining the Rocklandnymom page, I received 60 new Facebook likes within 1 1/2 months!  I am able to post things on the website and Facebook page.  It's a great avenue if you are looking to build a business.  Everyday, I'm able to reach over 1,000 people just by clicking a button.  Rocklandmom, I can't thank you enough!!" – D. Ruis
"I cannot say enough about working with Rockland Mom and Megan! I believe our business relationship has not only improved myself as a business owner but also truly established and impacted my community presence and growing client list! Megan is so attentive and FULL of great ideas… she is plenty to go around but I don't want to share her!!!! :D" – S. Murphy
Sheri Chablis of SOHN Real Estate and My Sweet Pea Children's Boutique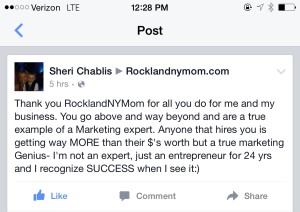 Halfway Acres Farm