Disclosure:  This is a sponsored post.  All opinions expressed are our own.  
-By: S. Duic

Movements 4 Life
Have you ever joined a gym and wondered if it's right for you?  Will it challenge me?  Will they help me?  That's always a few of the questions that goes through my head when looking at gyms and their fitness programs.
If you know me I love the gym.  I enjoy taking spin classes (yes I am one of those crazy girls), I love hot yoga, and work with a trainer one day a week.  So when given the opportunity to try a new type of "training program"  I was super eager to give it a go.  I mean how different could it really be right.
Well let me tell you – it was different in such a good way.  I took the Large Group Training class at Movements 4 Life which is located in Suffern (a few minutes past Good Samaritan Hospital) recently and fell in love with the whole experience.  Like I said before I love working out and enjoy the push, sweat and the soreness the next day from a great work out.  This was right up my ally.
Location/Gym:
The location was a hop skip and a jump from Nanuet, and parking was super easy.  There is a train station right next to the gym so if you are a local Suffern resident and do a commute – it is easy to get to before or after work.  The gym is on the 3rd floor – a quick run up the stairs for added cardio – or an elevator ride if you prefer.
The gym is open and airy with equipment set up around the perimeter in sections.  There are various weights (depending on your fitness level and comfort), a changing area, cubbies to place your personal belongings, as well as an area to shower if you need.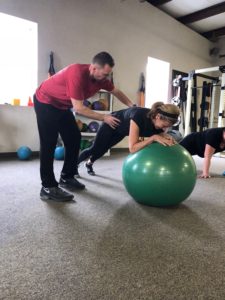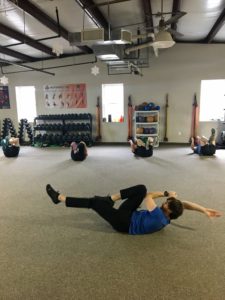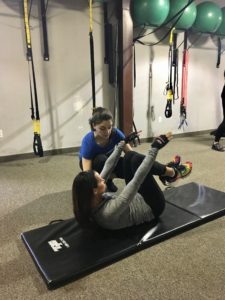 Staff:
I spoke with Alex C. to go over the types of training classes that they provide.  Between the Small Group and Large Group, I felt like the Large Group was where I wanted to start.  Alex was great to work with, and the encouragement that was provided was spot on.  A great first impression before even walking into the gym.
I need to be honest I was about 3 minutes late thanks to 1 sick child, and having to take my other daughter to religion.  Being late, I felt I was destined to fail walking into the gym.  Well the smile Amanda gave me when I walked in (apologizing profusely), and then Tim's super cheerful "welcome" helped me relax and forget about life for a little bit.  This was the start I needed, to have a great workout.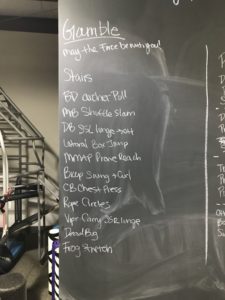 The Workout:
Alex had explained to me that this session would be an "overall conditioning with more of a cardiovascular emphasis".  So I was excited and ready to go.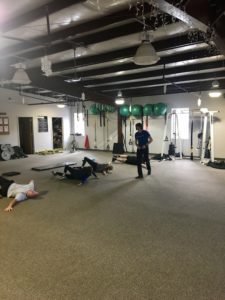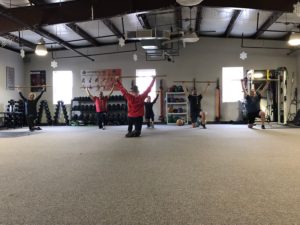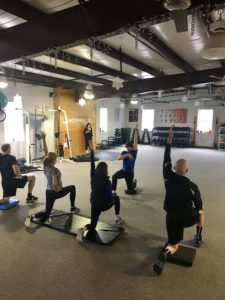 Tim and Amanda worked with the group that was there – and we started out with a great stretch.   It actually helped me to realize that I really don't stretch enough unless I am in yoga, and it helped to loosen my muscles and get me ready for the workout.  There is a blackboard wall on the left hand side when you walk in (the wall for the bathroom and shower room), and I see the words "Gamble, may the force be with you".  Yep I am officially worried – what do Tim and Amanda have in store for us tonight?  Should I run or go to the bathroom and wait (hide) it out?  Well I did none of that, and actually did the circuit workout that was planned for us.  The gamble portion was a "roll of the dice" to see how long we were doing each of the activities with our rest period.  This was great.  Each workout had a different "workout time" and it really kept my body guessing what was next.   I do have to apologize to everyone in the class because when it was my turn to "roll the dice" I had gotten double 6's, and had to roll again, we had a full minute and half to work out (yep it was hard but wow was it a great one).
The hour for this session was quick and painless.  Amanda and Tim walk around encouraging you, helping to guide and correct you as you work out.  That to me was a huge perk, and something that is not done often at other gyms.  I have taken many classes at different places, and had many a trainers, who would encourage you from the "stage" without walking around to correct your form – so the question is always in the back of your head – am I doing this right?  Why is my leg shaking?  Why does this feel weird?  Should my arm feel like this?  None of this came through my head, even at times Tim helped me to "tweak" my workout based on my prior knee issues (thanks to a torn meniscus 3 times).  OH, and lets not forget the music in the background, upbeat current and past hits that gets your blood flowing – perfect for the torture, I mean fun that was planned for us.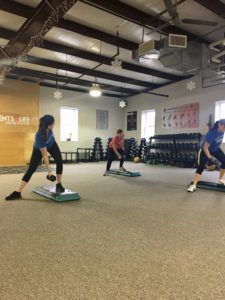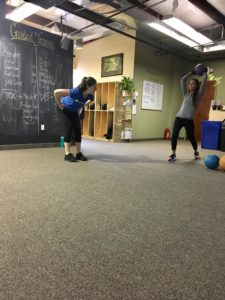 Overall Experience:
I honestly can't say enough about my experience, and can not wait to go back to try out the small group class that Movements 4 Life has.  I called my sister as well as Megan to tell them all about it (both girls love to work out as much as I do and love to try new things).  I felt bad, but must have kept Megan on the phone for a good hour afterwards raving about my experience – I don't know about you, but that is not something I do often.
I emailed Alex when I got home to compliment him, going on and on about my experience.  I just had to ask about costs and possibly adding this into my already crazy workout schedule.  Now I just need to sit down and figure out how to add this into my daily routine.
Give the Alex, Tim and Amanda a call to set up a date/time to go in and get your experience – tell them I sent you.  You will not be disappointed.
Webpage:  http://movements4life.com/
Phone:  845-369-MOVE
Email:  info@movements4life.com
Address:  47 Chestnut Street, Suffern, NY