Disclosure:  This is an unsponsored post.  All opinions expressed are my own.
This past month we held our first "Wellness Workshop" with Jamie Silver of Norwex and were dazzled as we learned how to eliminate chemicals from our cleaning routines.  The party was held at Wayne's World in Nanuet.
The workshop was a great success in that those who had questions and doubted the products were impressed by the science behind them.  I myself am most looking forward to going through and de-cluttering my cleaning products, getting rid of my "Swiffer" and introducing my new (sturdier) mop system that doesn't require me to re-attach a cloth to it several times.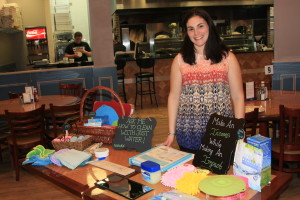 Additionally, I am obsessed with the bathroom buddy that the kids can use to dry their hands in the bathroom- special side note- it has the special silver in it, so as they wipe, any bacteria that was still on their hands (after their super thorough washing) is removed.  THAT'S A WIN IN MY BOOK!!!  Seriously considering getting them for all of the teachers in my life (elementary).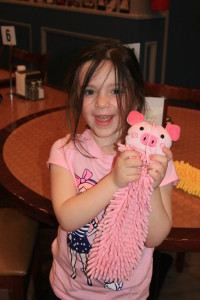 Then there's the health benefits…. Maybe little (E)'s allergies and asthma will improve now that the harsh chemicals are gone, and its so easy for me to clean up!!
The evening went super smoothly in no small part due to the activities put on by Wayne's World itself.   Who in addition to opening their doors, set up the kids activities, AND donated a percentage of their proceeds that DAY to the March of Dimes.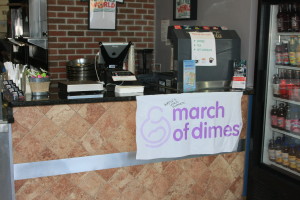 This was my first visit to Wayne's World.  The food was yum (as was the wine), the establishment super clean (yay!) and the kids had a blast!  They got to make their own pizzas, and ice cream and also had a really cool tour of the kitchen!!!  They had the opportunity to watch Chef Paulie through dough… a fabulous evening for them!!!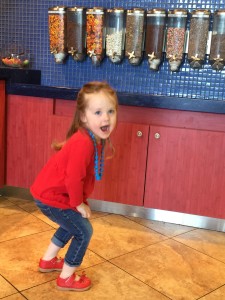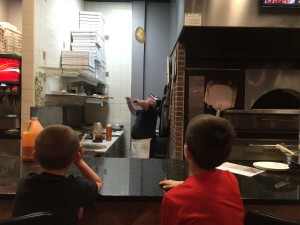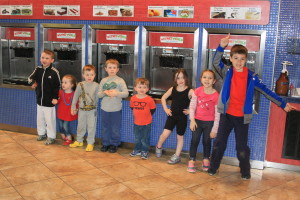 The look on their faces tells it all.  Wayne's World is a great family location (with specials for free kids on Mondays and Tuesdays).  We will most certainly be back.
UPDATE:  We earned $150 for March of Dimes at this event from Wayne's World (which is great) and we also earned another donation from Jamie for the evening!  So happy to have combined this event to support the March of Dimes!!!