Disclosure:  This is a sponsored post.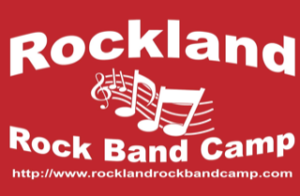 Now in its 8th year.
 The camp program director and Berklee College of Music graduate Brian Murphy and assistant director Terry Foley will lead the campers through each week-long session full of music, creativity, and collaboration, while sharpening musical skills and creating a truly memorable and impactful experience. Making new friends and having fun included!
Musical development is encouraged throughout every aspect of the program. Individual and group instruction is provided while campers are in-studio, and critical musical concepts are presented during rehearsals and in a classroom setting. Playing with other musicians in a band setting is an invaluable tool for musical growth, and a lot of fun.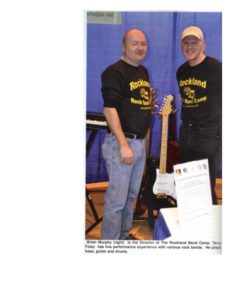 Camp overview:
Campers will arrive at 10am each day for Rockland Rock Band Camp at Anjel Blue Studios in Nyack. Each full day of the camp program includes a 15 minute break in the late morning and a hour-long lunch break at 1pm. The day ends at 4 pm. 
Selecting songs for the band and live show:
 The program begins with campers working together with their band members and with the Band Director instructor, to listen to, provide input, and review arrangements of their favorite songs for consideration for the live show at the end of the week. Songs are selected for rehearsal and live performance and bands can start working with these songs minutes later.

Morning sessions
: Each day campers will continue to learn and practice the selected songs, with full in-studio rehearsal. Concepts that help students learn the songs and improve their expertise are introduced, and proficiency is developed throughout the week in areas such as learning by ear, understanding and playing from chord charts, and working with song lyrics and tabs (for guitar and bass players). Throughout the week, initially selected songs will be rehearsed and additional songs may be added.
Afternoon classroom sessions:
 Each afternoon at 2pm, campers will participate in engaging classroom learning in the main studio room. Many topics could include rock and pop music history, music appreciation and exposure to different styles and genres, techniques for recording live music on the computer, analysis of the music of specific bands, their styles and albums, and discussion of the many types of backline gear and musical equipment used by bands in studio, and for recording and performance. One afternoon is set aside for "Musical Jeopardy," which is a big hit with all the kids.
Jam sessions
: Our band members love our daily jam sessions! After classroom learning, kids play for about 45 minutes, take on challenges with their new skills, improvise, and make some great music.
Getting ready for live performance: As campers work towards the Saturday live performance, significant milestones are achieved. On Wednesday, the live performance set list starts to form, and performance skills, stage presence, playing to a live audience, and other performance aspects of the set are explored. By Thursday, campers create their original band name! Friday is spent rehearsing and reviewing the set list and then performing in the main studio room with the other camp bands.
The Performance: The week culminates with each camp band performing on Saturday afternoon at a renowned music venue, the Turning Point, in Piermont. Our live performance program provides an exciting opportunity and an invaluable experience –and the kids absolutely love it. The legendary Turning Point hosts nationally and internationally known artists, the best of the best of the club circuit – or as Westchester Magazine says, "Everyone who's anyone." Our campers get play the same room, from the same stage, for their very first gig! No other camp offers this great opportunity. This acclaimed entertainment venue boasts a long list of bands and musicians who play there – and Rockland Rock Band Camp band members can add their names to the list.
Students will improve musicianship and knowledge through:
Learning to practice and rehearse individually and as a group
Developing stage presence and live performance skills
Working cooperatively through band member interaction and playing with others
Listening in a band setting
Playing by ear
Understanding musical styles
Learning song formats
Learning to read and play from chord charts, song lyrics and tabs
Being introduced to reading music notation
Properly using studio equipment
Testimonials

What kids are saying about Rockland Rock Band Camp:

"So much fun. This is my third time doing this and every time has been great!" – Matt B, age 13,guitar"You get a real band experience-bonding with other people who enjoy music"- K.L. age 13, vocals/guitar"One of the best camps I have ever signed up for"- Kyle. C, age 13, vocals/guitar
"It was wonderful. I loved every minute of it!"- A. S., age 16, guitar
"I like being challenged to learn the songs for the performance"- Cameron P., age 12, bass
"It was a fun week"- Evan F., age 12, guitar
"This was my second year in Rock Band Camp and I learned a lot both times.  It was fun and really helped me improve my music.  It's cool that we learn like a real band does, we work together, we learn the music, we practice and have a concert at the end.  Brian is a good teacher and the new studio in Nyack is awesome."– John Lynch, 12,keyboards
"My favorite part of band camp was being able to be in a real band! I thought it was really cool that I had a chance to have a real gig being so young". — Johnny Vota, 10, drums

"Brian's Band camp offers a vast plethora of musical endurance and learning. It was also a lot of fun for me and my fellow band mates to learn songs we wanted to learn. If you want a place to go to that offers a great setting for a awesome musical experience, your search is over." — Bobby, age 13, bass
"I wanted to thank you for the having me at your camp this summer. It was the best musical experience of my life. It exposed me to a brand new genre of music and I can honestly say that I had lots of fun with it! I was never really into rock until my week at the camp the reason being that I didn't really hear it while was growing up. I learned a lot in that short period of time, and my parents were more than happy with the results. So for this I thank you! Thanks to your camp this has been one of the best summers of my life. Thank you once again!"–Jocelyn Vallejo,17 singer

What parents are saying about Rockland Rock Band Camp:
"Once again.,…You have done a fantastic job….One that is greatly appreciated…"-Steve, father of Matt,16, keyboards
"Thank you for the great experience Molly had at camp!"-Teresa, mother of Molly,12, guitar
"The Rockland Band Camp fills a niche.  The young people that attend the camp get to showcase the skills that they have mastered.  They learn how to work as a group to put on a show in a fun and nurturing environment.  You can see the excitement on the faces of the performers when they are on stage.  Keep up the good work!"–Mary, mother of Michelle, 15, bass, guitar and vocals.
"This is our son Johnny's 3rd time at Rock Band Camp. He absolutely loves it! Brian and Terry are magicians, we can't believe how much these bands learn in one week together. The 'Gig' at the end is so special and unique for these kids. We look forward to our next experience with these talented teachers at Rock Band Camp!" — Mary Vota, Mom of Johnny, drums, age 10
"Thanks again for your hard work with the Rockband Camp.  They were awesome.  Our family and Matt's friends were blown away.  They were just amazing!"– Jackie, mother of Matt(guitar) , age 11
"Thanks again for another great season. It was really good and fun." — Barbara, mom of John,age 12, Keyboards & vocals
"Great job w/ the kids they sounded great. Ryan had the best time please let us know when you are going to do another band group. Ryan would love to do it again." — Jim, parent of Ryan, age 9, guitar
"Johnny had a ball. Brian thanks so much!!! Can't tell you how happy he is and how happy we were with the whole program. You guys are awesome!" — Mary, mother of John, age 9, drums
"Brian all I can say is they impressed the hell at out of me. All 3 bands did great. You and Terry really got them rockin!" — Rose, mother of Vincent, age 11, drums
"I want to thank you and Terry again for such an amazing experience this week.  I keep watching the video and I can't believe how much Matt has improved and how great the bands sounded. You guys are great…we're looking forward to the fall session." — Jackie, mother of Matthew, age 9, guitar.
"So Impressive! You guys do an amazing job! Can't wait for the fall. I think I'm a groupie" – Carolyn, mother of Caitlin, age 13, guitar.