Disclaimer: This is a sponsored post. All opinions expressed are my own.
By: Ashley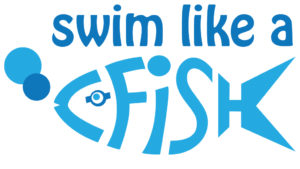 This summer we took full advantage of the convenience of having swim lessons at home. I found the boys were more comfortable in their own space, which I truly believe contributed to their growth as swimmers over the past few months.
As a Mom of 3, I am always looking for ways to make life slightly less hectic.  Having Zach come to our home instead of packing the swim bag, and all the kids and the snacks into the car to get to swim class on time made a HUGE difference.
As the weather warmed up the is past spring and we opened the pool, the boys were so excited to have Zach come to their pool for swim lessons. The boys love swim class. They are always excited to go, and sad when the lesson was over. I always saw progress from week to week with each of them – gradually learning the basic strokes and breathing.  But that all changed when we started lessons at home.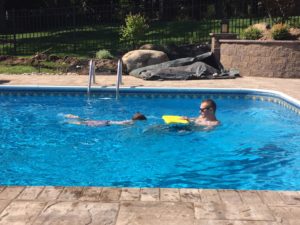 The progress was AMAZING! I could see huge differences within the one-hour lessons! I really believe having the boys comfortable in their own surroundings made a huge impact on their progress. They were confident, and seemed more willing to try new things. Zach is fantastic.  He is patient, and fun but is also firm on his expectations for the lessons.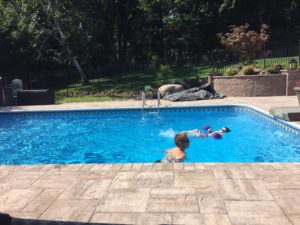 They began this summer each having a 30 minute lessons and continuing to learn the swim strokes. They finished the summer at one-hour lessons, DIVING and continuing to PERFECT technique. I am still in shock! Zach even talked to (S) about joining a swim team next year.
 Check out S diving for the first time!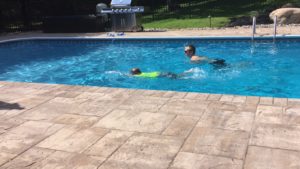 Now that the pool is closed, we decided to take a small break to settle into the school year. But, the boys will be back in the pool this winter and little man will be starting mommy and me swim as well!  I can't wait to see what this year brings!

CURRENT CLASS SCHEDULE
LifePlex Health Club
18 College Rd
Monsey, NY 10952
Private or Semi-private lessons for 6-months to Adult!
Water Comfort, Learn to Swim, Swim Team Readiness, Stroke and Turn Technique, Lifeguard Skills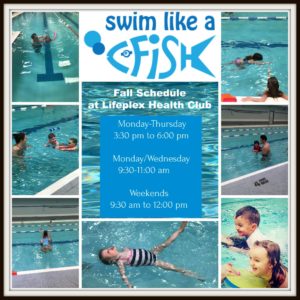 www.Likeafishswim.com
Any questions contact Stephanie
swimlikeafishny@gmail.com or 845-570-1289
Another note to keep in mind for summer:  Lifeguards for parties!
My family hosted 2 large family pool parties this summer with TONS of children. Naturally, we were nervous having so many children in the pool at once. I reached out to Stephanie ( who was on vacation at the time!) hoping she could help. Within minutes she called me back and we were set! Catherine was WONDERFUL! She was very professional, focused on the pool and didn't hesitate to step in if the kids were rough housing etc.  Catherine even got in the pool to play with the younger kids. Such a relief knowing there were extra eyes!