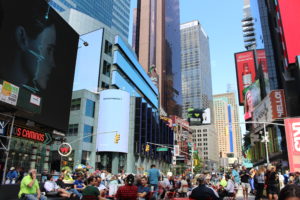 Disclaimer- This is an unsponsored post.   All opinions expressed are our own.
By: Catherin Sheridan
I grew up right here in NY, my mom and grandpa are from Brooklyn, and both my parents worked in NYC. When I was younger I went to the city often. Now that I am a young adult, I travel in as much as I can, and my wallet allows. NYC is one of the greatest cities on planet earth, and as they say the city never sleeps. Here is a list I created based on my own experiences and places I love. Some of these places I went to as a kid and still enjoy them today. I would love to have included FAO Schwartz, and Toys R Us in Times Square but unfortunately they have closed.  On my list I included higher end a little more pricey places, and just fun places to take the kids. Of course NYC is expensive but they have experiences for everyone!
I thought it would be really fun to have a kids point of view on their take of NYC. I was able to be in contact with Cate Elefante, who plays Lulu in the show Waitress, and is an frequent traveler to the Big Apple.   I asked her what her favorite places to eat, and things to do in the city is and here are her picks! (Sorry for repeats but as they say great minds think alike!)
Restaurants:
Junior's
Times Square Diner
American Girl Café
Latanzzi
Tratorria Trecolori
Broadway Shows
Anastasia
School of Rock
Charlie and the Chocolate Factory
Aladdin
Wicked
Lion King
Shows
Radio City Christmas Spectacular
Nutcracker
Here were MY "must do" places to take kids in the city.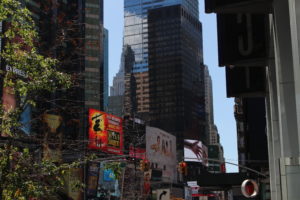 Food/Deserts/Food stores
Action Burger- 292 GRAHAM AVE BROOKLYN, NY 11211
Cookie DŌ NYC- 550 LaGuardia Pl, New York, NY 10012
American Girl Café – 609 5th Ave, New York, NY 10017
Barking Dog Luncheonette- 1678 Third Ave  New York 10128
Junior's Restaurant- multiple locations
Serendipity 3- 225 E 60th St New York 10022
Baked By Melissa- multiple locations
Dylan's Candy Bar- 1011 3rd Ave, New York, NY 10065,
33 Union Square W, New York, NY 10003
M&M's World- 1600 Broadway, New York, NY 10019
Planet Hollywood-1540 Broadway
Hard Rock Café-1501 Broadway
Mcdonald's-1560 Broadway @ 46th St (world famous)
Stores
LEGO Flagship Store-620 5th Ave, New York, NY 10020
American Girl Doll-609 5th Ave, New York, NY 10017
Disney Store- 1540 Broadway, New York, NY 10036
Nintendo NY- 10 Rockefeller Plaza, New York, NY 10020
Hershey Store- 20 Times Square Building 701 7th Ave
Places
Radio City Music Hall- Christmas Show, many other shows throughout the year 1260 6th Ave, New York, NY 10020
Madison Square Garden- sports, concerts 4 Pennsylvania Plaza, New York, NY 10001
Times Square
Plaza Hotel- High Tea
Rockefeller Center
American Museum of Natural History
Intrepid- Pier 86, W 46th St & 12th Ave, New York, NY 10036
NYC Fire Museum- 278 Spring Street, New York, NY 10013
NY Transit Museum- Boerum Pl & Schermerhorn St, Brooklyn, NY 11201
Children's Museum of Manhattan-  212 W 83rd St, New York, NY 10024n-4901
Madame Tussauds 234 W 42nd St
Ripley's Believe It or Not 234W 42nd St
Central Park
Yankee Stadium
Citi Field
Milk and Cookies Kids Spa- 1196 First Avenue (Between 64th & 65th st.) New York, New York 10065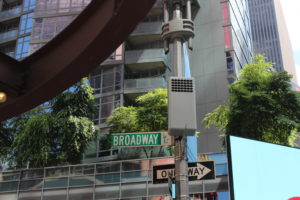 Helpful Tips–
I thought I would add in tips because sometimes we can forget the simplest things. NYC is a fun place, and is a whole new world for kids. But of course safety is the number one thing. I find the best way into NYC is train. I take the NJ transit, I usually take it from Peal River but most towns have a train stop. I get off at Secaucus and then from there transfer trains to Penn station (10 minutes). Then from Penn walk to my destination.
Driving to Secaucus is also great because you park your car and leave it (do pay hourly) and then just take the train straight to NYC.
You can also download the UBER app, saves a ton of money and safest mode of transportation especially with kids.
Money wise I bring cash, and cards. I hold a small amount in my pocket and the rest in a wallet under all the items I brought. Keep a bag that is close to your body, using a backpack I put a lock on it and hold the key on a chain in my pocket.
Wear comfortable shoes, bring extra clothes etc, depending on weather, also snacks and drinks.
As much fun as it can be grabbing a snack in NYC it is expensive, so to bring your own snacks is best. Also be sure to plan out the day and do things relatively close to each other. Kids tire out easily and you don't need a melt down in the middle of NYC.
I find the best way to fit things in is to plan things that are close or on the top of my list for one trip, and the stuff I missed on the next. Once a year my friend and I travel in to the city and stay over night, its great because if were tired we can just go back to the room and then go back out when we want.
My friend and I stay at the Manhattan at Times Square, not too expensive considering NYC and right near the action. I hope you all have a great time in NYC!