Disclosure: This is a sponsored post.  All opinions expressed are my own.
Well, as you may remember, (A) has been taking lessons with Andrew at The New City School of Music now since October.  I was surprised to find that he was to perform this December in his first concert wit the school.  After speaking to Andrew and hearing about how it helps with performance anxiety and goal setting I was all for it.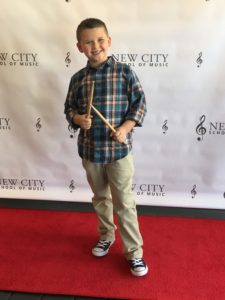 (A) was able to choose a piece that Andrew tweaked to make a bit more interesting and they were off to the races.  In fact, Andrew made a few different versions so that (A) could  work to his best potential.
For the concert Sam and the Music School make life easier to parents by having several different smaller concerts on the day of the performance.  You get to see other students of varying instruments and levels, but you are not committed to an entire day of it.  You sign up for the one that is most convenient for you and that's your time.  Also, unlike many other performances that your child will be in over their lifetime, these are FREE.  Yep, our entourage of of 7 were able to come free and see him perform.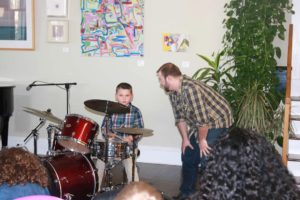 The venue was intimate, and upon entering there was a comfortable place to wait for the previous session to end.  The school also puts up a school backdrop to take "red carpet " photos, which of course I love.  We received a program with the order when we entered and learned that (A) was to go toward the end.  Very cool since he was able to sit with us until it was close to his time when they came and got him to get ready.  He was able to see the others perform and cheer them on.  He saw how hard everyone was working and appreciated it.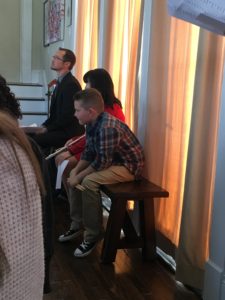 I am very pleased to say that the majority of the families stayed the whole time, they didn't leave after their child performed.  This is IMPORTANT as it shows that you appreciate all the hard work the students are putting into their music, and since New City School of Music keeps the numbers of the performance lower, its manageable.
When it was (A)'s turn to perform I think I was more nervous than he did.  I honestly had to hold back tears.  He did an amazing job, kept time and even hit the "fill" that Andrew created for him without difficulty.  It was a truly memorable first performance.  He was a little nervous and had some difficulty hearing the music at first, and didn't let it phase him.  I couldn't be more proud.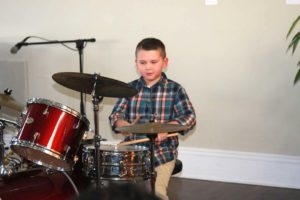 Afterwards there was plenty of time for photos with Andrew and at the drums so I could get my mom-tog on.  (A) was even more hyped to get back into lessons, and Andrew has him working on the song with some harder "fills".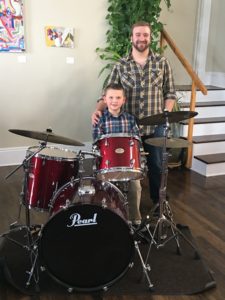 I really am so impressed with the New City School of Music.  They have exceeded our expectations in every way.  I can't wait to see how this continues to develop.
The music school is currently running a special: Sign up for lessons before January 12th and you get $100.00 in savings- which is FREE registration and a FREE first lesson (mention you heard it here)!!!  They teach piano, guitar, drums, vocals, violin, saxophone, flute and clarinet to BOTH children and adults.  For more information visit www.NewCityMusicSchool.com email office@newcitymusicschool.com or call 845-709-8383