Disclosure:  This is an unsponsored post.  All opinions expressed are my own. 
EDIT:  I originally intended to release this in November, but since it takes so much time and effort to consider, I decided to publish earlier, so you can follow our journey, and/or have time to start your own.  
Every year I start early with the collection of gifts for the new Holiday Season.  Each year trying tirelessly to make this year the best yet. The end result is generally a PILE of gifts under the tree.  Toys that the kids appreciate and enjoy- but that overwhelm them the day of, and me for the rest of the year.  Little (E) gets so overwhelmed in fact, that it usually takes her more than a week to open all her gifts.  Her first "real" Christmas she opened the door, screamed and ran away crying. Do they need them?  NOPE.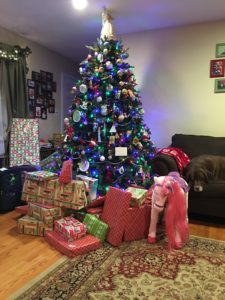 This year RNYD and I are trying something different. Something MORE difficult for us, and hopefully more MEANINGFUL for them.  Everyone has seen on "Pinterest" the 4 gift rule.  Almost everyone can recite it, or has attempted it.  We felt that the list was incomplete.  so we are creating the "5 gift challenge" (which a google search couldn't find so I "think" its original).  The purpose of the change is to make gifts more thoughtful,  more meaningful for the kids, help them to be more appreciative, and MAYBE save some money (although this was not the main purpose of the change).
How it will work:
For each kiddo we are going to SCOUR for the following items that they will ADORE Christmas Morning.
Something they WANT
Something they NEED
Something to WEAR
Something to READ
Something to DO (here's our big add on)
The addition of "Something to DO" stems from our love of spending time together DOING things.  Going to a play, a theme park, a hike, making a project, working in the yard, the sky is the limit.  Sometimes we get so caught up in our every day lives that we forget to make time to DO things as a family.  Things that the kids would REALLY enjoy.  I am reminded of the way they get so excited to go to LEGOLAND Discovery Center, or Diggerland (don't forget if you want to visit these two we have discount codes).  I want to make an effort to make sure that happens more often.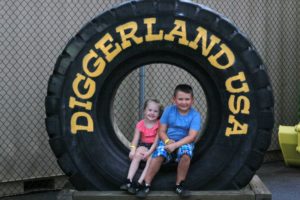 They will still get a stocking to open, but it will be filled with some more "useful" gifts and maybe a treat or two, nothing crazy.
Here is where it gets hard.  To think of truly unique and special gifts for each child that will really make them smile this Christmas.  Just this morning I started and it took me a long time, but I think I truly came up with things that BOTH kids will love to receive as "Something to Wear".  One down- four to go for each kiddo.
Happy to walk you through the process if you'd like, and let you know what I chose for each along the way…  Which one do you think will be the most difficult??  Do you have any suggestions for my 7 year old boy and my 4 year old girl?  Super Open to any suggestions!!!
Edit:  Follow our progress for 2017 Click the links to see what we chose!
-MJ