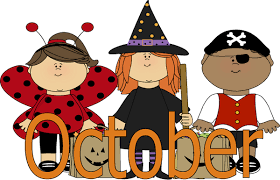 October is for apple picking and hayrides, a time for baking (or buying) warm apple pies, pumpkins and hot chocolate with whip cream. It's one of my favorite times of year all because of Halloween. I love being able to dress up and decorate the house and hand out the special treats to all those that stop by in costume.  Here are some great things happening in and around the area. Stay safe and have fun to all the little ghouls and super heroes.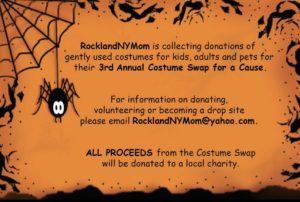 RocklandNYMom.com's 3rd Annual Costume Swap for a Cause:
Come and pick up costumes or dress up clothing for your kids, pets and yourself.  All items are gently used and have been donated.  ALL Proceeds from the Costume Swap will be donated to a local charity.  Lots of activities for the kids to do!
When:  Saturday 10/7 11am-1pm.
Where: Pearl River High School / Pirates Cove – 275 E. Central Avenue, Pearl River NY.
Facebook: https://www.facebook.com/events/1874527259530472??ti=ia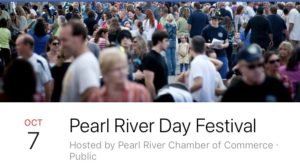 Pearl River Day: 
When:  Saturday 10/7 11a-6pm
A full day of community family fun.  Vendors, pumpkin painting, Kids Bing, Nail Painting & tattoos, inflatables, sand art, 50/50 raffles, food and beer and live entertainments (DJ), and performances.  All proceeds go to the Pearl River Chamber of Commerce Beautification Fund.
Facebook:  https://www.facebook.com/events/778752365625019??ti=ia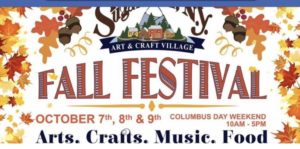 Sugar Loaf Fall Festival:
When:  Columbus Day Weekend 10/7-10/9  10a-5pm
Where:  Chester, NY
Shops and galleries that have lot's off fall and Holiday items to be purchased.  Authentic local and cultural cuisine's from lots of vendors, a kids zone, live music each and every day.  A day full of fun.
Facebook:  https://www.facebook.com/events/1535531606541357??ti=ia
More info:  sugarloafnewyork.com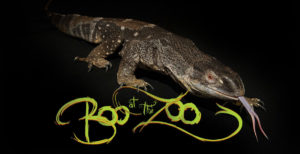 Boo at the Zoo:
The annual Halloween celebration will open on Saturday, September 30th, and run weekends and holidays thru Sunday October 29th. October 8-10, 15-16, 22-23, 29-30.  Scheduled activities embrace the spirit of the season while incorporating wildlife and conservation. A haunted Forest, Hayride, Corn Maze, Pumpkin Carving, Candy Trail and Bootoberfest are amongst some of the fun the Zoo has scheduled. Other Halloween experiences that can be found are a mentalist who can read your mind; puppet shows and crafts. Bronx Zoo Animal Keepers will be on hand throughout the park to chat with Halloween revelers about the animals at the zoo while providing holiday-themed enrichment treats to some of the park's residents.
For more information about dates and times of the activities log on to http://BronxZoo.com/boo.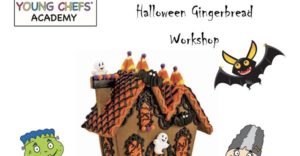 Haunted Halloween Gingerbread Workshop:
When:  Saturday 10/21 12n-1pm
Where:  Young Chefs Academy – 59 South Main St. Ste #2, New City, NY
Come and show your creativity with a spooky Halloween Gingerbread House.  Come dressed in your costumes!!!! Advanced ticket purchase required.
Tickets Available:  newcityny.youngchefacademy.com
Facebook page: https://www.facebook.com/events/486307321751537??ti=ia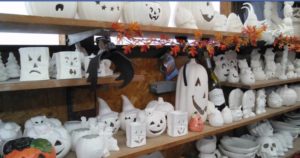 Jill's Ceramics:
Jill's Ceramics and RocklandNYMom.com have an amazing event planed for you. Go on the facebook page below to reserve your spots today – before they are all full.  Prices vary based on the Halloween item that is chosen to be painted.
When:  Saturday 10/21 w/2 times slots – 12n & 2pm
Where: 180 Germonds Rd, west Nyack, NY 10994.
Facebook page: https://www.facebook.com/events/1957881204487292??ti=ia

Munchkin Monday Spookfest:
Where:  Palisades Mall, West Nyack (East Court, Level 1 near H&M)
When:  Monday 10/23/17
Time:   11a-12pm
RSVP is not required (but all guests will be asked to sign in) for this morning of tricks, treats and musical fun.  Make sure you wear your costumes, there will be a costume contest.
Mall-O-Ween:
Where:  Palisades Mall, West Nyack (Mall wide trick or treating)
When:  Tuesday 10/31/17
Time:  5-7p
Various stores throughout the mall will be handing out candy to those dressed in costumes!  Pick up your map at guest services for a list of stores that are participating @ 5pm.

2017 HALLOWEEN HAPPENINGS AT STEW LEONARD'S YONKERS STORE
Halloween Hay Bale Theater – Free children's Halloween themed movie. The Movie showings are at 7pm w/doors opening at 630m. This is a first come first serve basis at Customer Service the Saturday BEFORE each show.
Dates: Friday 10/3, 10/13, 10/20 and 10/27FREE refreshments are served during the movie.
Halloween Hayride Spooktacular – family friendly hayride starts Sunday 10/1 and runs thru Tuesday 10/31.
Dates & Times: Monday through Thursday: 3:00 P.M. until 7:00 P.M.Friday: 3:00 P.M. until 8:00 P.M.
Saturday through Sunday: 10:00 A.M. until 8:00 P.M.
Free Face Painting – every Saturday & Sunday for the entire month of October. Starts at Noon and ends at 3pm.
Halloween Trick or Treat Brunch with our Characters – Saturday 10/28 & Sunday 10/29 will be hosting a Halloween Breakfast. Three seating options (10a, 1230p & 2pm)
The farm-fresh menu at 10 a.m. will feature pancakes, sausage, eggs, home fries, fresh fruit, orange juice, and coffee.   At 12:30 p.m., the same breakfast selections from the 10 a.m. menu will be served alongside pasta and chicken. The 2:00 p.m. seating will feature a lunch of pasta, chicken, salad, assorted veggies & dip, finger sandwiches, cookies, drinks.
Tickets will go on sale Monday, October 2, 2017 on a first come, first served basis. Adult tickets cost $14.95/each and children age 12 and under are $9.95/each.
Trick or Treat – Children are invited on Tuesday 10/24 to come dressed up in their costumes to go trick or treating around the store from 4-6pm. Pick up a map from customer service and use this mad to find treats through the store!
Halloween Day – Tuesday 10/31 children who come dressed up to the store will receive a FREE small ice cream.
WHERE:
Stew Leonard's Yonkers Store, One Stew Leonard Drive, Yonkers, NY
Store Phone: 914.375.4700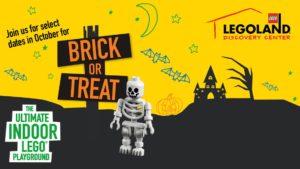 LEGOLAND Discovery – Brick or Treat:
When: Weekends in October (beginning October 7th) and Tuesday October 31st. Spooktacular activities to please your little mummies and ghosts this Halloween season.
Brick or Treat around the attractions to complete the LEGO Bat model that you can take homeHalloween themed mosaic builds in the Master Builder Academy
Haunted MINILAND, Brick or Treat Factory BrickGiveaway and LEGO Jack-O-Lantern & MINIFIGURE Ghost photo opportunities.
Wear a costume – and receive $5 off the admission cost.
Purchase Tickets: https://westchester.legolanddiscoverycenter.com/tickets/

LEGOLAND Discovery – Adult Fan of Lego's Night Out:
When:  Thursday, October 26 @ 7-9pm
Adult Halloween night filled with Halloween themed activities.   Horror movie/TV Trivia, zombie target practice, A survival gear scavenger hunt, and more.  Plus build your own graveyard scene to take home.  Must be 18 and older to attend.
Purchase Tickets: https://westchester.legolanddiscoverycenter.com/tickets/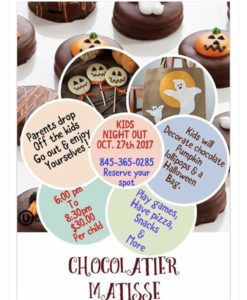 Chocolatier Matisse Kids Night Out
When:  Friday 10/27/17
Time:  6-8:30pm
Parents can drop off the kids (and enjoy a little time out), while the kids will decorate chocolate pumpkin lollipops and a Halloween bag.  They have games, pizza, snacks and lots more.  Cost is $30 per child. 
Facebook:  https://www.facebook.com/chocolatiermatisse/posts/185596941985168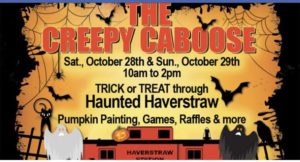 Trick or Treat through Haunted Haverstraw w/The Creepy Caboose:
When: Saturday 10/28 & Sunday 10/29 from 10a-2pm
First time ever to join the caboose to trick or treat through Haunted Haverstraw. There will be pumpkin painting raffles and more…www.infotraw.com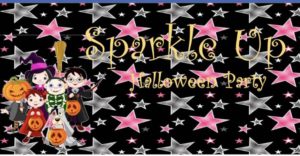 Sparkle Up Halloween Party:
When: Saturday 10/28 1-3pm
Where: Sparkle Up – 8 Second Street, New City
Come dressed up in your costume, where you can have you hair, makeup – the works done. Afterworks walk down the Halloween runway for some fun!
Boys: Mohawks, glitter/color spray, tattoos
Girls: hairdo, glitter/color spray, makeup, nails, glitter tattoos
Cost: $20 per child
Facebook page: https://www.facebook.com/events/495298360845386??ti=ia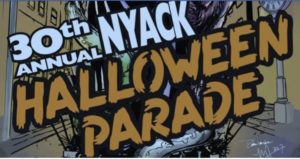 30th Annual Nyack Halloween Parade
When:  Saturday 10/28 12n-8pm (Rain Date 1/29)
Where:  Nyack Chamber of Commerce,  94 Main St. Ste.2, Nyack, NY
Nyack Chamber of Commerce is hosting the 30th Annual Halloween Parade.  This is the BIGGEST Halloween party outside of the one in NYC.  The festivities start at 2pm at the Main street Municipal parking lot where kids get to start the trick-or-treat trail.
Registration for the Parade starts at 3pm at Memorial Park, with the kick off starting at 5:30pm.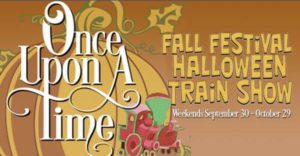 Fall Festival Halloween Train Show:
When: Weekends 9/30 thru 10/29 @ 11am
Where: Lasdon Park – 2610 route 35, Katonah, NY 10536
$10 an adult, $5 for children (12 and under)
Train show display, conservatory exhibit, a hay maze, decorated main house w/fairy garden room, entertainment, music, face painting and more.
Facebook page: https://www.facebook.com/events/1469431149814913??ti=ia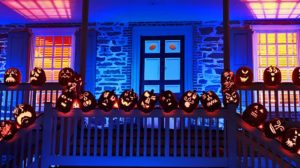 The Great Jack O'Lantern Blaze 2017:
When:  October 5-9, 12-31, November 2-5, 9-1, 17-18 and 24-25!
Time: 630p-9p
Where:  Van Cortlandt Manor – 525 S. Riverside Ave. Croton-on-Hudson, NY
Tri-State area's biggest, fall event with more pumpkins then before.  Walk thru 18th century riverside landscape and discover a breathtaking display of hand made jack o'lanterns.
Facebook:  https://www.facebook.com/events/130933514195972??ti=ia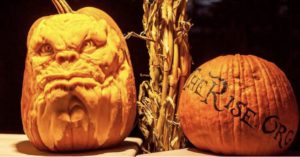 Rise of the Jack O'Lanterns 2017
When:  October 6-October 29th
Where:  71 Old Westbury road, Old Westbury, NY 11568
Tickets Available – www.therise.org
Returning for the 6th year in a row on Long Island family friendly fall event.  See 5,000 hand carved illuminated jack o'lanterns that are placed long a scenic walking path that is set to a musical score.  Fun for all ages!
Facebook page:  https://www.facebook.com/events/1505625712835188??ti=ia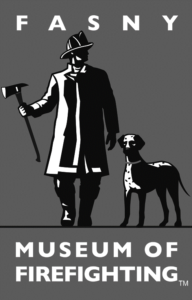 Fire Truck Pine Box Derby
When:  Saturday, November 4th @ 10:30am
Where:  117 Harry Howard Avenue in Hudson, New York
Reserve your spot:  518-822-1875, ext 10
The "Wheel of Fire Trucks" game show is a program to help a child learn about pumpers, ladder trucks, and rescues.  Once the game is complete, pick your favorite truck to build and decorate, and send your racer down the track.  Kids will be able to keep their racers, and prizes will be given to those with the fastest times.  This program is from kids 5 and up.  Spots are limited, so call today to make your reservation.
For more information:  www.fasnyfiremuseum.com