Disclosure:  This is a sponsored post.  All opinions expressed are our own.
By: Sofija Duic
Last June Megan took little (E) to go see Annie at Westchester Broadway Theater and had a BLAST!  Not only did we give a great review, but we were able to snag a FABULOUS discount for our readers.  Well, we are back with another great review, and a discount code for you and your family too!!!  Read all about it- we are DYING to get back there (seriously (A) asks me EVERY DAY).
Annie Get Your Gun
At The Westchester Broadway Theatre
Music & lyrics by: Irving Berlin
Book by Herbert & Dorothy Fields
Directed & Choreographed by Richard Stafford
Musical Direction by Shane Parus
September 14 – November 18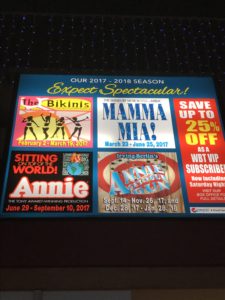 Getting there & Parking: Leaving from Nanuet, it took my family about 25 minutes to get to the theatre.  It was a straight jump onto the NY State Thruway, to the Saw Mill and a few turns and we were there.  Parking was so easy as well, since the theatre has its own parking lot.  Super convenient, especially with 2 anxious girls that were so excited about dinner and a show, there were no "are we there yet".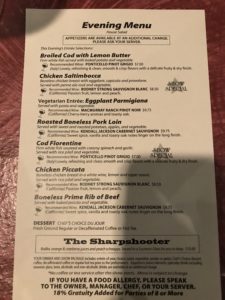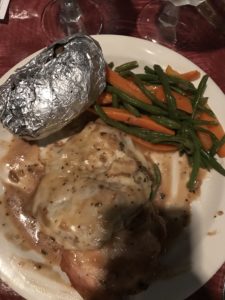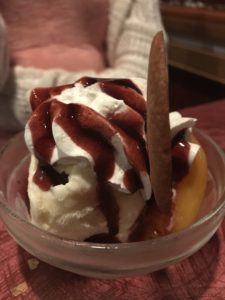 Dinner: WOW – the choices where amazing.  We were able to choose from seafood, chicken, pork, prime rib and even a vegetarian option.  If you have picky little eaters, they have a kids menu available as well. When you sit, you are served a side salad to start, with a little corn muffin and roll.  Your waitress/waiter then comes by to see if you want drinks or any other types of appetizers (these are at an extra cost).  We stayed with the menu they gave us. I chose the Chicken Saltimbocca, with a baked potato and veggies. The meal was cooked to perfection, with no complaints from me.  Both my girls chose the Chicken Piccata, and said it was "super yummy mommy, can you make this one night" (1 chose to have 2 baked potatoes, and the other a baked potato and rice pilaf).  My husbands choice was the Prime Rib.  I was super worried that when he asked for it medium, since many places have a hard time making a prime rib to perfection, but once again the chef did not disappoint.  It was perfectly pink and my husband even mentioned that it was probably one of the best pieces of meat he has had (going out to diner).  Dessert was just as delicious.  They have an extra menu that you can purchase from, but we were happy with what the chef prepared.  Vanilla ice-cream over a ½ a peach, raspberry syrup, whip cream and a cookie.  When we stepped out at half time to stretch our legs, we saw some of the other desserts (and sadly regret not trying one of the other options as a bonus dessert). We also had some coffee and tea.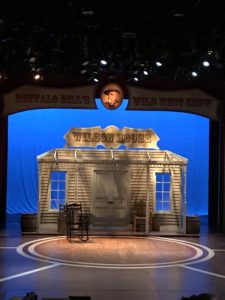 The Show:  The show was great.  Annie Get Your Gun is a play about crack shot Annie Oakley.  Annie (Devon Perry) is a quick witted, sharpshooter that wills her very first shooting competition against "the best shooter around" Frank Butler (Adam Kemmerer).  While they travel throughout the US, Annie and Frank form a bond and start to fall for each other.  But as stubborn as Frank and Annie are, they end up going in different directions.  Annie with Wild Bill and his show, and Frank with Pawnee Bill's show.  Finally after months apart, they are back in the same City (New York City) when Sitting Bull, helps Annie realize how to win the man of her dreams heart back – by letting him win the competition.
The show was great for men and woman alike, as well as kids. It touches on friendly competition between a man and a woman, some action with the shooting competitions, and some romance.  The voices of Annie & Frank were amazing.  The notes that they hit and the range was simply impressive. The ensemble was just as amazing as the main characters with the dancing and singing and kept my girls entertained for sure.
Show Times:
Wednesday & Thursday & some Friday Matinees: Lunch: 11:30 am & Show 1 pm.
Thursday, Friday, & Saturday Evenings: Dinner: 6:30 pm & Show: 8 pm.
Sunday Matinees: Lunch: 12 pm & Show: 1:30 pm
Sunday Evenings: Dinner: 5:30 pm & Show: 7 pm.
RocklandNYMOM.Com Readers get a Discount – Just mention: Rockland NY Mom.  You will receive an $11 – $15 savings (depending on performance chosen)
Reservations: Call (914) 592-2222. Also at: www.BroadwayTheatre.com
Group Reservations: Discounts for Groups of 20 or More: Call (914) 592-2225.
Luxury Boxes: Call (914) 592-8730. For private parties of 6 to 22. Enjoy dining and theatre in an elegant private box. Additional features include an expanded dinner menu, hot and cold hors d'oeuvres, private powder room, and Luxury Box reserved parking.
Ticket Prices: Dinner & Show range between $56.00 and $84.00 PLUS TAX depending on the performances chosen. Beverage Service & Gratuities are not included in the ticket price. More news at: www.BroadwayTheatre.com