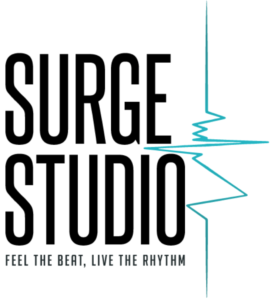 For our most recent RNYM event we teamed up with our friends over at
Surge Studio for a Beach Dance Party!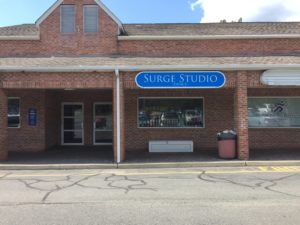 Miss Carly and a few of the dancers from the competitive dance team greeted us with huge smiles when we arrived. Each child was given Hawaii'n lei's to wear and the main dance studio was decorated with palm trees and Hawaiin'n flowers, looked great!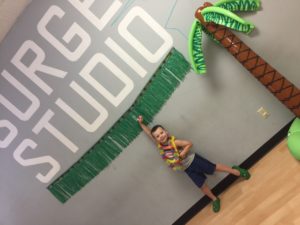 The party started in the back party room: lights down, disco ball spinning and the music playing!  Miss Carly started with a game of freeze dance to help loosen everyone up. It wasn't long before all the kids (and parents) were dancing.
After a few rounds the party really ramped up with a game of limbo! I mean, what is a beach party without Limbo?! The kids were laughing as they crawled, and slithered under the limbo stick, over and over and OVER!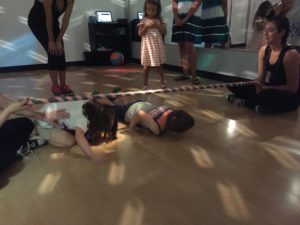 Everyone worked up quite an appetite during limbo, so it was a perfect time for a pizza break!
After pizza we jumped right into a game of Party, Party, Beach Party. (a variation of duck, duck, goose)  This was a barrel of laughs! Watching the kids giggle and squeal as they ran away from each other was too much!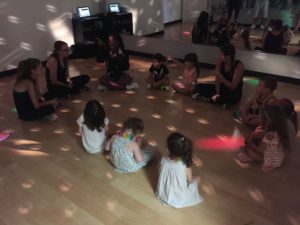 After one more quick game, Miss Carly challenged the kids to learn a dance routine! They all lined up with the dance team in between to help out, and Miss Carly went through the steps. I was amazed at how fast the kids picked up the steps. After twice through with Miss Carly showing them, they were all following along, SO proud of themselves!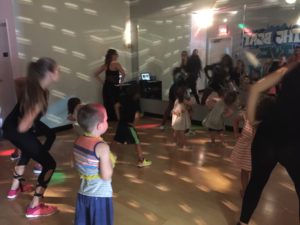 The hour and a half FLEW by! Miss Carly is full of energy and wonderful with the kids. You can tell she truly LOVES what she does. She even managed to convince me to come try a class myself! Stay tuned …
Surge Studio is perfect for students taking dance for fun, as well as students who want to take the next step in establishing a professional dance career. They offer Youth Classes, Adult Classes, Competitive Dance team, Private instruction, Dance Workshops, Birthday Parties and MORE!
Want to meet Miss Carly and check out the studio?
Join them this Saturday for their Fall Open House.
September 9th
11am-2pm
285 N Route 303, Congers, New York 10920
http://www.surgestudioarts.com
https://www.facebook.com/surgestudio/
info@surgestudioarts.com