Disclosure:  This is a sponsored post.  All opinions expressed are my own.
Two months ago the person who had been cutting little (E)'s hair stopped returning my calls.  We are VERY particular about her hair, she has a great head of fine hair, with a great little curl at the bottoms.  No joke- I would kill for my kids hair.  I reached out to friends who are WAAAAY more fashionable than I am.  They recommended to me Sparkle Up in New City.  I had heard of it, but had never been there myself.   So we went.   For one low price (E) received a great haircut, braids and painted nails.  Deborah took us for a tour and little (E)'s heart leapt for joy.  She loved it so much that we have made it our new haircut spot.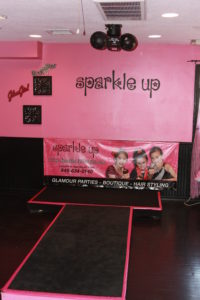 This past week was our second trip and this time was even more important for her hair to be amazing because she was going to be the flower girl in her uncle's wedding.  In fact, the day that we went was the rehearsal dinner, and I figured that since the cut came with a braid, I would have Deborah braid it and leave it for the rehearsal.
BEFORE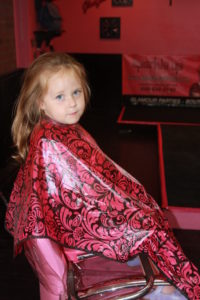 Our appointment was at 1:30 and we arrived a little early, Deborah was of course already there and ready for us.  (E) and I said hi and they got straight to work.  I explained the importance of the cut (not that I had to, its always great) and we got started.  The cut was great and when done Deborah asked if we wanted a braid and we said yes please for the special occasion.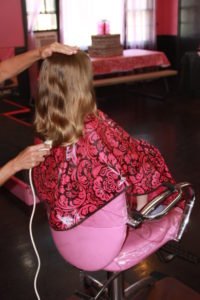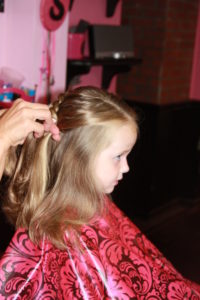 She said she knew just what to do.  Well, she more than surpassed our expectations and did the cutest little up-do for (E) even topping it off with the perfect amount of glitter.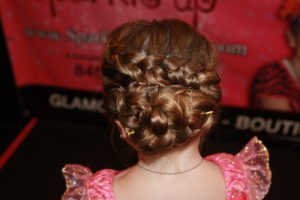 Next since we had some extra time Deborah asked if (E) wanted to dress up.  Boy did she ever!!! Well, at first I was nervous because I had her big brother with us and I was afraid he was going to feel left out.  In fact, on the way into Sparkle Up he said "ugh this place is for girls right"?   I told him to wait and see.  There's actually a second dress up closet with "boys" items in it.  For the brothers and cousins and friends that attend play dates and parties.  When I said I was impressed Deborah mentioned that she does of course also cut boys hair, and sometimes they choose to have some color added (which I plan to let (E) do next time).  Both kiddos picked something to dress in and walk the runway.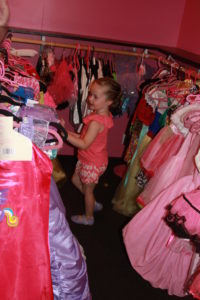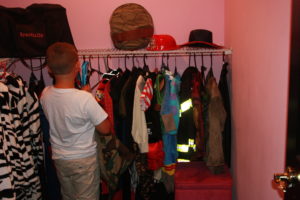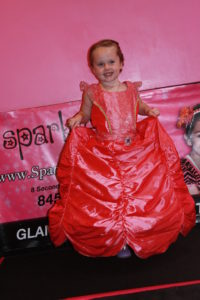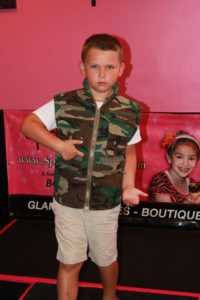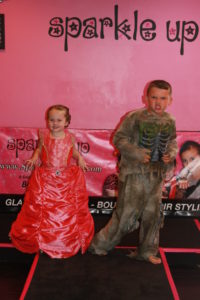 Once dressed (E) wanted to paint her nails, hot pink, with sparkles.  She got to sit at the special little table choose her color and have them painted (happy girl).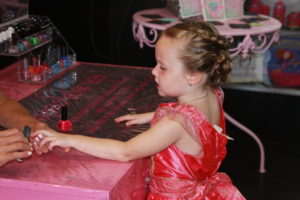 All throughout the fun Deborah and I are chatting it up, and at one point she asked me what I was doing with my hair for the evening. I said probably blowing it straight, and she told me to sit in her chair.  In under 10 minutes she had braided my hair back into a beautiful chignon and I no longer had to worry about my hair for the night.  I felt so pretty.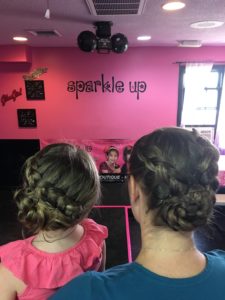 I learned that Deborah doesn't just do kids' hair, she also does grown ups and does makeup applications, from dance recitals, to prom, to family portraits and weddings.  She even does lessons for teens, tweens, and adults.  She is also a great destination for kids birthday parties, and girl scout troops! There is so much to do there!!!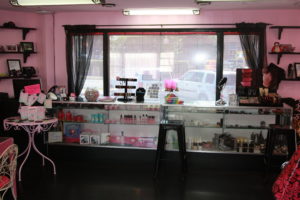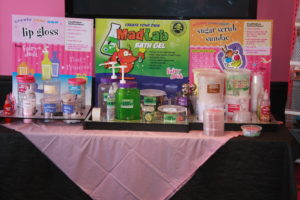 We really enjoyed our time at Sparkle Up and neither kid can wait to go back.  (A) wants a cut with some spray color, and to try a few more boys costumes on, while (E) wants the works, again.  Loved it so much in fact that we will be working with Deborah for some great events coming up this year!!!  To book a haircut, play date, party, etc contact Deborah at 845-634-0140 or email her at Sparkleup@me.com she is really quick to respond to both.  Of course, we always appreciate you mentioning you heard about them here <3.