Disclosure:  This post contains affiliate links.
This year for (A)'s Birthday Party, he again told me he wanted it at "a place" until it came time to plan.  Then he decided that he liked the parties that I planned better.  It's a lot of work, but I really enjoy the creativity, and making him happy.  A part of me was really glad that i'd get at least one more year to spoil him.
He decided on a dinosaur theme.  I like to dress on theme so we created this Jurassic World Vest with a patch I bought on etsy and a kids vest.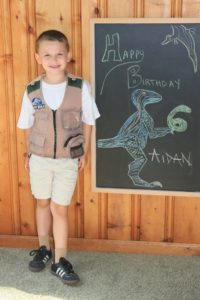 I made my own invitations on the computer- don't ask me why I decided that the interactive (the cracked top pulls out to reveal invitation information) sort would be fabulous this year bit I did.  It took forever but we were both pleased with the outcome.  I also made some vines out of shopping bags and paper for decoration, and a Happy Birthday Banner of hand-drawn bones.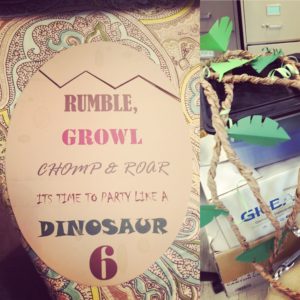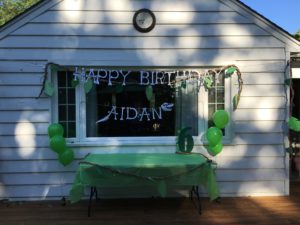 I then created for him a "6" that looked like a dinosaur out of am blank wooden number.  I used the 6 as decor at the party, for a photo prop, and then later in his dinosaur bedroom.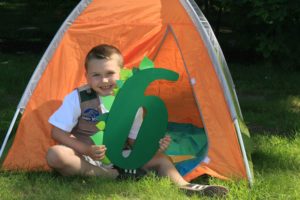 As we brainstormed together, the party became a fun paleontology party in the backyard.   The first station that I set up was "camp".  This would serve as our home base.  Base consisted of a tent that the kids could climb in and out of, and a kids picnic table (i've had this thing for years its awesome) that had on it binoculars, personalized collection bags and safari hats for each attendee.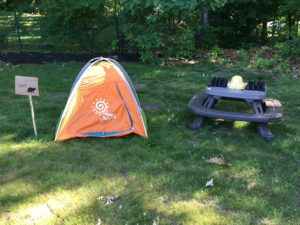 I usually start parties with a craft because its easy to explain as kids start to arrive, and also usually a cute keepsake of the event. We made some "fossils" out of red clay on Styrofoam trays in the "Lab" area.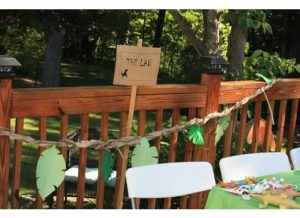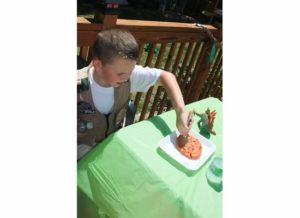 We got cleaned up and went down to the "Camp".  The tent also had the clues and maps for the bone expedition.  Before we started I of course snagged a group photo.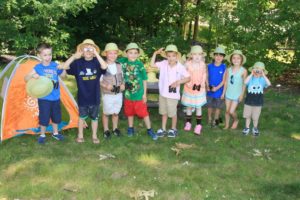 The maps were created to look like the backyard, and put x's where I hid bones.  The bones were pieces from a wooden 3-d puzzle of a spinosaur that I glued larger pieces together for them to find.  I took pictures of the pieces so that they knew what they were looking for and placed them in the envelope with the maps.  The kids found all the pieces and then I put them together.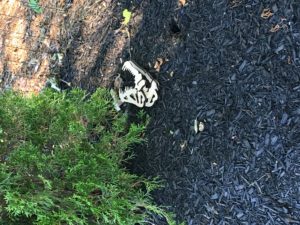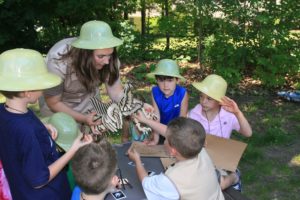 The next activity we needed their collection bags (brown paper bags I personalized that would turn into their goody bags).  We went to the dino-nest in one area of a yard.  The dino-nest had in it little dissolving eggs that have 'growing" dinosaurs in them.  Each child was told to find a few for their bag.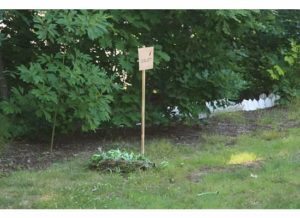 From there the kids moved over to the 'ice age" where I had frozen small plastic dinosaurs into egg shapes (inside balloons that I later peeled).  The ice eggs were put into water to begin melting.  The kids dug the dinosaurs out of the ice and got to take a few of them too.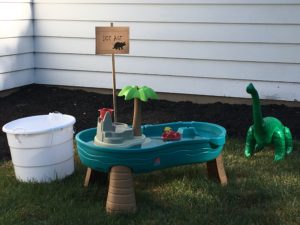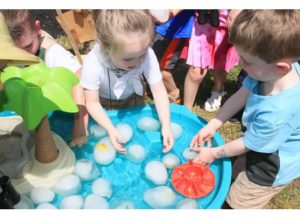 Then we moved onto the field of dinos.  Plastic puppet heads were strewn on the grass near a blow up dinosaur (one of several scattered around the yard) kids got to take two of these and put them in their bags.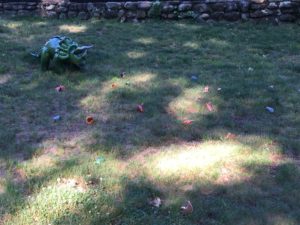 Lastly, there was the pinata.  We filled the t-rex pinata with some candy for the kids to grab, and now that they are 6 I let them actually hit it instead of pulling strings.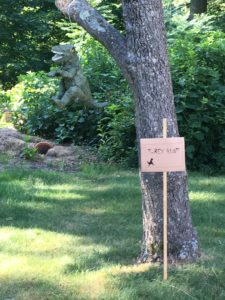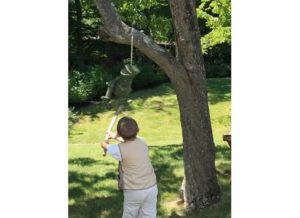 As you may remember from my other posts, I don't go crazy with food for kids parties, they really don't care much.  For this party I made Dinosaur Chicken Nuggets and Fries for attendees.  Paper goods were also simple Jurassic Park ones that I found on Amazon.  What I try to focus on a bit more is the dessert.  I made fossil snicker doodle cookies by stamping plastic dinosaurs in them before I cooked.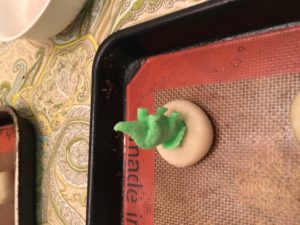 I also made some "dino bone" cupcakes with white chocolate "skulls" and dirt made from crumbled graham crackers.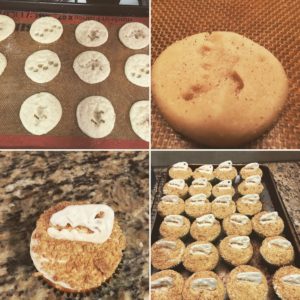 The most impressive part was of course the cake (I always love the cake).  His cake was made by Vanessa of Sweet Spot Studio and it was just perfect!!!  Not only is it stunning- but so so good.  I have never been disappointed with her work.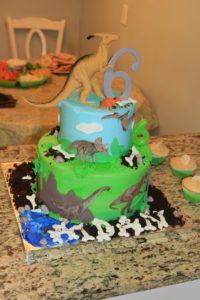 Here's another candid or two just because :o)  Hope you enjoyed (A)'s 6th birthday party as much as we did!!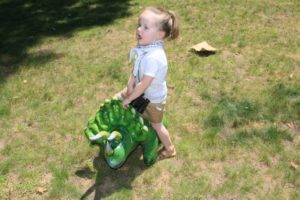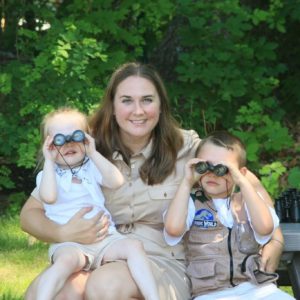 Love our party ideas but this isn't quite the right theme for you?  Check out our past parties HERE!
Need ideas for Entertainment (click here) or Venues, Vendors and the like (Click Here)? We've got all of that!!!