Disclosure:  This is a sponsored post.  All opinions expressed are my own.
I love how many talented women (and men) we have in Rockland.  As you know, we love to support our local people and businesses. Kristin O'Rourke is no exception.  Not only is she a successful local business woman as the owner of In Home LCSW, PLLC, she has now added to her repertoire children's author.   Kristin is a successful LCSW, and that's no surprise because she is sweet, honest, and really the kind of person you would love to talk to about anything.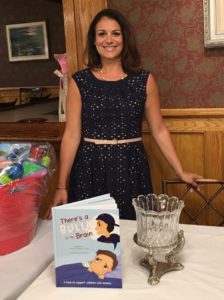 She has just published her first (and I say first because I don't see her stopping here) children's book "There's a Bully in my Brain", Mascot Books, which was written to help children deal with anxiety.  Kristin sent us over a book to read and review.
During our book walk we found that, the book is attractive, with unintimidating photos that (A) quickly related to.  He noted that some pages had more words than others, but that it would be easy for him to read because the font was easy to read.  As he is now a reader, he is sometimes saddened when he can't read a book because they have used a fancy font that he can't decipher.  This made the chosen font for "There's a Bully in my Brain" a major plus for him.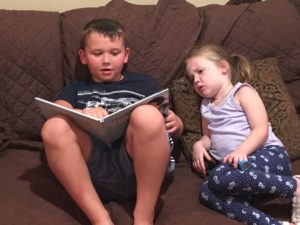 We read the book together and he didn't squirm the way he does when a book is too lengthy or doesn't hold his attention.  He stopped me to identify who the players were on the pages and made a few comments.  As we often read books and then discuss them to work on comprehension skills, this made a great opportunity to discuss the books content, and open up the door to speak about any anxiety he might be facing.  It also allowed me to get a feel for his opinion of the book.
First we discussed if there was a real person in the child's head.  He understood that the "bully" was not a real person but the child's inner dialogue, his doubts and fears.  We discussed our own inner dialogues.
One of the things that I really like about Kristin's book is that the counselor who he speaks to gives him REAL advice for "Bullies" both in the brain as well as physical people.   (A) made the connection which I was very impressed with.  He said that standing up to bullies was the best way to deal with them no matter whether they are in your brain or presenting as real people who are trying to hold you back.  We had a great conversation about how standing up to our "bullies" makes us strong, and takes back the power from them.
See (A)'s Summary: Bully in my Brain Summary
As a parent, I must say, it was nice to be reminded of all of the stressful situations our children go through in a day.  It reminded me that many of the experiences that we take for granted as "normal" and "daily" are actually quite new, and nerve-wracking for our kids. It also helped me to think about how to best handle conversations if my children (both in school and at home) should share with me some anxiety.  I have heard so many people give the advice "to ignore" which is REALLY hard to do, impossible even, and doesn't deal with the worry.
We have a LOT of books in our home, and I couldn't be happier to add this one to our collection.  My (A) is a worrier, he's sensitive, tends to be more passive, and senses so much that goes on around him.  It was good to have those conversations with him, as I am sure we will again.  This book would be a good addition to ANY family's library.  I highly recommend it to parents, grandparents, school counselors, and anyone else who works with children.  Not only did we learn and discuss valuable information, but he enjoyed it, he has read it 3 times since and we didn't need to talk about it every time.  He has read it to his little sister, (E) as well.  As a part of our normal reading routine it is the perfect vessel to speak about important issues without sitting and just having a "conversation".  This discussion was comfortable and fluid, and (A) was happy to open up as he made "text-to-self" connections.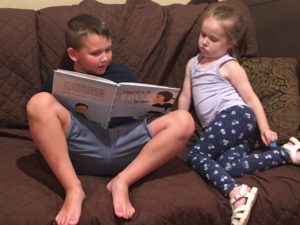 I cannot wait to see what Kristin's follow up to "There's a Bully in my Brain" is, as I know it will also be relevant, well written, and helpful.  So glad she shared this with us.
Kristin's book is available at many different outlets the easiest of which I always find AMAZON (link here).  She is available for author visits, book talks and of course as a counselor through her company In Home LCSW, PLLC.