Disclosure:  This is a sponsored post.  All opinions expressed are our own.
It is often difficult to come up with ideas for entertainment at kids parties.  Especially when they are at varying ages.  Some may be too "young" for your whole crowd while others are too "advanced" for others.  This year (A) has requested laser tag, and (E) can't go because she is too small, its forced me to come up with a plan b while the party happens for her, since I know she won't want to be left out.
One amazing option out there is the Bubble Bus.  Everyone loves bubbles and proof of that is the reception that they received at our Egg Hunt this year.  We are always trying to think of ways to improve our events so this year we had the bubble bus come.  We were SO excited for the event, but the day of the weather was NOT cooperating.
It was cold and windy and we thought that there was NO WAY the bubbles would work out.  Well, we were super wrong (and happily so).  Peter came nice and early to get things set up, and rode around the site to find the best placement.  Then he set up special tools to make sure that the bubbles didn't break right away and would still work.  We were still a little skeptical.
Well, there was certainly no need.  The bubbles were awesome, and the owner Peter is so lovely to deal with.  All the kids there (ages ranged from under a year to 14 years old) had fun chasing them and watching in wonder.  The music added a nice touch as well.  After the event we had SO many compliments on the addition of Bubble Bus, and several inquiries for parties.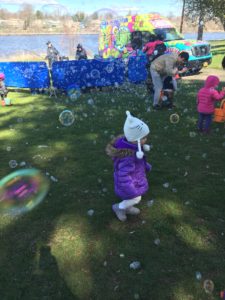 See Movie: Bubble Bus Video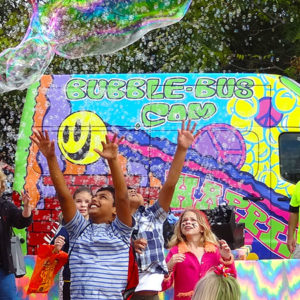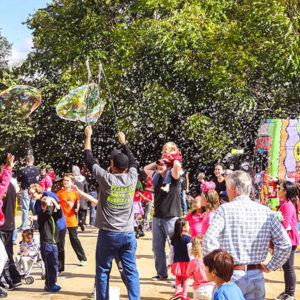 As always we appreciate it if you mention you heard about them here, here's the info:
LoveNY@bubblebus.com
914.552.4740
www.bubblebus.com
www.facebook.com/bubblebusloveny
https://youtu.be/c6mdMHEVxnU
The Bubble Bus is the world's most sure-fire way of spreading joy and bubbles to people of all ages.
The first and only mobile business of its kind, the Bubble Bus and its interactive bubble-making magic can appear anywhere you want to attract or entertain a crowd.