Disclosure:  This is a sponsored post as some of the items are affiliate links the highlighted items will take you right to where you can purchase what you need.
Paw Patrol – July 2015  Little (E)'s birthday is EXACTLY 7 days after (A).  This past year she turned 2 and we decided to do Paw Patrol since she is just OBSESSED, with the helpful pups.  Here is what I came up with…
I again found the cutest invitations ever on ETSY and then had them printed and cut locally at Rockland Instant Copy.  I used to go to staples, but Rockland Instant copyis local, a fraction of the price, and deals with my specific neuroses very well. (I like a nice thick card stock for my inviations).
This would be (E)'s first birthday party with stations so I wanted them to be age appropriate and fun.  I also had to take into account that since she wasn't in school yet, most of the kid attendees were family friends of varying ages.
I usually start parties with a craft.  It helps the kids to get focused, and also makes a nice "take home" for them.  As I have previously stated, I am not a huge fan of "goodie bags" so instead I try to think of things that the kids can really play with, or use.
Pup Tags- Remember shrinky dinks?  Yeah they are awesome.  I came upon a tutorial for them and decided that would be a fabulous craft.  I traced "pup tags" onto the film in advance, popped holes in the top and cut them out.  The kiddies got to color them in and I baked them while the kids played.  I purchased hooks from AC Moore in advance so that they became little key chains, perfect for book bags.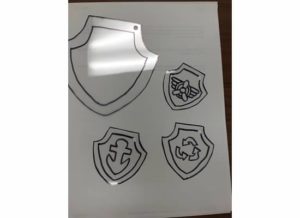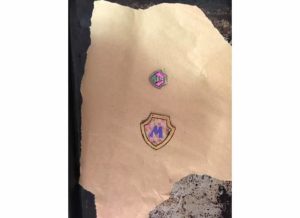 Dino Dig– I purchased some plastic dinos from Amazon and spread them in the sandbox.  At the dollar store I purchased some sand toys (sifters, shovels, rakes).  I covered the dinos with more sand and left out pails for the kids to put their found dinos in.  These little guys became one of the "take homes" for the party.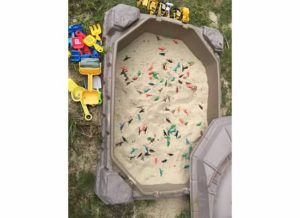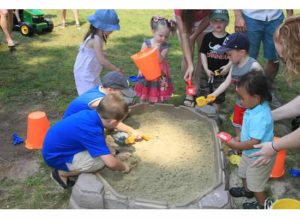 Pup Pup Boogie- Toddlers love to run around around and dance, they also love balloons.  So I put the two together and created a station for "pup pup boogie".  In this station we played "freeze dance" in an area that I filled and threw balloons for them to play with.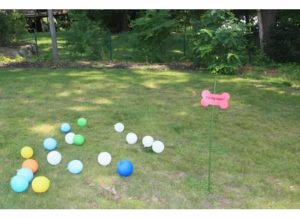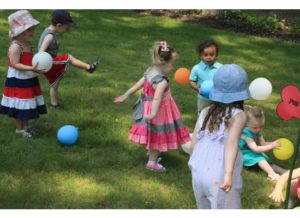 Pin the Tag on the Pup- Free printable alert!!  I printed this on card stock and cut out the tags… a colored bandana can be found pretty much anywhere and viola!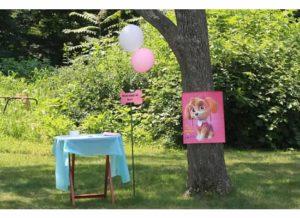 Frizbee Toss- Pups love to play frisbee!!! For ours we bought some in bulk at Oriental trading company, then used some printable stickers to add our own little logo to each.  The kids had to stand behind the line and toss the frisbee into hoola hoops.  The frisbee's became another "take home".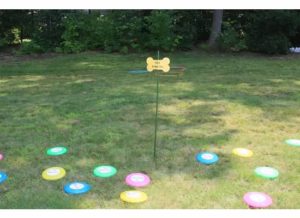 Decor- Auntie's Crafts and More(Facebook) made my centerpieces and helped with various other decorations.   I used printables from the NickJr site, and a bunch of dollar store items (tissue paper flowers, table cloths).  I also got each kiddo a water bottle that looked like a bone from Oriental Trading (a "take home") and put a personalized sticker on it that matched the frisbees.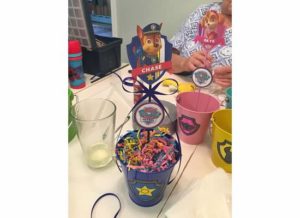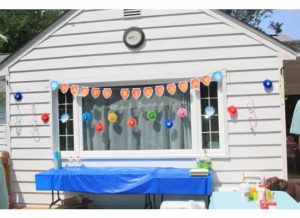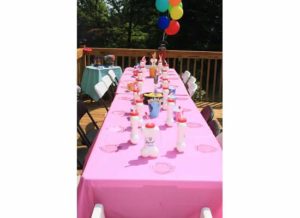 Cake- The adorable and very yummy cake was made by Oh Sugar- a local mom who can be found on Facebook.  I made some cupcakes to go with it and made little "paws" on them with Oreos and M&Ms.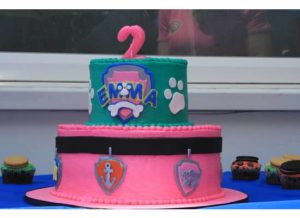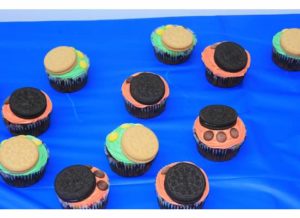 Clothing-  
(E) is wearing a custom SKYE Dress by "A Posh Pumpkin" who can be found on Facebook.  It is super well made, adorable, and cost effective (I would have spent more for something way less cute elsewhere).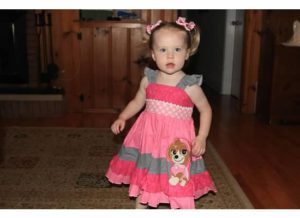 Christine Roberts of My Binky Baby www.mylilbinkybaby.com made (A)'s polo shirt with a "Chase" tag on it. To build on that, I created tags for all of the pups and ironed them onto shirts for the family.