Disclosure:  This is a sponsored post.  All opinions expressed are my own.
If we have been asked once, we have been asked a million times about a pediatric dentist. We try to be on top of all of the new children's groups in the area.  When Smith's Little Smiles opened up we asked for a private tour.  WOW! Boy was I impressed.  Dr. Smith couldn't be sweeter.  She was so happy to answer all of my questions.  Little (E) jumped right up onto the DINOSAUR chair and was happy to show her teeth.  But I am getting ahead of myself.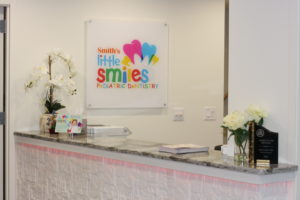 The office is SUPER CLEAN, and totally geared toward children.  Dr. Smith said that she designed the whole thing with her own children in mind.  We could tell. (E) was really amusing herself.  Dr. Smith herself is a doll.  You can tell she really cares about her patients.  She came out and introduced herself and invited (E) into the back.  (E) was happy to join her.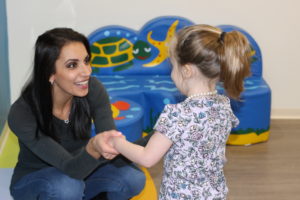 She was led into a room with, yes, a dinosaur chair.  The chair comes equipped with a seatbelt if needed and (E) had a good time putting it on.  If the dinosaur chair, or Dr. Smiths demeanor doesn't put all children right at ease, then the numerous televisions that they can watch will.  There is one on the wall where they can see, and also one mounted on the ceiling to look at while being examined.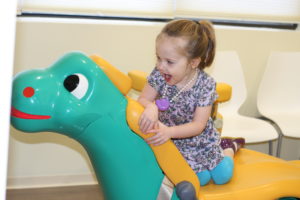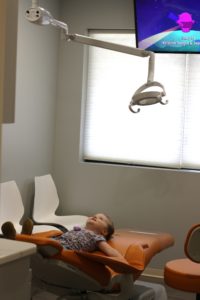 Let's get down to the questions all parents want to know.
WHAT INSURANCE DOES SHE TAKE?
She works with ALL insurances.  She has a deep rooted belief that dental care should and can be affordable for ALL children.
HOW LONG DOES IT TAKE TO GET AN APPOINTMENT?
There are ALWAYS emergency appointments available, for new clients it takes a week or less to get in and see the Dr.
AT WHAT AGE SHOULD WE START SEEING DR. SMITH?
At the age of one- here's some more great information about that… http://www.smithslittlesmiles.com/age-one/
WHAT AGES DOES DR. SMITH WORK WITH?
From one year all the way up to 20 years of age!!
CAN SHE TAKE X-RAY ON PREMISES?
Yes- her awesome machine moves around the standing child (so fun).
WILL MY CHILD BE COMFORTABLE THERE?
You bet- not only is the office totally geared towards kids, but as a mother of two youngsters, she makes you feel RIGHT AT HOME.  She had (E) up in the chair getting a quick once over in no time, (E) was more than happy to oblige.  EVERYTHING about this practice is geared toward kiddos.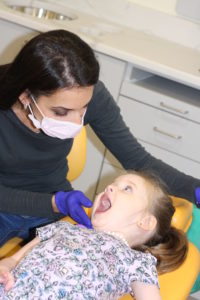 After a successful appointment Dr.Smith does so many neat things for the kids to make them feel at ease.  You receive a gold coin to use in her huge bubble gum (prize) machine.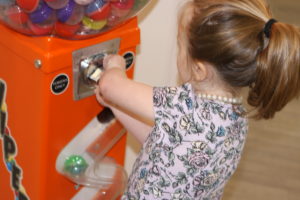 If you have had no cavities- you get a certificate and a balloon and you get your photo taken to put on Facebook.  The kids love being recognized for good dental hygiene.
Photo Credit: Smith's Little Smiles Facebook Page
Speaking of Facebook if you take a moment to follow Smith's Little Smiles you will see all these great achievers as well as get some awesome tips for dental hygiene at home.
HOW DO I CONTACT SMITH'S LITTLE SMILES??
Phone: (845) 414- 9626
Address: 5c Medical Park Drive Pomona NY
Email: drsmith@smithslittlesmiles.com
Website: http://www.smithslittlesmiles.com/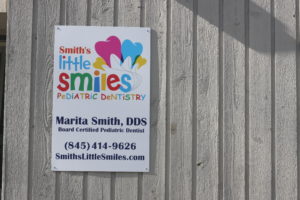 It is so so important to be able to get your kiddos off on the right path to dental hygiene since it is a life long journey.  Dr. Smith is dedicated to making this process easy, and effective.  She has an amazing bedside manner and great office.  I have already spoken to lots of friends who have gone and ADORE her.  If you are in the market for a pediatric dentist, or have a little one who is nervous- this place is SO for you.  As always- we love a mention if you choose to see her because of us- your mentions help us to continue to bring you the best local kid info. :o)