This is a sponsored post. All opinions expressed are my own.
-Ashley
Every year as the kids birthdays roll around we typically choose to skip having a birthday party and use the time and money to take a mini family get away. Giving us an excuse to unplug and have some family time. We have done Great Wolf lodge, Sesame Place, Legoland, and Diggerland. This year, however, my big guy asked to have a birthday party.
 S has never had a real birthday party, except for his 1st birthday. Since his birthday falls between Christmas and New Years we knew we would have to have the party at a venue, since our house could not accommodate an inside party. I researched your typical bounce house, trampoline type parties and it didn't quite fit what we wanted. He currently isn't enrolled in any dance/martial arts etc. where he would want a party so we were stumped.
It wasn't until we were having our usual "make your own pizza" dinner one Friday night that I remember hearing about Young Chefs Academy. S loves helping in the kitchen – he loves to help wash produce, mix ingredients, roll out dough etc. So I sent them an email and Chef Sebastian was very quick with a response. The price was in our budget, and they had availability on the day we wanted. Perfect! A Make your Own Pizza party!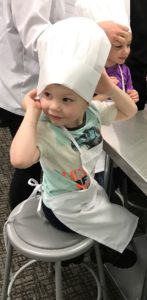 S super excited to get started!
I have always hosted parties at my house, so having it at a venue was new for me. So, of course, I had 100 questions, and Chef Sebastian was patient and quick to answer each of those emails, as well.
As the kids come in to the party they are each given an apron and are escorted into the kitchen to wash their hands and find a seat. One of the kitchen walls is a one-way mirror so the parents can watch from the lobby area. This was perfect for our party; the adults hung out in the lobby area talking, but were still able to check on the kids without disturbing the flow.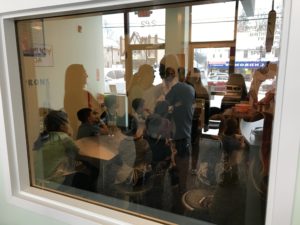 Mirror/window to see the kids. 
Chef Tina was wonderful with the kids! We had an age range of 2 ½ – 10 years and she kept them engaged. (Parents of the younger kids were asked to stay in the room to help their child)  They began with learning the ingredients needed to make dough and how to measure correctly, each taking a turn at it. (Of course the dough needs time to rise, so they were prepared and had one that had already had time to rest and rise.) Then the messy, fun part came! Each child was given a small amount of dough and taught how to roll and kneed it into a small circle, then spread the sauce, and add cheese and pepperoni if they wanted.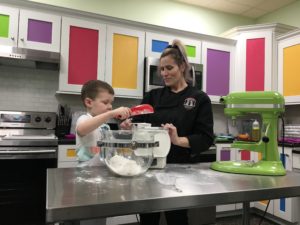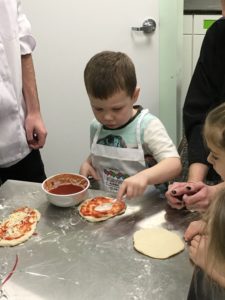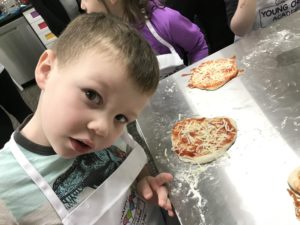 While the pizzas cooked Chef Tina and her crew kept the kids entertained with charades and trivia questions about manners, and food from around the world. We also took this time to sing Happy Birthday and enjoy cupcakes.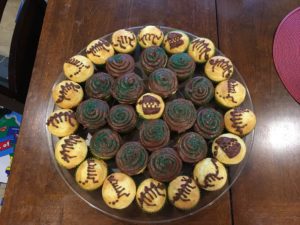 The kids loved eating their pizzas that they made themselves. Even some of the picky eaters, whose parents didn't think they would eat it, gobbled it right down!
I am so glad we hosted the party at Young Chefs Academy. It was less stressful than hosting at my house.  As they say "You provide the chef, we provide the rest!" I was responsible to bring the cupcakes, they provided the invitations, the paper goods, drinks and of course the pizza and entertainment. Decorations aren't needed – although our party was a dinosaur theme so we had dinosaur cups for the kids and balloons. Chef Tina and Chef Sebastian even had a special gift for the birthday boy!
In the end, this party was a great success! Not only did S get the birthday party he wanted, but we also had a fun time with friends (both kids and adults) making memories and enjoying the experience.
YCA has several affordable party options, with upgrades and add ons available!



Head on over to newcityny.youngchefsacademy.com or
send an email to Chef Sebastian newcityny@youngchefsacademy.com
YCA also offers weekly classes, stay tuned for our full review!