Disclosure:  This is a sponsored post- all opinions expressed are my own.
Every once in a while you are able to find a truly wholesome experience for your children.  Something that makes both you and them feel good. Something with old school values- something nostalgic. 
When I was young I was truly blessed to be able to spend summers at camp- real camp- with lakes, fires, boating, archery, and more.  I enjoyed it more than I can ever possibly put into words.  I knew how fortunate I was then and to this day am thankful for having had the opportunity.  I learned so much in my years at Camp Bernadette.
I wasn't sure that I would ever be able to provide my children with this type of experience, did they even exist anymore?  Well, it turns out yes it does, and its hiding right in our backyards.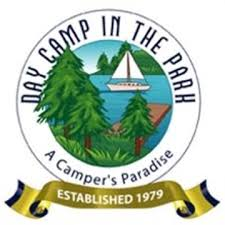 A well kept secret of the Hudson Valley is Day Camp in the Park.  I hadn't heard of it myself until we started our camps page and explored it this past year.  This camp brings me back in time- to my days at camp- to a time when things were simpler, care free, and just plain fun.  It's a camp that is actually still just in the middle of the woods on a REAL lake.  Exactly the way I grew up.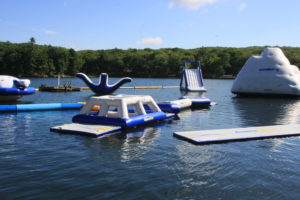 The kids attended a week and on their first day I tagged along for the first half to see what it was like.  Day Camp in the Park thrives on repeat customers- what do I mean?  People love it so much that they have grown up attending (starting at age 4) become junior counselors and then counselors.  Eventually, they send their children.  When I was there this is exactly what I found.
A private bus picks your child up at YOUR house.  Yep no more morning rush to drive the kiddos to camp and still make it to work or appointments.  There is a full schedule that the kids follow with 8 periods a day.  Each group has their own cabin (yes cabin) where they keep their belongings during the day and change for swim.  Speaking of swim, they get to go 2x a day- first instructional and then free swim.
Camp also has a meal plan (which means no rushing to pack a lunch for them).  My kiddos have been eating it and are happy (as am I because it's one less thing I have to worry about).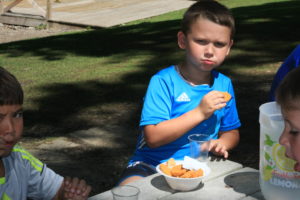 (A)  had instructional swim first in the lake- yep the lake- having grown up swimming in lakes, I love this.  They have cribs that they have created that are boxed in and specific depths to keep the kids safe.  (A) loves swimming (thanks to the Condors) and enjoyed the instruction – which was spot on.  Then they went to a deeper area where they began to teach him how to dive- a new skill.  I love the progression that the instructor used to teach kids the process.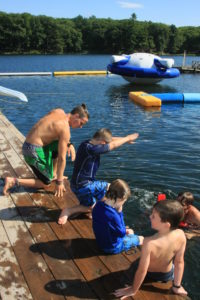 Then it was off to Archery.  Instructors taught the boys in his group how to shoot as well as focusing on the safety involved.  (A) adored this- he had never shot a real bow and arrow before!!!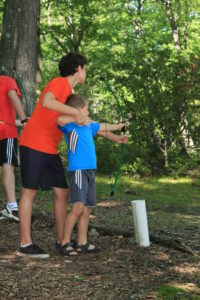 During this time I migrated to (E)'s group to see what she was up to.  Well, I found her in a life jacket across the grounds BOATING.  Little miss independent even got to drive around in HER OWN duck boat!!!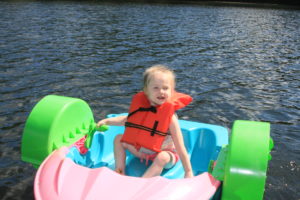 Back to (A) we found the group heading up to Nature where they made SMORES!!  They learned the art of roasting the perfect marshmallow- where to hold it, how to turn it.  Then of course they got to eat their creations!!!  The second activity in this period was making "Goop" which I didn't catch but I got to see and hear all about afterwards.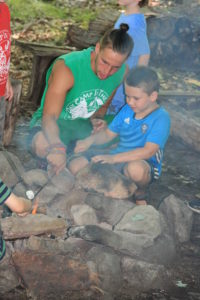 I had moved on to catch (E) during instructional swim.  Because she is younger they have theirs in the pool which is great.  There were lots of counselors two instructors and junior counselors in the pool to keep an eye on all of the little guys at once.  (E) swims great with a puddle jumper but hasn't had any structured lessons as of yet, so they spent the session working on basics (putting your face in the water, kicking, and scooping).  What a great benefit to have swim lessons included.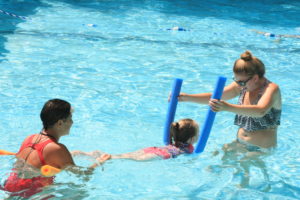 After these periods were lunch for my kiddos.  They had two options and both chose chicken nuggets.  There was more than enough available to them so they wouldn't be hungry for the rest of the day.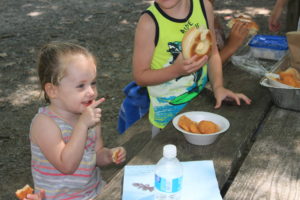 The kids had SO much fun that they both attended for the rest of the day that they begged to return the next day.  I had driven them the first day but Tuesday they would take the bus.  My BABY would take the bus.  This made me super nervous at first.  Could she handle it?  Was it safe?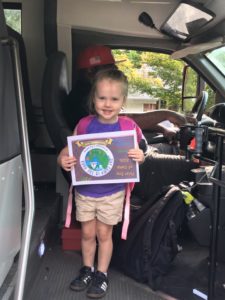 My fears were put to rest when I found that not only did Day Camp in the Park hire REAL Professional bus drivers- like ours Mark who is fabulous- but there are counselors on the bus!!!  We actually have TWO!!  They also had a car seat just like (E)'s ready and waiting for her. 
As for her not handling- she walked right on, got buckled and left with big thumbs up BOTH days.
My kids are LOVING Day Camp in the Park.  I know EXACTLY what they will be doing next summer and am SO excited for them.  I am so happy to have found an old school family camp for them to grow and develop at over the years.
For more information on Day Camp in the Park you can visit their website : http://daycampinthepark.com/ their facebook page:https://www.facebook.com/Day-Camp-In-The-Park- email:dcitp1979@gmail.com or call: 845-638-2515
Keep an eye out for special open house dates coming this spring!!!