Disclosure:  This is a sponsored post.
Moon River Mother and Child
201-247-0052
director@moonrivermotherandchild.com
www.MoonRiverMotherAndChild.com
Music is a universal language. It transcends boundaries and reaches beyond culture to touch the depths of our souls, express our common emotions, and inspire us all. Now serving more than 3,000 communities in over 40 countries, Music Together connects families and communities across the globe as they express and explore our basic human instinct for making music. Are you ready to make some music together?
All Children Are Musical!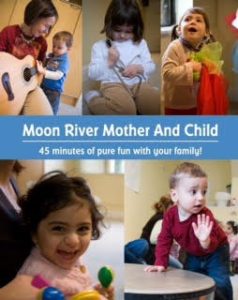 Music Together® is an innovative music and movement program for children ages newborn to age five years and their parents or caregivers that is based on the belief that all children are inherently musical. Originally offered to the public in 1987, it pioneered the concept of a research-based, developmentally appropriate early childhood music curriculum that strongly emphasizes and facilitates adult involvement.
Rockland County based Moon River Mother and Child, which has been offering Mixed-Age Music Together classes locally for the past decade in Nyack, Nanuet and Sparkill, is now offering classes once again in Suffern.  Florence Labaze, "Ms. Flo", will be teaching classes in Suffern on Tuesday mornings at 10:00 am and Thursday afternoons at 4:00 pm starting in January while Samantha and Catherine will continue teaching their fun and wildly popular classes in the other villages. To celebrate the Grand Opening of our new location, we will offer 2 free trial classes at Rockland Dance and Fitness, 74 Lafayette Ave. in Suffern on Thursday, January 5th at 4:00 pm and Tuesday, January 10th at 10:00 am. To RSVP either call Ms. Flo at 845-535-1129 or send an email to director@moonrivermotherandchild.com
Florence fell in love with Music Together while taking her toddler to classes and immediately decided to register for training as a Music Together teacher.  With a strong background in vocal performance, choral singing and a life-long love of music and movement, she completed her training in the fall and now she is thrilled to offer the joy of Music Together to other families in Rockland County.
Additionally, Ms. Catherine will offer a special Babies Music Together Demo Class on Saturday January 7th at 11:30 am at Gagliardi Studio, 39 Hudson Ave. in Nyack. To RSVP call Catherine at 201-247-0052 or send an email to director@moonrivermotherandchild.com
At Music Together, we believe that music ability is as basic to life as walking or talking, and that it is every child's birthright to participate with pleasure and confidence in the music of our culture. We introduce children to the joys of making music instead of passively receiving it from cd's and television.   Our Music Together classes build on your child's natural enthusiasm for music and movement. Through our classes, your child will develop the basic musical skills needed to enjoy school and social musical activities, and to study an instrument should he or she choose to do so. Because very young children instinctively respond to and imitate their loved ones, the active participation of parents and caregivers, regardless of their musical ability, is an essential part of the rich musical environment we create. Music Together parents discover what a powerful role model they are for their child just by having fun with the music themselves! And by providing cd's and songbooks to take home, along with access our innovative "Hello Everybody" app, we hope to inspire music-making in your everyday family life.