Disclosure:  This is a sponsored post as we were invited to a performance. All opinions expressed are my own.
-Sofija
Having the opportunity to take my girls to see Sister Act live on stage was truly a gift.  My girls kept asking me what the story was about, what type of music they would sing and if they would have snacks.  I kept everything a secret, I wanted the girls to experience it fully without any expectations.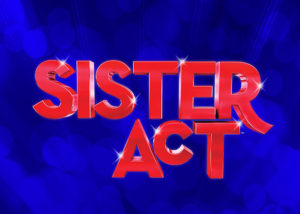 The theater was very easy to get to from Rockland. A quick 30 minutes right over the bridge into City Center in White Plains. There was ample parking in a covered lot right outside the theater. White Plains is a great city for a dinner out, and there were a ton of restaurants within walking distance of the theater. There are snacks available in the theater before the show and during intermission, though.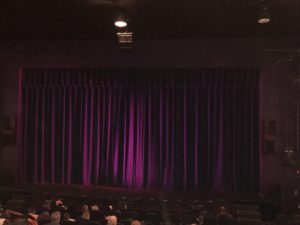 When I was younger I remember watching the original movie with Whoopi Goldberg, and loving it.  The jokes and one liners were what kept my attention, and had me laughing so hard I would get "stiches" in my side.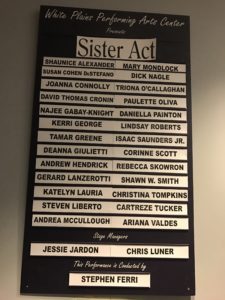 This rendition of Sister Act did not disappoint, and I laughed just as hard! The lead Lindsay Roberts was absolutely amazing. Her voice was truly powerful and her comedic timing was perfection. The chemistry among the actors was amazing. Played alongside Roberts was Paulette Oliva. These two actresses had such a great rapport and harmonized so well. It was truly a great match. The choreography, music and directing was magical.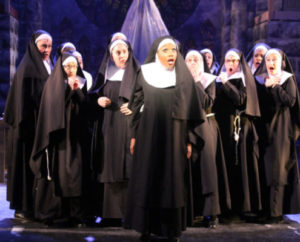 Watching the performance, listening to the music and spending time with my family was great but I must say seeing the twins smiles and hearing their laughter throughout the performance was such a joy.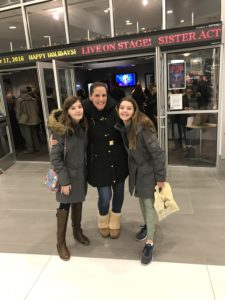 While in the car driving back to Rockland, I asked the girls what they liked most about the show and we all agreed that there was a tie between the costumes, which were amazing, seeing sister Mary Roberts wearing the red boots while performing was a hoot and of course hearing one of the nun's rapping a verse was the icing on the cake.  My Girls really enjoyed the show and laughed as hard as I did! Hearing them referring to the show as a "blast mom" and "Mom my tummy hurts from laughing so hard" made me smile and super happy that I was able to share this experience with them.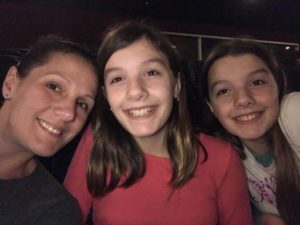 If you are looking for a way to enjoy the theater without breaking the bank, White Plains Performing Arts Center is a great option!  Not to mention there is not a bad seat in the house! No matter where you sat in the theater, you had a great view of the stage, were able to hear the music and singing clearly, as well as see the actors costumes and the details of the set design. We really enjoyed seeing Disney's Tarzan last year, and can't wait to see what they are working on for the new year!
Tickets to Sister Act would make a great Christmas Gift for a family with tweens/teens. Have younger kiddos?  Check out their upcoming performances which would  be more suitable for the younger age groups here: www.wppac.com.  
To purchase tickets visit www.wppac.com.
Sister Act will run until January 8th, hurry and get your tickets before they sell out!
7:00 pm Performances
December 16, 17, 23, 27, 28, 29, 30 • January 6, 7
2:00 pm Performances
December 18, 22, 28 • January 7, 8
Previews (December 16, 22 & 23): $22-$42
All Other Performances: $29-$49  
White Plains Performing Arts Center
11 City Place White Plains NY 10601
914 328 1600
wppac.org