Disclosure:  This is a sponsored post.  All opinions expressed are my own.
-By: RNYD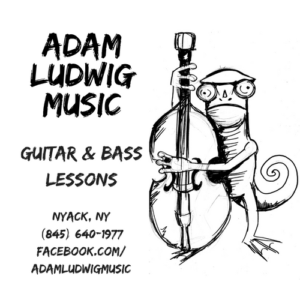 Most people who read this blog know that I am a HUGE music fan.  I listen to it, I play it, and I talk about it.  I'm an unashamed addict.  What most people don't know about me is that I price for a living.  For the past 17 years, I have gone to work every day, and spent my whole day deciding what a company should charge for their product or services.  So, I consider myself an expert at spotting a "deal".  I use facts, data, and analysis to determine the inherent value of, for example music lessons.   Ultimately, you want a teacher with a high competency and a fair price.  It is VERY rare that the choice is so simple, that it presents itself and almost smacks you over the head, this is one such instance.
RYNYM asked me if I would take our son (A) to a guitar lesson.  When she sent me the teacher's information I saw the logo was a frog playing bass.  Bass is my primary instrument.  Unlike the old jokes, I am not a failed guitar player.  I truly love the instrument.  So when I saw there was a chance to turn this into a bass lesson I jumped at the chance.
(A) and I arrived at Adam's studio in the heart of Nyack.  Parking was easy, and there were a ton of  open spaces right around the corner.  We went down to Adam's studio, and to say I was impressed was an understatement.  There were several instruments, and amplifiers, and a couch for parents to relax on while your student takes a lesson.  The location is convenient and centrally located if a parent wanted to do some shopping, or just get a cup of coffee while their child worked with Adam.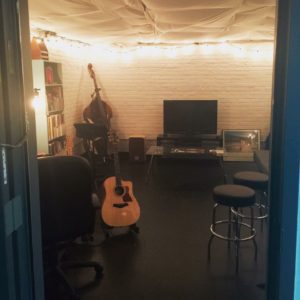 For me, it is always interesting to sit and listen to a lesson.  As a player, I'm curious to hear what a teacher has to say when they present the information.  I strongly believe that the way a teacher presents the information, immediately effects how the student receives it.  I could tell that Adam was comfortable in the teachers chair and that he had a great deal of experience teaching children.  I noticed right away that Adam's depth of knowledge and the ease at which he presented it to (A), made him a standout among the teachers that I have met.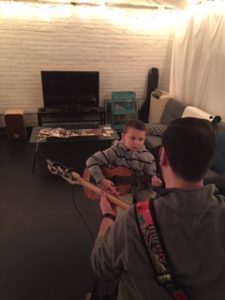 He controlled the lesson well, and was able to connect with (A) on his level.  (A) is a VERY curious kid, and loves to learn so he can get distracted if there are questions to ask that might not fall into the day's lesson.  Adam recognized that and brought him back to the lesson well.  (A) had a great time and was excited going home that he was learning new things, and playing bass just like his Dad.  Adam even let (A) play his double bass, which is something I can't do…so (A) was especially grateful for that.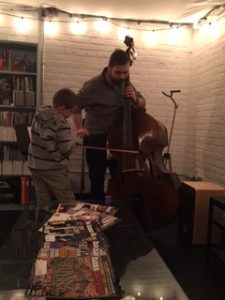 After seeing first-hand the quality of Adam's lessons, and recognizing the depth of his knowledge I could not believe the value of his holiday special.  I have been looking to take music lessons to improve my playing for a few years.  I have never found a teacher with Adam's resume and ability, along with the quality of his lessons.  The schedule for lessons is flexible, and could meet most people's hectic calendar with ease.  Adam's holiday special is a steal!  If you are buying a guitar or bass for the holidays and you are looking to start music education for someone on your shopping list, this is the place to go.  Centrally located, with easy parking, and access to all that Nyack has to offer allows fun for students AND parents.  The quality of these lessons, especially at the holiday special price, really makes starting lessons with Adam a no brainer.   It is such a good value, I'm looking into starting lessons myself!  Don't delay, the one thing that my professional career has taught me, deal like this don't last long.  These lessons are worth every penny!!