This is a sponsored post. All opinions expressed are my own.
-Ashley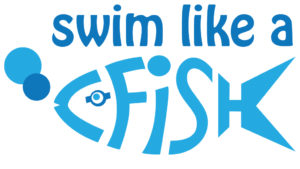 This past summer W and S really began to enjoy swimming. The summer started off with S wearing his puddle jumper, and W scared to go under water. But the summer ended with both boys jumping off the diving board, and swimming underwater. I decided to look into swim lessons for the fall and winter to make sure they continued to be comfortable in the water, but also learn proper swim techniques.
Swim like a fish has class options for Tuesday, Wednesday, Thursday, Saturday and Sundays, with several amazing instructors. They hold lessons at the Hilton Double Tree in Nanuet from September through May, with options to do private, semi private and group lessons. The boys are currently taking a semi-private class with Stephanie, and I couldn't be happier.
We chose to do a semi-private lesson for 2 reasons – 1. The boys are able to swim together and learn from each other 2. It saves me from having to fit 2 days of swim class into our already jam packed schedules. The lessons are 30 minutes long, which seems to be the perfect amount of time to keep their focus, even after a long day at school. The boys take turns working one on one with Stephanie. Another part I love is that the pool is typically quiet with only one other instructor teaching lessons at the same time.
S was very nervous the first day of class and refused to swim. Stephanie did not pressure him to get in the pool, or force him in. She let S watch W and made a deal with S to try to get in the pool the following week, and he did!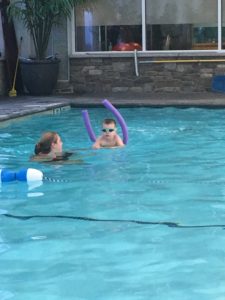 S using the kick board and noodle to warm up his legs at the start of class. 
Stephanie is very patient. Taking the time to explain arm/leg motions and breathing techniques in ways the boys can understand. (Frog Kicks, Ice cream scoops, clap and push) She even takes a second to explain to me why she is using certain swimming aides (flippers, kickboard, noodle etc) and how they are helping them with to learn correct form and timing.
W swimming with flippers.
The boys have had 5 lessons so far and I can already see their technique improving and their confidence building. Stephanie even suggested that they start coming for individual private lesson because they are progressing so well! I'm excited to see how their skills will develop over the next few weeks! Stay tuned for an update 🙂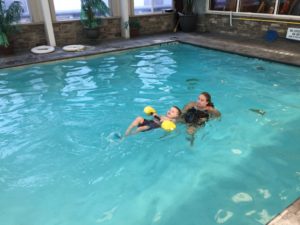 S learning the beginning of the backstroke.
Interested in getting started?
Visit them on Facebook, or send an email to swimlikeafishny@gmail.com!