Disclosure: This is a sponsored post. All opinions expressed are our own.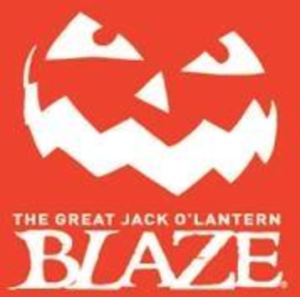 The Great Jack O'Lantern Blaze is one of my most favorite fall traditions! Last year, tickets sold out quickly and we missed our chance, we were so disappointed.  So, I was ecstatic when we were able to visit this year!  The Blaze was bigger and better than I remembered, and the boys were amazed! When we finished the walk, W and S were begging to go through again! 
The Great Jack O'Lantern Blaze®, is the Hudson Valley's biggest all-ages Halloween extravaganza!
The walk-through experience lights up the wooded pathways, orchards, and gardens of historic Van Cortlandt Manor in Croton-on-Hudson, N.Y., where a small team of artists hand-carves more than 7,000 jacks and elaborate pumpkin sculptures.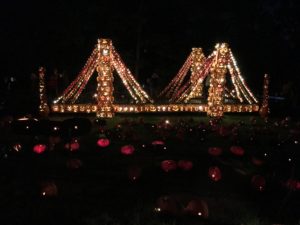 This year visitors will delight in Blaze favorites, such as eight-foot-tall working jack-o'lanterns-in-the-box and life-size dinosaurs, and be dazzled by more pumpkin power than ever before! New additions include a plus-sized color-changing star show at the Pumpkin Planetarium, a Pumpkin Promenade, and an 80-foot-long Pumpkin Zee Bridge — complete with a sea serpent swimming in the Croton River.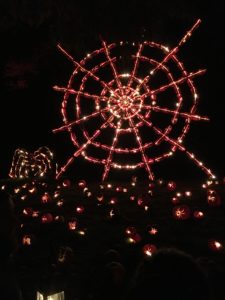 Tickets are selling out fast, and new dates have been added through Thanksgiving weekend! Be sure to act fast! Adults, $20; Children 3-17, $16  (Saturdays $25, $20) FREE for children under 3 + members.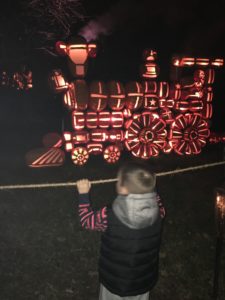 Do we have tickets for one lucky reader? OF COURSE WE DO!
Head to our Facebook page to enter – Like, Share and Comment with a fun idea for carving/decorating a pumpkin. 
Winner will be chosen 10/19!