RocklandNYMom was created (almost 3 years ago) to help parents and grandparents find the tools that will help them as they begin and continue their journeys with children and grandchildren.  We research list, and aim to provide useful information to all caregivers in our area.  
We are always looking for new ways to service the caregivers of Rockland County and its surrounding areas, and when our own Ashley announced that she was pregnant the idea of our very first BABY SHOWER was born ;o)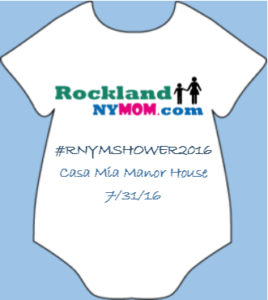 This SUNDAY 7/31/16 we will be hosting a FREE EVENT for new or expecting parents and grandparents at Casa Mia Manor House in Blauvelt from 12- 4pm.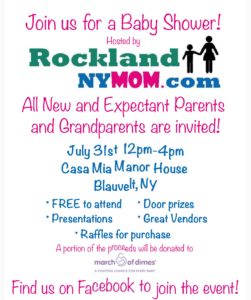 This event is full of great information for new parents and grandparents.  We have professionals with a wide range of specialties all pertaining to the care and rearing of our children.
The first 100 guests to arrive will receive RNYM bags full of coupons, useful information and some "SWAG" (freestuff).
During the event you are welcome to walk around and speak to the professionals, and listen to their presentations (see schedule below).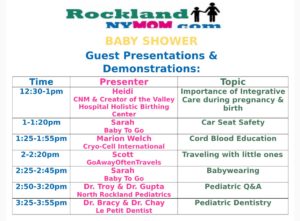 Stop by one of our "Photo-Ops" and snap a selfie, then #RNYMShower2016 best photos will win one of our awesome prizes!!!
As RocklandNYMom is an official Media Sponsor for the March of Dimes this year we have also encorporated a way to support them as well.  Available for raffle will be a myriad of tricky tray prizes.  Tickets cost $5 for 4, $10 for 9 or $20 for 20.  A percentage of the money collected for these prizes will be donated to the March of Dimes.
Prizes include (but are not limited to):
3 nights of dinner from various restaurants
Massages
Hair Cuts
Manicures
Gift Baskets and more!
There will be a cash bar (with non alcoholic drinks as well) open during the event should you want to have a beverage.