Disclosure:  This is a sponsored post.  All opinions expressed are my own.
RNYM really prides itself in having the BEST photographers directory available.  We have the most talented photographers, and here's why. 
From the moment I saw Jennifer Tesker's "spring mini" setup I knew I was in love.  It was so fresh and breezy.  So soft and innocent.
I see lots of great photos of my kids… I take a lot of photos… not all of them affect me the way that these did.  I cried during my viewing session.  This video was precious.  It really captured the essence of my children- individually- and with each other.
Here have a look…
I love to shoot with Jennifer because of her attention to detail and super professionalism (she is also a sweetheart).  She is METICULOUS, not only in her unbelievable photographs but in her business dealings as well.  Jennifer is a FULL-SERVICE photographer.
Jen loves her work, its evident when you enter her studio how proud she is of her images and the happiness she creates.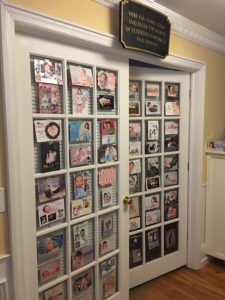 Her booking process is streamlined, quick and easy.  She sends reminder emails to make sure you have the date, time and place all set.  She is happy to work with you on your clothing options (which always makes me so anxious, yep we went back and forth figuring out the right look).
When we came for the mini-session (mini sessions are 20 minutes in contrast to a full session which is longer) she was all set up with the most beautiful spring display.  The kids respond so well to her, always have.  I literally am able to walk away and not watch the process.  She asks them to re situate, and they comply, they want to please her (and then stay and play with her girls).  It took her only 15 minutes to snag the most amazing photos of my kids.
Within 24 hours she posted a "teaser" on Facebook for me to swoon over.  I was so impressed I changed my profile picture right then and there.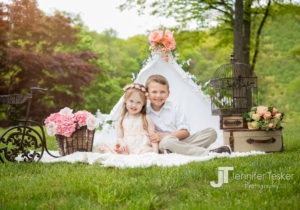 What follows is part of the process that the general public doesn't get to see.  Lots of time I see people complain that photos are "too expensive", or that "anyone can take these kinds of pictures with a good camera."  I'd like to take this opportunity to DEBUNK that.
When your photographer is finished taking the photographs they go home and weed through them.  Jennifer took over 125 photos during our session.  The result of her hard work was the best 15 images.  Not only are they the best images, but Jen also had to edit them to perfect them.  She does this in PAINSTAKING DETAIL.  For instance, little (E) has great hair, with layered wisps and fabulous curls- but they end up in her face OFTEN.  In our perfect photos too.  Jen spends HOURS editing to  remove fly-aways so you can focus on the beauty that is the photo.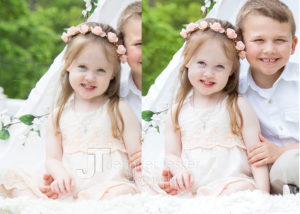 Once she is done obsessing over these images, she gives options, she turns them into black and white so that you can see how it would look the other way.  Once she has completed all of this to HER SATISFACTION.  You get another email.
This email invites you to attend a viewing session where you will see a personalized video of your images, and then discuss options as far as purchasing digital images, prints, and some other truly fabulous photo gifts.  I am slightly obsessed with the personalized photo box that holds your images.  The box is great quality and the photos inside are mounted and safe to handle, they are meant to be looked at OFTEN.
Jen offers these products both as Packages or "a la carte" where you can pick and choose the images/products that you would like.   This allows her to work with  any available budget.  When you purchase all the images you get a thumb drive with not only the images- but also the copy of your video.  She takes all types of payments, and can even do a payment plan where you receive your purchase when it is paid in full.  Since people often change their minds and come back to purchase more, Jen also holds on to your purchased images for 1 year and unpurchased for 3 months so you have time to come back.
Jen wants you to print your pictures and display them, not keep them locked on a thumb drive or cd.  This is one reason that she is a full service photographer.  In fact, so many of her clients are worried about getting the photos placed correctly that for a FULL session she will also help you to design your gallery wall (you have to see how she does that- but I can't tell- its a secret).
The turn around for all of this is really very quick, especially when you take into consideration the amount of time it takes to edit and prepare your presentation.  Jennifer is a true professional who loves her job.  She adores each and every client that she works with. She beams while showing you your images, and is even more excited when you return for your next session, so that she can document your families growth year to year.  
JENNIFER HAS JUST ANNOUNCED HER AMAZING SUMMER SESSIONS!!! HOW CUE ARE THESE???

To see Jennifer's latest offerings check our her website http://www.jenniferteskerphotography.com/ and don't forget to tell her we sent you.