Disclosure: This is a sponsored post, as we were invited back to visit LIGHTSCAPES.  All opinions expressed are my own.
-Ashley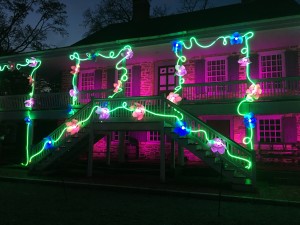 The rain and the crazy weather have been killer lately! All my boys want to do is be out of the house, and lets face it – so do I! So I was thrilled at the opportunity to visit LIGHTSCAPES at Van Cortlandt Manor.
I'm sure many of you are familiar with the Great Jack-o-lantern Blaze that happens every fall, well this magical event is created by the same people. I have yet to bring my boys (4 and 3) to the Blaze, but after our experience at LIGHTSCAPES we will definitely be there this year!
I'll start off with some main points: There are snacks available for purchase with cash or card: popcorn, baked goods, coffee, tea etc.  However, the delicious ice cream from Blue Pig is cash only. There are no bathrooms, but port-a-potties available. I would also advise not to bring a stroller as it can get crowded, and parts are narrow and bumpy. A baby carrier is best.
The entrance is beneath a color changing rainbow that leads you to walk through a bubble storm, where I realized you are never really too old to enjoy popping bubbles!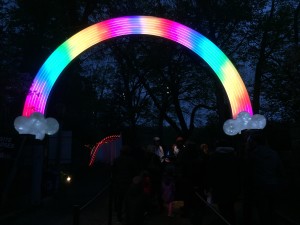 A large number of the sculptures are made from recycled objects, so I had the boys guessing at each one what they were made of (a fun and interactive game). Yelling in excitement "Look, bowling pins! Water jugs! They are so silly, they used milk jugs!"
What a great way to have a conversation about waste, and art?!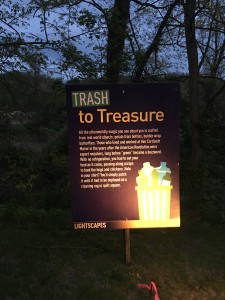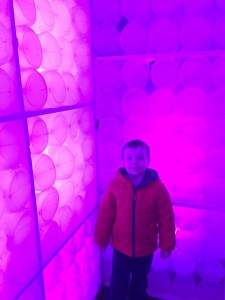 (S) standing in the Castle made of milk jugs, large plastic bottles and water jugs.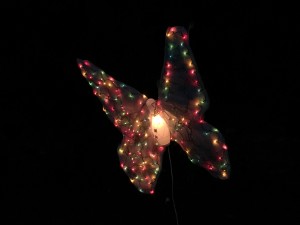 Butterfly with a bowling pin as a body!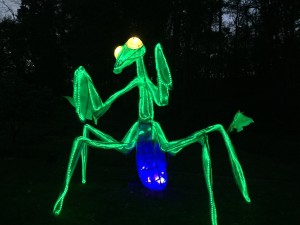 The boy's favorite, the praying mantis.
As we walked through, I felt like Tinkerbell among the huge lit flowers, mushrooms, and insects. We were whisked away to someplace magical.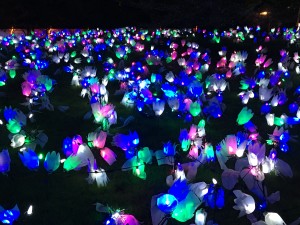 My favorite part, the flower garden.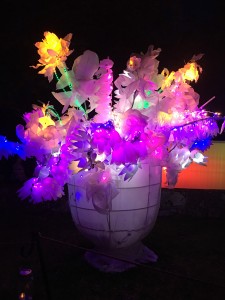 Gorgeous HUGE vase of flowers, incorporating all different types of flowers.
This picture does it no justice. 
We took our time and strolled the path, being sure not to miss anything and we were finished in about an hour.  Driving home (W) asked if we could save some of our recycling to make a project. So we are saving up milk jugs and egg cartons to come up with a fun project for this weekend (I will show you all when we are done)!
Hurry and grab your tickets, this event is only through May!
May 12th-15th
May 19th-22nd
May 26th-30th
Buy Tickets HERE! 
http://www.hudsonvalley.org/events/lightscapes