As a Mom, my main concern is the safety of my children. With a new baby on the way, I wanted to make sure I was up to date on the new car seat laws and to be sure my seats were installed correctly.

I set up an appointment for a Car Seat Consultation with Sarah Ludwig of Baby to Go a SafeKids Certified Child Passenger Safety Technician.
Sarah came to my home, and the consultation began with a short quiz about basic car seat safety, and I honestly didn't know all the answers! Some of them were shocking. For example she explained how 4 out of 5 car seats are not installed correctly even when parents think they are. Scary!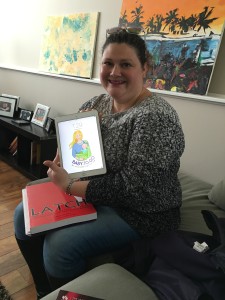 Sarah went through the New York State Laws regarding car seats in addition to what she refers to as "Best Practices." For example: there are no NY state laws stating how long a child should remain rear facing, but there are no car seats on the market that will allow a child to forward face until age 1. As well as the AAP and the NHTSA recommend a child remains rear-facing until age 2.  Another thing to keep in mind is that we live so close to New Jersey that their law is to rear-face until age 2 (which we must follow when we drive through the state).  So many factors to take into consideration.
We headed outside so she could help show us how to install our seats correctly. Sarah began by asking my ideal location for the seats, and she instantly saw a problem! According to the manufacturer of our harness boosters, I couldn't have one of the boys in the middle seat because the booster was overhanging the seat slightly! Sarah emphasized the importance of reading both the car manual, as well as the car seat manual to be sure everything is installed correctly.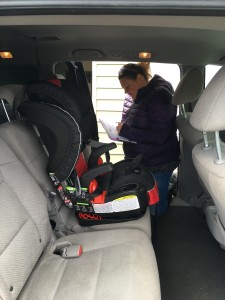 We began with Sarah installing the 1st harness booster seat, as I watched and she explained each step. She then removed the seat, and watched as I installed it to be sure I could do it correctly.
We moved on to the baby seat. Sarah pointed our seat is stamped with the expiration date – which also matched the expiration date on the base. Thankfully, the installation is the same as when I had my last little one, so it was a quick refresher! Not all brands stamp their seat with the expiration date, but there will always be a sticker with the date of manufacture and you can consult your manual for expiration date, and some seats have the expiration listed right on the sticker. All depends on the manufacturer.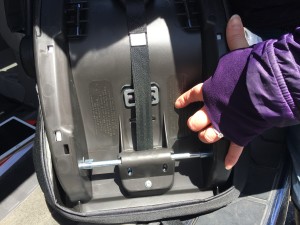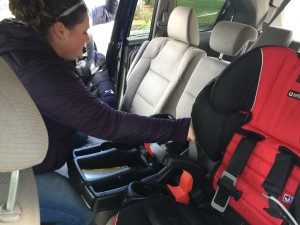 Sarah then asked me to install the final harness booster seat to finish it off, and I passed the 'test!' We finished up with discussing proper belting of the children.
I wanted to be sure and ask Sarah the most popular questions all Moms see the most on the Facebook posts.
"What seat is the best car seat ?"
— There is no BEST seat. It depends on the child and the car.
"What do I do if I am in a car accident? Do I have to get a new seat?"
— For replacement after a car accident, some brands require replacement after any collision, while others follow NHTSA guidelines. NHTSA guidelines include the point of impact, but that's not the only criterion, and ALL must be met for the seat to be deemed usable.
"Is my child old enough for a high back booster without a harness?"
— Giving a child the freedom of a seatbelt depends greatly on the maturity of the child. If the child is wiggling out of the proper position during a crash, they could sustain serious injury.
"When can I turn my child front facing?"
— American Academy of Pediatrics recommends children now remain rear facing until age 2. However, best practice would be to keep your child rear facing as long as you can.
I learned a ton from the consultation, but what stands out the most is not to rush the car seat milestones, and be sure to read your car seat manual as well as your car manual to be sure your seats are installed correctly.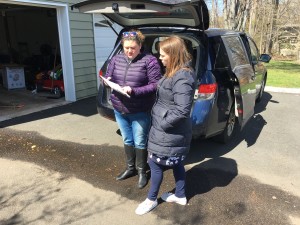 Sarah is not only a SafeKids Certified Child Passenger Safety Technician, she is also a trained Doula, Lamaze Certified Childbirth Educator, and a Babywearing Educator!
Sarah is an amazing resource for Moms To Be and New Moms. Be sure to check out her website for her class offerings and services.

www.Baby-to-go.com
facebook.com/BabyToGo
Sarah@baby-to-go.com
914-999-BABY
Sarah is offering a $5 off a single car seat consultation when you mention RNYMOM! 
Need more?! Sarah is giving away one free consultation to a lucky reader!!! Random name to be drawn on Wednesday 5/11/16!!  Like, comment and share to enter!!! Remember to tag a friend who may need this!!!