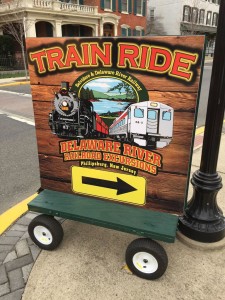 This past summer we had a BLAST at Dino Days on the Delaware River Railroad, so we were ecstatic when we were invited back to ride the Easter Bunny Train this past Saturday.
The train station was a quick hour and a half trip into New Jersey, right to the boarder of Pennsylvania. Parking was simple, and free. There were guides sending you to an empty lot where a school bus will bring you to the entrance. Lines moved quickly at the ticket booth, to pick up your will call tickets.
As you walk down the path leading to the train (pretty steep hill, go slow. If you need assistance ask at the ticket booth and they will drive you down in a golf cart) you can hear the mechanical organ playing festive music, and smell the yummy food from the food tent.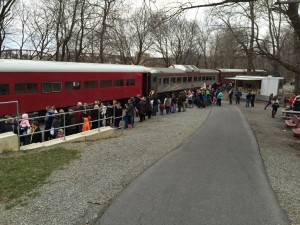 The train was ready as we arrived, so we jumped right on with excitement! There was PLENTY of room allowing us to spread out so both the boys could see out their own window. The cars were decorated with Easter garlands, and Easter music playing over the loud speaker. A fun bonus was that there was a snack car! Sandwiches, popcorn, candy and drinks all for purchase (bring cash) Oh, and bathrooms!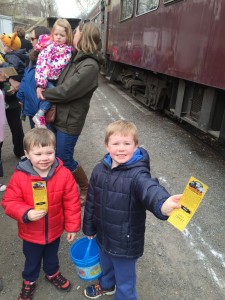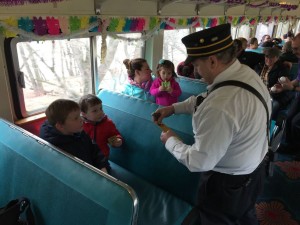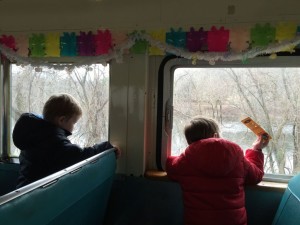 The train traveled along the Delaware River for about 45 minutes the first leg of the trip. The kids were wildly entertained by the jugglers coming through the cars interacting with everyone, as well as the banjo player walking passed singing fun songs, and of course the Easter Bunny made is way through taking pictures and dancing with all the kids. They have a professional photographer taking the pictures, but you are more than welcome to use your own camera as well.
As the train turned back we rode for about 15 minutes before we stopped for the Easter Egg Hunt! Each child was allowed to gather 4 eggs, (and there were plenty of eggs available, so no need to rush off the train.) The eggs were filled with toy rings, bracelets, stickers, temporary tattoos and chewy candies. (If you have young kids – under 2 years – I would recommend bringing your own treats to sneak in the eggs) They had 2 Easter Bunnies sitting and available for pictures, the banjo man rocking out, and the fabulous jugglers.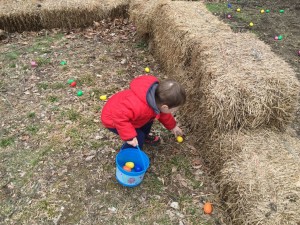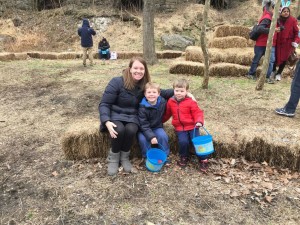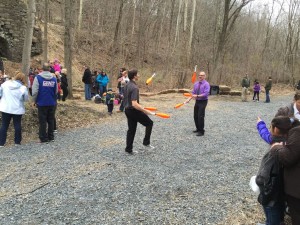 The Easter Bunny made another quick round through the train, along with the jugglers and the banjo player. Before we knew it the trip was over!  The whole trip was about 2 hours long, and we LOVED every second of it!
Tickets are still available for this Saturday – 11am, 12:30pm, 2pm and 3:30pm. Purchase tickets here: http://www.877trainride.com/easterticketoffice.htm 
Delaware River Railroad has excursions through out the year.
Stop by www.877trainride.com to check out all the fun!
Happy Easter!