Originally for the Rockland Mommies Easter Egg Hunt this year we wanted one of our awesome photographers from the directory to come and book some mini-sessions so that people could have some beautiful photos done while there.  Unfortunately, no one could make it.  We still wanted to have opportunities for people to commemorate the day with some great photos so we put our heads together.
The outcome were 5 cool different DIY Photo Backdrops that we put together (most of it came from my very own house).  The photos we caught were adorable and everyone was happy.
Backdrop 1:  Classic Eggs
I had a piece of wainscoting left over from my bathroom remodel that we strung some plastic eggs on, threw my sons rocking chair in front as well as some extra large eggs (Michaels) and a stuffed bunny.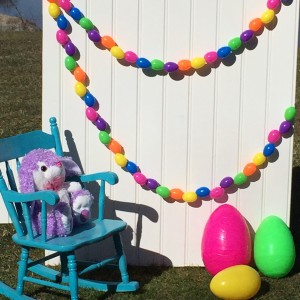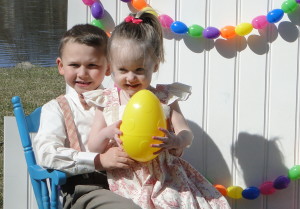 Backdrop 2:  The "Egg Hunt"
We loved the natural look of the "reeds" by the water and wanted to accentuate them a bit, so we added some eggs, and some more little decorations, a basket to play with and a banner (being held with garden stakes).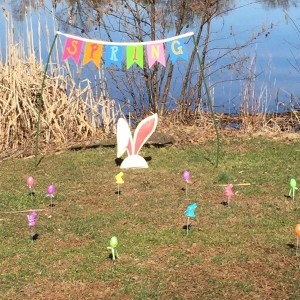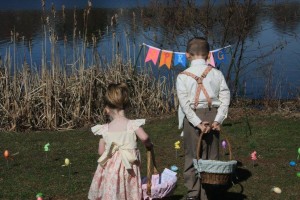 Backdrop 3: The Picture Frame
I adore painting and refinishing pieces and frames are one of the things I am always working on.  I had this GIANT frame that a friend gave me to paint a little while ago and I haven't gotten to it yet, so we made it into a little photo prop.  Hung from a tree (with twine) we added a banner to it, and then had a basket with Easter props (thanks ASH).   Some silk flowers on the ground gave it a little character.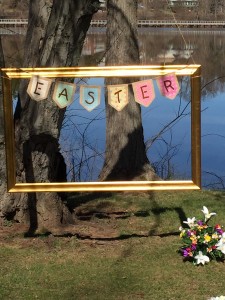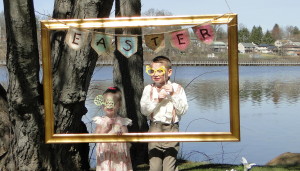 Backdrop 4:  The Pallet
I had seen this adorable setup on Pinterest, and then an adorable backdrop on some photography website I look at from time to time, and decided to combine the two.  Mary (from Underground Finds and Furniture) was happy to supply paint to make it happen. The addition of a banner and some flowers (from my awesome helpers) made it just perfect!!!