Disclosure:  This is a sponsored post.  All opinions expressed are my own.
The kids and I ventured out this weekend to Frozen in Ice at Skylands Stadium.  There is no DIRECT correlation with the event and the movie "Frozen" other than the fact that it is fabulously made of ice.  Despite that fact, my Frozen fans thought Elsa was responsible for the event and we had a great time.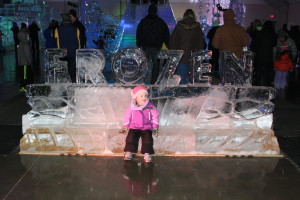 Helpful Hints:
Dress WARM!  We wore snow suits and the whole deal.
Hit the slide early (the line can get long).
Plan to take your photo on the throne before the kids are exhausted.
Kids under 36″ must be accompanied on the slide.
It took us a quick hour to get to the stadium (all highway until the very end).  Once there the walk in was easy (we went as soon as it opened since it was to snow later in the day).  Right when you walk in there is an ice cabin that we went into and checked out.  The kids thought it was so "cool" that everything was ice.  They were amazed at what could be made, and laughed when they had difficulty staying on the bed.  They pretended to warm their hands by the ice fire and had an invisible meal at the ice table.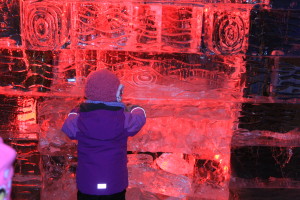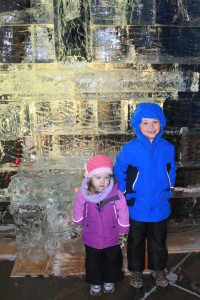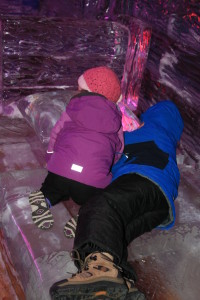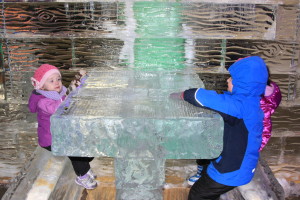 Once we walked out of the cabin the first thing you can see is the slide, so we did that next.  (A) was old enough to go on his own and did it 3 times (he loved it) before the line got a little long.  (E) had to go with me since she wasn't 36″ tall.  That's ok because it gave me an excuse to try it.  It moves FAST (pick your feet up at the end, don't try to stop yourself, it hurts a little).  I have video of (A) sliding on our YouTube page.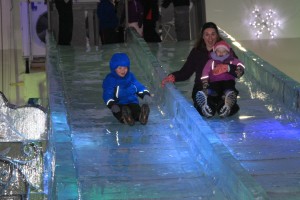 The mascots for the "Miners" baseball team were around the whole time high fiving and posing for photos.
When we had slid enough (A) noticed the ice maze.  The kids spent a good 45 minutes running though, and hiding from one another. (Video of this can also be found on our YouTube Channel).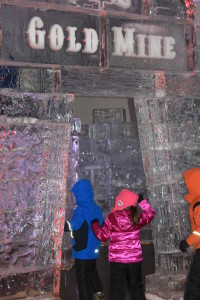 We finished walking around and admiring the other ice sculptures after the maze.  That is when we found the Frozen Throne.  This is great because you can have your photo taken and emailed to you for free.  If you are there with the kids and want a photo of everyone (instead of always being behind the camera) you have a little momento.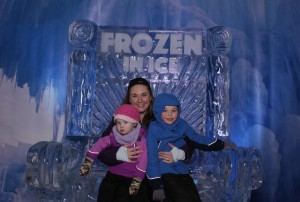 Back inside the main entrance, there was food, and some raffle chances you could fill out to win.  There were also some games you could play.  Since we knew that there was weather coming, we skipped this part and went outside.
Outside there were some more great ice sculptures, and a fire pit where you could make smores.  It smelled super yummy.  There was also a "hayride" taking people around the stadium field.  On a day that was a little less chilly (I chose the coldest day to go) this would have been perfect for us.  Little (E) is 2 and was sooo cold.  (A) who is 5 would have been fine.
Frozen in Ice is a great time.  We ended up staying about 2 hours and that's without all of the cool extras that we had to do without. Both kids fell into a deep sleep on the way home.  I would absolutely recommend it.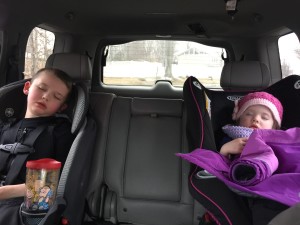 Frozen in Ice is only available through February… To purchase tickets Click Here!