Disclosure:  This is an unsponsored post.  All opinions expressed are my own.
It's that time of year again!!! Valentine's Day! I do like the idea of having kids express emotions to one another and its nice to see everyone participate.  I have never been a huge fan of sending in 1,000 candy items, so the new shift to "no food" Valentine's is not a problem for me.  Last year (A) was really into Hot Wheels Cars (well, he still is but I can't do the same Valentine every year) so we did a great little card that came with a car (See post). 
This year is (E)'s first year exchanging too so I was trying to think of two different ones.  Then it dawned on me, why not do one they both love?!  DINOSAURS!
A quick internet search gave me plenty of ideas and sayings to work from so I whipped up 4 different versions on publisher.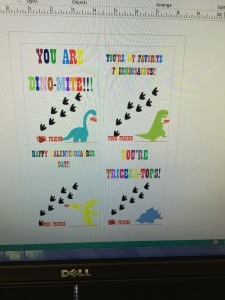 To print your own, click here: 2016 Valentines
I ALWAYS have cardstock in the house so we chose some colors (E) of course chose pink (she always does) and (A) couldn't decide so we made several.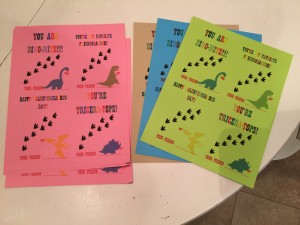 I ordered a multi-pack of dinos from Amazon because I couldn't find a pack that I was happy with in the stores.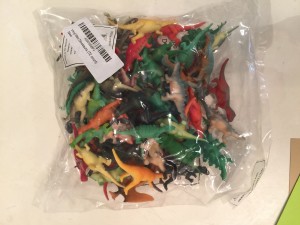 To purchase this pack: Click here
We used the opportunity to practice writing their names.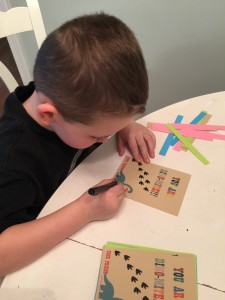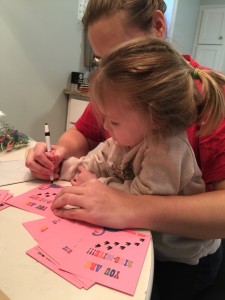 I wanted the kids to be able to play with the dinos, so the plan was 2 per child and we hot glued them to the sheet (its so easy to peel off so they can play).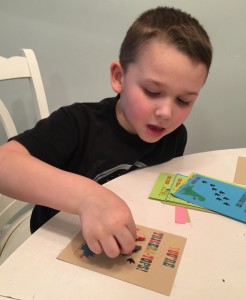 Viola!  A quick, easy and cute No-Food Valentine!