Disclosure:  This is a sponsored post as we were invited to a performance. All opinions expressed are my own.
I LOVE THE THEATER.  I want my children to love it too.  But its nearly impossible to just pick the correct age to begin bringing them.  Then, you have to choose a good venue, not too large so that they can actually see and experience, not get bored because its too small and they are too removed.  And then, you have to choose a show that is familiar enough to capture them, and keep their attention.  Especially because of the COSTS associated with attending live theater. At WPPAC the family four pack (which is still available at this time) is only $135 which is amazing.
Well theater lovers, look no further.  We attended the WPPAC show Tarzan this past weekend and it was everything I have been searching for.
Amenities:
It is a smaller theater, not a bad seat in the house. The seats are super comfortable with modern capabilities.  There is lots of leg room and no matter where you are, you can really see and experience the show.
The view of the stage from our seat (excuse terrible cell phone picture).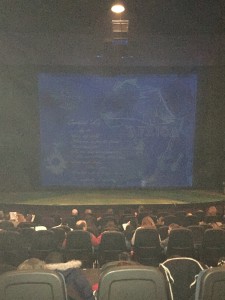 Getting there is a quick 30-40 minute drive, and parking in the local lot a breeze.  If you park on the 5th floor you can walk right into the theater in a well lit garage.  Oh and parking is only $1 per hour.
There is a great little snack bar that you can take advantage of where they also have little souvenirs of the show for purchase.  Right behind the snack bar is the restrooms, which were comfortable and SUPER CLEAN.
(A) and his cousin (F) at the concession stand.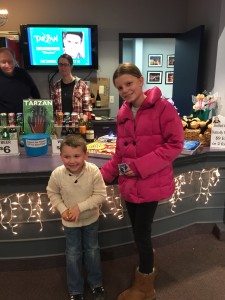 REVIEW:
The actors at WPPAC are all professionals.  The singing and acting was EXCELLENT.  Tarzan's mother had a voice that touched my soul.  The child actors were also a great pleasure to see.  (A) was very excited to see boys like himself performing on stage.
(A) has seen the cartoon many times before and was immediately into the show.  He sat quietly through the first act (which is quite the feat if you know anything about 5 year old boys).  At intermission when the audience stepped out to use the restrooms and get refreshments, he spent time running through our aisles pretending to be a gorilla.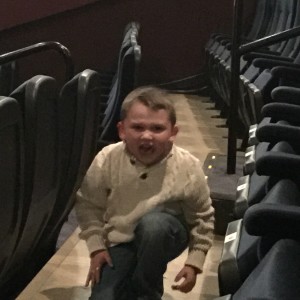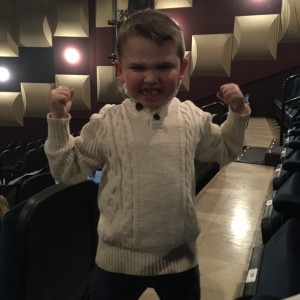 He was ready and excited for the second act but wanted to sit in Nana's lap.  This was no problem because of the modern comfortable seats in the theater.  When we could tell he had gotten a little tired she told him that he could put his head back and he said "No Nana, I want to see the show".
It was also great to see him learning musical cues and wanting to show his appreciation.  At one point when the cast had almost finished a number he was unsure if it was time to clap and so he leaned over and asked, "do we clap now?"
He made it through and at the end he wanted to know where the music came from, so we walked down to the stage and I showed him where the grates were that led to the pit.  This amazed him.  When he turned around and saw the monitors he also asked what those were for.  We had a little musical theater lesson.
(A) and his cousin (F) down by the stage.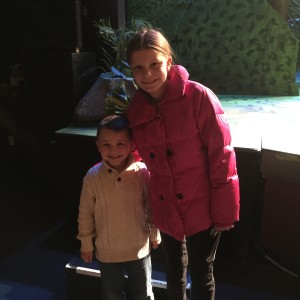 When we exited the theater we heard that the two young boys who had played leads were going to be in the lobby speaking to people. I have NEVER seen (A) get nervous or quiet, but with these boys he was.  He was totally in awe.  I was finally able to get him to ask if they would sign his playbill, and they happily agreed.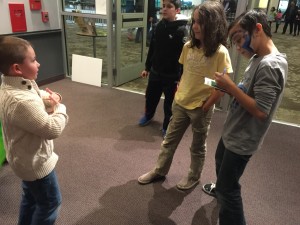 In the car I asked (A) if he wanted me to hold his playbill and he said "No mom, I've got it".  He is treasuring it.  He already has it up on his high shelf where (E) can't get at it.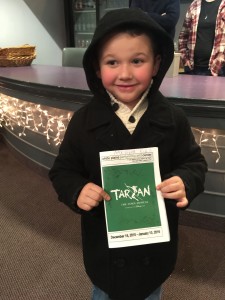 BUY TICKETS:
Group packages, and Gift Certificates also available. Performances run December 26, 28, 29 January 2, 8, 9 at 7 pm and December 19, 20, 26, 27, 30, January 2, 3, 9, 10 at 2 pm.
Take advantage of our family four pack on Dec 18, 19, 26, 28 & 29 at 7pm. Get 2 adults and 2 child tickets for $135 dollars. That's a 15% savings. Tickets range from $25-$47. For tickets and more information visit www.wppac.com or call (914) 328-1600.
White Plains Performing Arts Center is located at 11 City Place on the 3rd floor of City Center in White Plains, NY.