Disclosure:  This is a sponsored post as Ashley was invited to attend this event with her family.  All opinions expressed are her own.
I love Christmas lights. If I could leave mine up all year round without getting the side eye from my neighbors, I totally would. Growing up, every Christmas eve driving home from my Grandma and Grandpa's house, my Dad would take the 'long way home' so we could see all the Christmas lights, we would drive for hours!
Disclaimer – I am not a photographer…please excuse the quality of the pictures. 
This past Friday night we bundled up and headed out to Boscobel for the opening night of Sparkle. Getting there was super easy, up the palisades and right over the Bear Mountain Bridge into Garrison.
As we drove up to the entrance the boys were squealing in delight seeing all the Christmas lights in the distance. Parking was fast and free. As you enter the gardens there us a tent your left, where you can purchase tickets if you need.  There are restrooms to the right of the ticket tent. There is also a cute gift shop full of books, children's toys, home decor, jewelry and lots more.
Each night boasts different activities be sure to check the website before you go. http://www.boscobel.org/events-and-exhibitions/calendar-of-events/december/
As we made our way past the ticket booth, we met the Sparkle Queen Stilt Walker. Wow!
Absolutely stunning.  The kids were mesmerized.  Aside from how beautiful, all I could think was "How on earth does she walk on those stilts so gracefully?"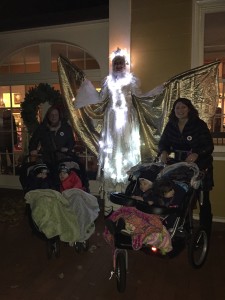 We started our stroll down a path lined by trees decorated with white Christmas lights.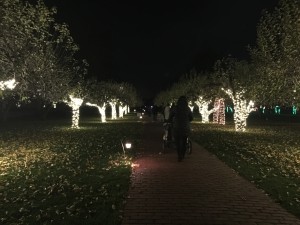 Half way down the path was Santa's Sparkle Garden. Inside the Garden house we met Santa and Mrs. Clause! The boys were speechless. Santa was really good! Perfect beard, and personality. Mrs. Claus was a delight as well. We weren't rushed out, we we able to take our time. Plenty of time to have a chat with Santa and Mrs. Claus and take a few photos. You can take plenty of photos with your camera/phone, there is no photographer.
Except for on December 11, 12, 18 & 19th from 5:30-8:30pm
 you will get a free 4×6 Photos with Santa!
(While supplies last.)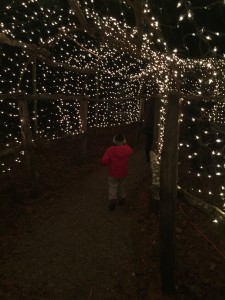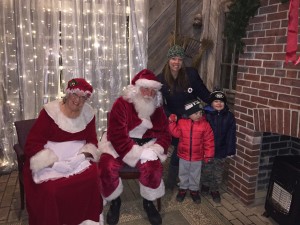 We continued down the path to the colored light 'maze.'  The kids loved this spot!  The bushes were lined with brightly colored lights and glass jars. W and S walked up and down the paths at least 100 times, chasing each other and giggling each time they found one another in the dark.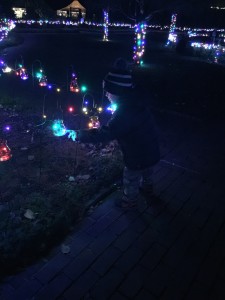 Around the path and behind the house there is a heated food tent with yummy options for purchase from Hudson Hil's Café and Market. A few items included popcorn, brownies, chili, soup, hot chocolate and hot cider. See menu here http://www.boscobel.org/wpcontent/uploads/2015/11/menu.pdf. We decided to take a few minutes and warm up with some hot apple cider while listening to live acoustic holiday tunes.
After, we stopped into the Magic Show in the Gallery. The boys were interested, but I think it would be better suited for kids a little bit older. (W is 4 and S is just about 3).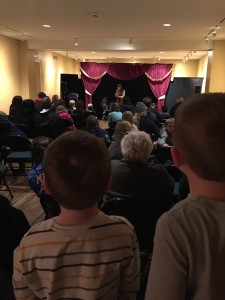 As we walked out of the Magic Show the boys could hear a saw, (They are currently obsessed with all things construction) so we had to go check it out. In front of the House we found the Ice Sculptor. I have never seen this in person before,  It was amazing to watch him work. Cutting meticulously to create such an intricate masterpiece.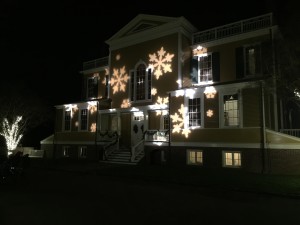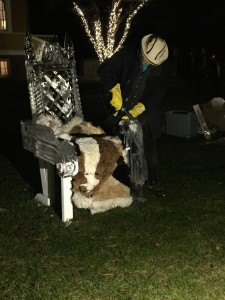 There was also a Ventriloquist Puppet Show that looked really fun, but the boys were exhausted by this time, so we decided to head home.
Sparkle is the perfect place to get into the holiday spirit and to enjoy being with family. Wander the beautiful grounds listing to Christmas music and gazing at the lights. A perfect winters night.
We will definitely be adding Boscobel Sparkle to our yearly Christmas traditions.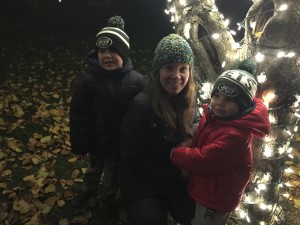 Join BOSCOBEL for a series of brilliant evening events featuring thousands of lights, luminous displays and festive holiday happenings around the gardens and grounds of Boscobel. Walk the candlelit paths with a hot cup of cocoa and celebrate the season with family and friends.
There are an UNLIMITED amount of Grounds Only tickets, while most of the Guided House Tour tickets are sold out.
5–9 pm
Fridays, December 4, 11 & 18
Saturdays, December 5, 12 & 19
To Purchase Tickets CLICK HERE

Friday, December 11
Mr. & Mrs. Santa in the Sparkle Garden*
The Sparkle Queen Stilt Walker
Ice Carving Demonstration with Bill Bywater
Magical Entertainment with Margaret Steele
Acoustic Holiday Classics with Rick Soedler
NEW! Puppet Power with Ventriloquist Jonathan Geffner (first show at 6pm)

Saturday, December 12
Santa and his Elf Helper in the Sparkle Garden*
Magical Entertainment with Margaret Steele
Period Music with Thad MacGregor
NEW! Holiday Jazz with the Libby Richman Trio
Illuminated Hoop Dancing with the Sparkle Spinners
WHUD's Morning Show cohost Kacey will be on site 6-8pm along with the WHUD Family Fun Crew and Hudson the Bear offering photo opportunities, prizes and raffles!

Friday, December 18
Mr. & Mrs. Santa in the Sparkle Garden*
The Sparkle Queen Stilt Walker
Ice Carving Demonstration with Bill Bywater
Caroling with The Taghkanic Chorale
Acoustic Holiday Classics with Rick Soedler
NEW! Puppet Power with Ventriloquist Jonathan Geffner (first show at 6pm)

Saturday, December 19
Santa and his Elf Helper in the Sparkle Garden*
Caroling with The Taghkanic Chorale
Period Music with Thad MacGregor
NEW! Holiday Jazz with the Libby Richman Trio
Illuminated Hoop Dancing with the Sparkle Spinners