Disclosure:  This is an unsponsored post.  We love kids, and kids charities… This is a great way to get some lovely gifts, as well as make a difference this holiday season.

Did you know that every holiday season more than 70 of America's best-known and most-loved companies and brands implement holiday fundraising campaigns featuring exciting new online engagement programs, in-store giving opportunities and specialty merchandise to help raise funds and awareness for St. Jude, the global leader in finding cures and saving children with cancer and other deadly diseases? 
What a great way to celebrate the season, by giving gifts that also give more than meets the eye.  These gifts include hope, care, love, and stress relief.

The items available can be found on the St. Jude Giftshop – http://giftshopmedia.sig-ad.com/#.  The site features St. Jude branded products which 100% of the proceeds go to St. Jude Children's Hospital, a collection of items by St. Jude celebrity friend items like Daisy Fuentes, and items from St. Jude Thanks and Giving campaign partners like Kmart, Ann Taylor, Kay Jewelers, Williams-Sonoma, HomeGoods, New York & Company (the Limited), Brooks Brothers, TUMI, HSN, Pottery Barn, West Elm, DVF and more.
All proceeds from the merchandise sales support St. Jude Children's Research Hospital, where families never receive a bill from St. Jude for treatment, travel, housing or food – because all a family should worry about is helping their child live. 2015 marks the 11th annual St. Jude Thanks and Giving campaign.  It's an unprecedented union of celebrities, media and more than 70 of the nation's leading brands and companies that ask consumers to donate while they shop during the holiday season to help St. Jude provide cutting-edge treatment and pursue visionary research. Created by Marlo, Terre, and Tony Thomas – the children of St. Jude founder Danny Thomas – the campaign has grown into an annual holiday tradition that has raised more than $587 million thanks to tremendous public support. Throughout the months of November and December, consumers shopping where the St. Jude logo is displayed can also make a donation at checkout or purchase specialty items, like those featured in the Holiday Preview, that benefit St. Jude.

Some great suggestions include (but are not limited to, check the site for full details):
Hot Chocolate Tube Mix– Perfect for a stocking stuffer, or add on for a teacher gift.  Also, makes an adorable add on for those "Night before Christmas" boxes I have seen.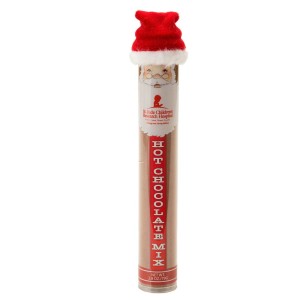 Key Holder – adorned with a space for a photo (who can get enough of those), space for several keys (so they don't get lost on the counter anymore), and a timeless quote.

Caterpillar Tunnel– Something every child loves, crawling through a tunnel.  Adorable and so developmentally helpful.  I have used these in my living room during the winter months, and adapted them to several different birthday party ideas through the years. I can't get enough of mine.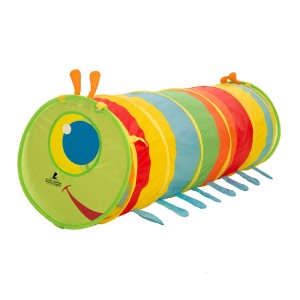 Stacking Train– (A) and (E) have had hours of fun with a train just like this one.  I wish I had known at the time that I could have purchased one that would also benefit St. Jude.