Disclosure:  This is a sponsored post as we were invited for a meal with Bailey's North.  All opinions expressed are my own.
Tip #6- Take Advantage of Family Dinner Take-out Specials
Baileys North
Usually Jamie (Money Momma) does these posts but she knows how passionate we are about BBQ, and so we got to review :o)  The tip however, is hers.
Sometimes you just don't feel like cooking for one reason or another.  At the same time you don't want to have to get "dressed" and pray that your kids make it through a night out in a restaurant either.  For these exact reasons there are restaurants who have family "dine-out" options that are delicious and affordable (we might just be making you a list of restaurants and which day to look for them).
One such restaurant is Bailey's North.  Located in Haverstraw, Bailey's North is an extension of the Baileys restaurant in Orangeburg.  They are a take our only establishment at this time (there are a few small bar tables if you wanted a cute little lunch and the conversation is great so you could do that too).  They offer meal deals almost every day of the week which Chef Dude posts on their Facebook page.
(E) and RNYD check out the menu for next time…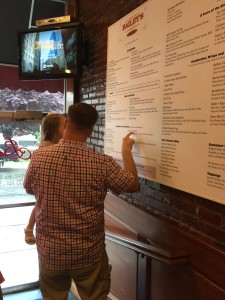 Once a week (on Wednesdays) Baileys North Features a family dinner special for $24.99 that knocked our socks off.  On the night that we tried it, the special was pulled pork, coleslaw, mac & cheese, salad, and corn soufflé.  When we went to pick it up it was ready for us (no waiting) and we even got to meet Chef Dude!  He is so proud of his product and wants to make everyone so happy that he asked that we be brutally honest and let him know if his recipes needed tweaking.
The fabulous staff at Bailey's North (minus Chef Dude who declined the paparazzi).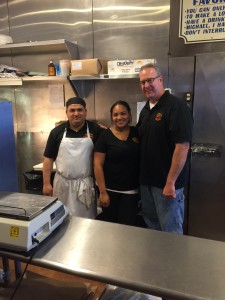 While we were there we picked up a new BBK rub and sauce to try (RNYD loves his BBQ).  We could barely wait to get home to eat.  The car was filled with a mouth watering aroma.
 Our new condiments..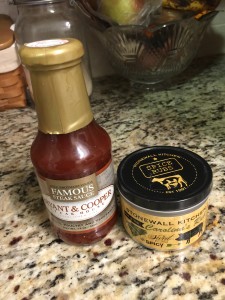 Once unpacked we were ready to dig in.  The pork was perfect.  Not super saucy (read yummy AND not too messy for (E)), or too spicy for (A) who claims to not like "too much spice".  At the same time, it was flavorful enough to earn praise from RNYD and RNYP (Pop).  The corn soufflé was fabulous (more like a desert than a side), and the coleslaw? WOW! I don't like coleslaw and I practically ate it all by myself.
Ohhh…. the corn soufflé.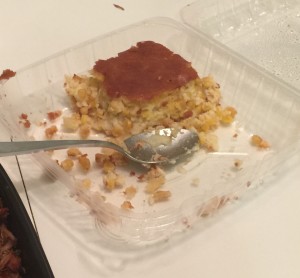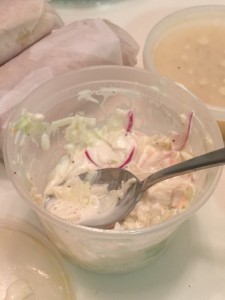 The whole family smiled from ear to ear through dinner and not much was said unless it was a compliment or someone asking for more.  Not only was everyone full and happy, but with 5 of us eating, we still had food enough for two days of leftovers.  As soon as dinner was over I "Liked" their Facebook page so that I can keep up with the current specials.  Then, I invited my friends to do the same.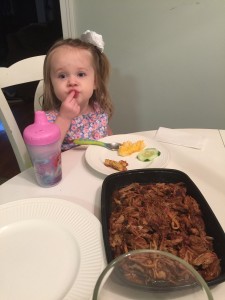 We loved the food so much that I have already looked into their catering menu for RNYD's 40th Birthday (in March).
A small side-not that we found interesting (some Rockland History), Bailey's North is in an old butcher shop.  Due to its history not only can you have them make you some fabulous meat, if you want to BBQ on your own you can purchase the meat from them.  They sell the same cuts that they cook if you prefer to do it yourself.