This time of year we see a million posts of people who don't want to throw out the costumes they spent hours and dollars on for last years Halloween.
Last year we held an online sale (made a post and allowed everyone to put up their sale items).  This worked really well.
This year we intend to do that again but we wanted to take it one step further.  We decided to organize an event where you can DONATE your old costume, come to pick up a NEW one for $5 and we can donate all of the money to a charity.  Which one?  We decided that we should use children's memories to create memories for those less fortunate, so Make-a-Wish it is.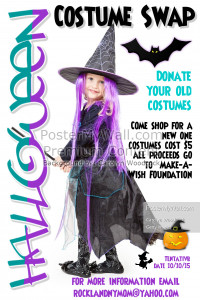 Here's the scoop…. We will collect old (gently used) costumes for kids, pets, adults, you name it.  WE will organize it and advertise the event.
Our volunteers (and anyone else who wants to help) will set up and help with the sale.  Afterwards we will let you know how much we raised to donate to Make-a-wish.
Logistics:
Costume Drop-off Locations: Nyack High School, Pearl River High School, My Sweet Pea in New City, Busy Bee Playschool
Date of Swap: 10/10/15 from 10 am – 1 pm
Location: Pearl River High School Pirates Cove (super convenient as it is also Pearl River Day- stop by and participate then walk into town for some fun!).
Cost:  A suggested donation of $5 per costume purchased.
If you or someone you know is interested in donating, volunteering, becoming a collection site or participating in any way please contact us at RockandNYMom@yahoo.com.