Disclosure: This is a sponsored post. All opinions expressed are my own.
I love Birthday parties. I am kind of crazy when it comes to planning (just ask RNYD, poor guy). I am not alone, I have seen, attended and heard about the parties that many of you plan (you know who you are). It's the reason that we have a whole directory page dedicated to the entertainment, venues, favors, and decorations of party planning. This page serves as a resource for parents when planning their own events. I was recently given the opportunity to sit down with one of our listings Adrian from AMS Balloons. Adrian creates custom balloon decorations for your event (and who doesn't love balloons?).
Using Balloons is a great way to spruce up and decorate a party. They are a very affordable option and have the ability to bring the wow factor with just a few pieces. Adrian takes into account your budget, your theme and your venue to create a special atmosphere that is both beautiful and unique. I was super impressed while looking though his photos (some of which you can see on his Instagram account).
The prices for his services varies by difficulty, and the materials involved. What is very refreshing is that he is super honest, very enthusiastic, and energetic. He beams when he talks about creating balloon decorations. Since I am in party planning mode anyway, we discussed what he would recommend for my children's parties. I had been ready for him to recommend giant arches and over the top items, and was happily mistaken. He recommended more simple balloon stands and bunches of balloons that were sturdier and more accessible to the young crowd that would be at the party. Great suggestions.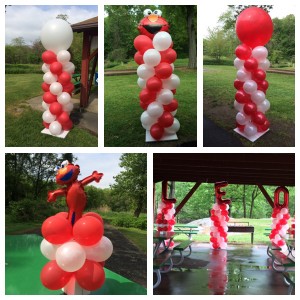 I always do my own balloons, but couldn't fathom how I would create pillars like he was showing me. It would take me a million years (and quite a bit of money) to try to do it correctly. In fact, when I broke the costs down versus what it costs me to work on my own (very simple and never quite as symmetrical as I would like) balloon décor, Adrian is actually one of the best deals going. It would cost me almost as much to do it on my own, and then there is the time involved.
Adrian is full service. He will contact your venue on your behalf, and work out what times he can access it to begin work. He's at it early and often, already in high demand and loving every minute. He gets very excited when people call happy with his work, and even more so when someone calls with a special idea or vision. A great example of his depth is his recent work for a first birthday party "O-Fish-Ally-1" with an under the sea theme.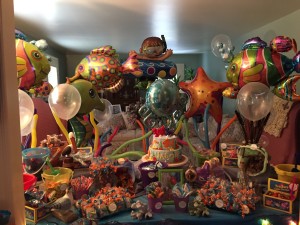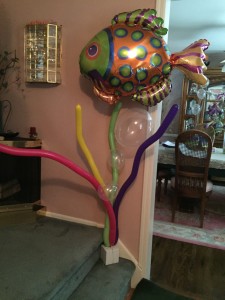 On the other end of his abilities is the simple and elegant pink centerpieces that Adrian recently did for a first birthday party.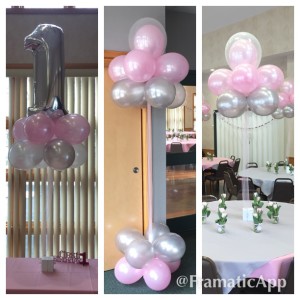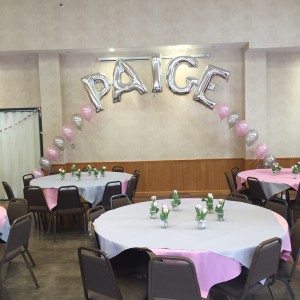 I spent an hour sitting with Adrian looking at his photos and discussing his decorating. It was easy and comfortable conversation. I could have listened to him talk about his work all night (that's how into it he is). I went home and followed him on Instagram just so I can watch and see what he comes out with next.
AMS Balloons (Adrian) can be contacted at (646) 372-3650, or by email at: AMSBALLOONS@gmail.com