Disclosure: This is a sponsored post as our Money Momma, Jamie was invited for a meal with her family.  All opinions expressed are her own.
Tip #4 Keep It Simple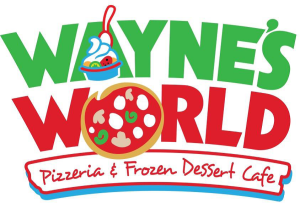 Wayne's World
It happens to the best of us. We want to cook dinner….we planned to cook dinner. The food is bought. The stove is ready. But we are just….Too….Tired. Or something comes up, we run late, or any other of the thousands of reasons sometimes dinner just cannot get cooked no matter how good my intentions were. Those nights are the nights that are NOT budgeted for and those are the nights that we are really looking for a great deal AND some great food. So tip #4 is to keep it simple. Sometimes the joy in dining out is just to have a simple, relaxed, experience that requires no work on the part of mom and dad. These are the nights that the family should head for a "fast casual" dining option like the new Wayne's World Pizza, Salad, and Froyo shop in Nanuet.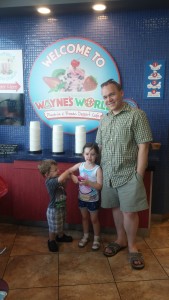 Wayne's World can only be described as a "happy place". There are bright colors and many signs hanging around the well-lit restaurant (not to mention a giant frozen yogurt wall). This is one of the only restaurants I have ever entered where (T) and I would have let our kids dine on the floor without thinking twice. It was that clean! Wayne himself was greeting his customers and the staff was preparing for a children's softball team to arrive for their end of the year dinner. The table next to us was there to celebrate Grandpa's birthday.
Wayne's World is family owned and operated and they genuinely create a happy environment that is community oriented and family focused. Even the chefs and wait staff all seemed to be smiling along with the guests who are dining on a variety of foods like simple pizza, create your own salad bar, traditional Italian dishes, and Wayne's World originals like a fried mozzarella sandwich and Nutella pizza!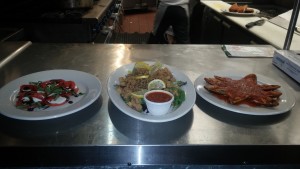 If you are looking to sit down for waiter service the dining room is a fun place to be with large TVs and a view of the pizza oven. There are also stools up front for those just looking to grab a quick slice on their way to their next destination. (R) and (S) were mesmerized by the huge make your own yogurt station and couldn't wait for their turn at the literal kids candy topping bar. We actually used this as an incentive to get (R) to eat her dinner ;o). It wasn't even necessary, she loved the pizza and chicken nuggets and asked for another slice of bread!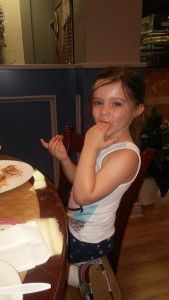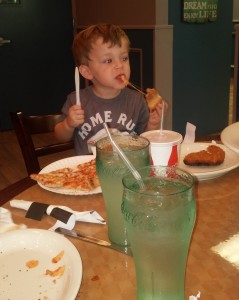 There was no question in my mind that I wanted to try the make your own salad bar but (T) was stumped. "I like everything on the menu!" he kept declaring. In the end he wound up with some delicious muscles, the homemade meatballs, and a Caesar salad. The meatballs were fabulous (as per (T)) and I was very excited to be able to have a healthy salad dinner that had all the perfect fixins!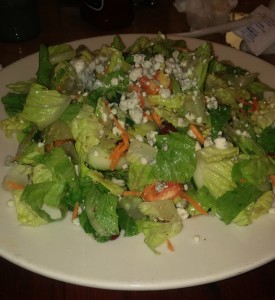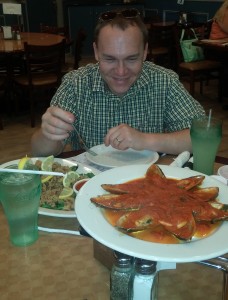 We packed up our left overs and let (R) and (S) make their way (Finally) to the yogurt bar. They ran back and forth with their cups trying to decide what flavor to try and what toppings to pick. (R) even made friends with some of the other children in the restaurant who were also creating their own yogurt. Together they set off for a 4 year old's dream yogurt adventure.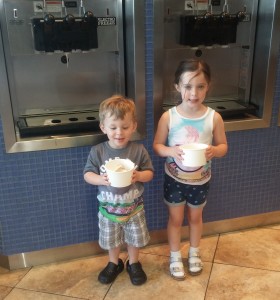 I was way too full for dessert but (T) and the kids ate every last bite. I didn't have to cook or clean and we all got to eat what we wanted for dinner at a very reasonable price.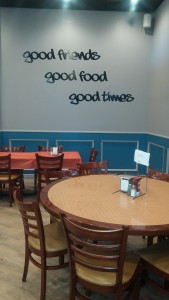 Visit Wayne's World family coupon packs and birthday party deals (this place would be amazing for a team or scout party)! For more information you can check their website www.waynesworldpizza.com  or follow them on Facebook at https://www.facebook.com/waynesworldpizza.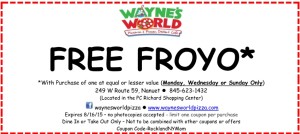 Want to give Wayne's World a try? RNYM is giving away a $25 gift card to a lucky reader who likes, comments, shares, and/or comments on the blog and shares this post on their facebook timeline!