Disclosure:  This is a sponsored post as Halfway Acres is a directory member.  All opinions expressed are my own.
EVERY year I say I am going to go berry picking, and every year I fail.  Which farm to choose?  Which weekend to go?  Is my child old enough?  How is the weather?  So many variables that I always end up dropping the ball and not getting it done.  I love the idea of fresh berries right off of the plant (I love that idea for all of my food), so every year I say "I am going berry picking".
Well, when Halfway Acres joined our Day Trips page we threw caution to the wind and went right up there (literally the next day).  I am so glad that we did.  It's a fantastic way to spend a morning or afternoon.
We arrived in Campbell Hall, NY (right near Goshen) around 1 pm.  When we arrived we were greeted by Michael and Christine (the owners of the farm).  Not only do they supply you with different colored buckets to carry your haul in, but they also offered us locally made tick spray (a must).  Christine took a moment to explain to our group which berries to pick, based on color.  Then we were off to the picking.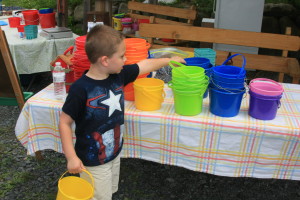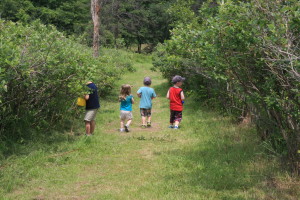 The kids ran around from bush to bush.  It was difficult to explain to them that we were picking them and putting them into the bucket, not eating as many blueberries as we could find.  One thing I was NOT worried about was my kids ingesting all sorts of pesticides and unnatural things.  Halfway Acres does NOT spray or use fertilizers of ANY kind.  These berries are as God made them and that's what I want my kids eating.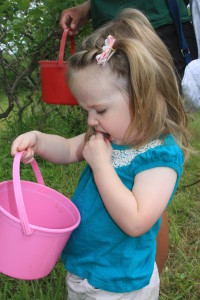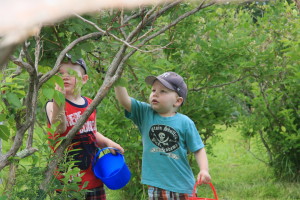 Speaking of eating, if you have never had a REAL fresh blueberry, you have no idea what you have been missing.  The ones you buy from the supermarket are good (or so you thought), but once you have had one of these your experience will never be the same.  These berries truly are nature's candy.  They are plump and firm and sweet and so, so good.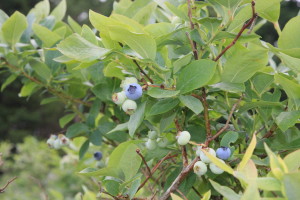 We picked for 2 ½ hours before we finally filled our buckets.  This would have been a great time for us to have a snack or a lunch if we had brought it with us.  Michael and Christine have some lovely patio tables set up for just this purpose. 
Once finished with our picking we headed over to have our berries weighed and purchase our harvest.  As a group WE PICKED 9 lbs of BERRIES!  It sounds like too much, but it so wasn't.  While we were weighing and paying Christine gave the kiddies ice pops (they were so excited, and she made them ask permission first).  I asked how much I owed them for the ice pops, and she replied that they were free, FREE!  How lovely.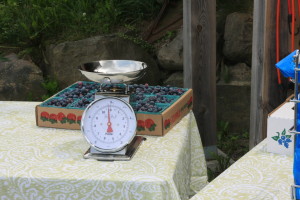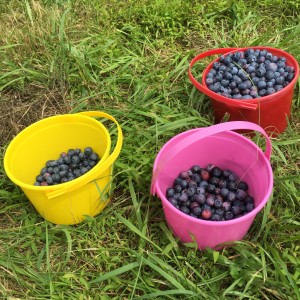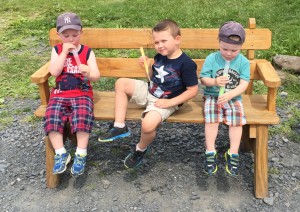 The kids and I used the on-site porta-potty before heading back home and YES it is super clean!! I would actually have to report that it was my best porta-potty experience to date.
This experience doesn't really end at the farm.  I had all of these yummy berries to play with and was almost a little worried that I could never use them all and some might go to waste (BTW all unfounded worries they were gone two days later).  We made French toast with berries on top, ate them as snacks, had blueberry pancakes, and I made whole-wheat blueberry muffins (Click Here) that were so good (E) was stealing them off the counter, and RNYD had one and said "Now that's a blueberry muffin."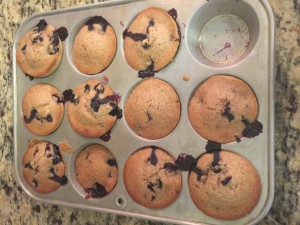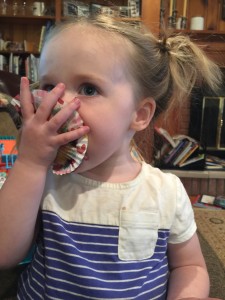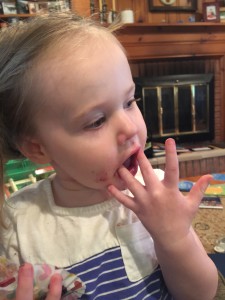 I love what Christine and Michael are doing, and so do they.  As they gain popularity they have plans to create a little shop and place for visitors to perhaps eat some blueberry delicacies.  I for one cannot wait.  We will absolutely be back.  This was an afternoon of good wholesome fun, in the sun.  It's a lesson in healthy snacking, and it was a chance to meet and get to know some truly lovely people.
For more information about Halfway Acres Farm you can visit their website at http://halfwayacres.com/ and follow them on their Facebook page https://www.facebook.com/halfwayacres. The blueberry picking season at Halfway Acres is only 6-7 weeks long and runs from late June, through July and sometimes into the first week of August. But it's better to arrive at the farm in early to mid-July (that's now) when it's prime season before the supply begins to dwindle. Being that the berries are left in their natural state, one never knows how long the berries will last and if you wait too long then they just might be gone before you get there!